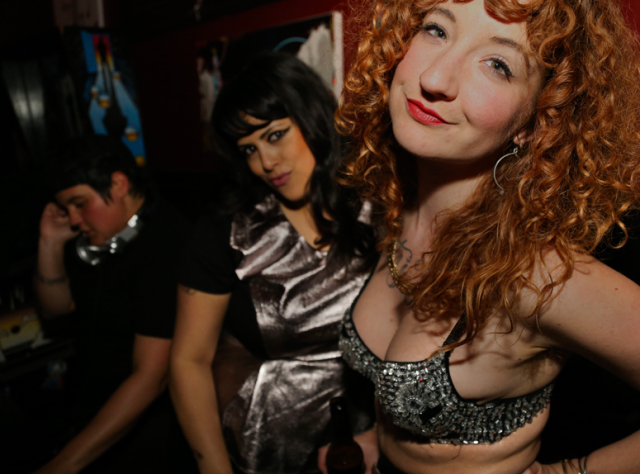 By Marke B.
OCTOBER 23, 3014 — "I'm selling the Lex," Lila Thirkield told me, her no-nonsense voice tinged with a little disbelief at what she herself was saying. Lila had pulled her car over to call me — and I hope my sudden wail of bereavement didn't blow out her speakerphone.
Alas, it's true: SF dyke institution the Lexington Club (www.lexingtonclub.com) is being sold, and will probably close after New Year's. But the Lexington Club brand will live on in one-off events. And of course there'll be a huge closing party.
Eighteen years ago, a 25-year-old Lila opened the homey, punkish Lexington Club as a Mission neighborhood space for "the dykes, queers, artists, musicians and neighborhood folks who made up the community that surrounded it," as she put it Thursday in a Facebook post announcing her decision. The queer revolution of the 1990s was still in full effect, but bars geared especially toward queer women were rare as two-headed unicorns.
But the Lex was more than just a place for dykes to get wild in the Mission — although, yes, its parties have always been rowdy blasts. It was situated as a queer outpost in the Mission, then the city's lesbian neighborhood, that acted as a hub for sex-positive and women's rights activists, longtime cruisers and fresh-faced newbies, butches and femmes, the emerging transman community, and all manner of beautiful freaks who stretched the city's queer boundaries beyond the Castro and SoMa. Lila went into it with this vision, and it paid off in nurturing the city's ever-evolving queer movement and style.
So, yeah, Lila selling the Lex is a big deal — an emotional decision for her, and an enormous loss to the community the Lex has fostered. Once I took a few deep breaths after realizing we're waving "so long" to yet another SF institution, I asked Lila for more details over email.
So, why are you selling the Lexington Club?
This was a very tough decision for me, and one that involves factors that I have been watching unfold for a long time now. A few years back my rent was raised to market rate, which was really challenging for us to adjust to. Then, the demographics and economics of the neighborhood around us continued to change faster and faster. As the neighborhood continued to change, we began to see sales decline, and they continued to do so until it became clear that The Lex model was not going to be viable much longer. I made this decision now basically because of the financial viability of the bar. I want to start the process before things get dire to make sure we can have a positive end to the journey.
Do you already have a buyer? Who is it, and will the Lex be changing? Is it closing?
We are currently in contract with an undisclosed buyer. And while I don't know what the new business will look like, I know it will not be the Lex. If I thought the Lex could survive, I would not be selling it to begin with. When I first made this decision I reached out to a few qualified people in my community to see if they had any interest in buying the Lexington Club. They too didn't see it as a possible lasting business model in the Mission and weren't interested in the purchase.
This is a huge deal for the queer community — especially dykes of course — and especially at this time when we're losing queer space in the gentrifying onslaught. What do you think the community's reaction will be? Is this part of the larger changes that are happening in SF, and to queer culture?
It is really difficult for me to anticipate what people's reactions will be. So far, the folks I've told have been shocked and sad. But even when I told my staff, it was not a complete surprise — they have seen the reality of the changing neighborhood and they have felt it financially on their shifts.
What's happening to the Lex is absolutely a part of the larger changes that are happening in SF. We are closing because we can't run a sustainable business in the Mission anymore because of the economics of the neighborhood and the diminished presence of queer women living in it.
Another real issue is economic gender inequality. Why is there only one lesbian bar when there are so many gay male bars? Even if you take queerness out of it, women make less money than men and a two male household is going to have more capital potential to start a business than a two female household. How many bars or restaurants do you see being run by women? So few. And that's just the supply side. Because women have less disposable income and consume less than men, the spending power isn't the same when you are talking about having a bar for mostly women. But I'm proud that we were able to employ and train so many women and to keep a space open for nearly 20 years that goes against the economics of that gender inequality. It ain't easy, but it's a hell of a lot of fun.
If I could keep the Lex forever, I would. And while I think this loss is sad, I also think that The Lex is something to be celebrated. There had been no dyke bar in SF for about 7 years before we opened. And we were there for nearly 20 years. SF has always been a queer Mecca and it still is.
Is there any plan to help the staff find other positions? And what about a closing party?
So yes, the Lex is closing. But it will take some time and we are still here and having a blast and looking forward to seeing lots of familiar faces. Come by for a visit! And YES, there will definitely be a huge closing party but first there will be Halloween and even New Year's Eve. We are in the very early stages and this won't happen until into the New Year.
As well, I will be keeping The Lexington Club name and website, etc. My plan is to keep the community alive by utilizing the name we've built and continue to do one-off events and fundraisers at outside venues and will hopefully be able to include The Lextenders in those events. And of course, I will be helping my staff in whatever way I can towards their next steps. We're a family and we have always and will always do that for each other.
So much recent San Francisco queer history is tied up in the 18 years of the Lex. What have been some of your fondest memories?
Owning The Lex for my entire adult life, since I was 25, has been an amazing honor. Really the best thing for me has been the feeling of helping to create community. Giving folks a safe space to be themselves and being willing to change with the times. I'm incredibly proud of all the folks that have worked here and it has often taken a village to make things happen. Meaning tons of artists, DJs and community lovers that have contributed their time to help create great parties and happenings. Everything from friends building a larger-than-life ass out of chicken wire and fabric with a giant hand slapping it all suspended from the ceiling for a one night Folsom Party to Michelle Tea, nine months pregnant and about to give birth on the pool table, hosting a reading for Lit Crawl (last weekend!).
The things I'm most proud of are always having no cover EVER and throwing great parties, having cheap drinks and always staying open on the holidays. Really I think the Lex is special because of our openness to the community too. When we first started, there was a climate of heavy competition among the parties and lesbian happenings. We took a different road and let everyone put up posters for all their events, even if we were having one on the same night. A lot of people were shocked. But our thinking was the more there is to do for queer women in San Francisco the more of a scene there is and the more reason there is for more women to go out.
I saw this sentiment change over time and really facilitate a different feeling that I see among many of the people throwing events and contributing to the community today. It turned us into a sort of community center for what was going on in the city and we were happy to let someone know where they could go dancing with a bunch of hot girls that night. It really helped create a sense that there was a vibrant and cohesive queer community here in SF and I think there still is.
What will you be doing after you sell the Lex?
Well, I opened Virgil's Sea Room (www.virgilssf.com) a little over a year ago, right next to El Rio. And it's been an amazing experience. It is different in that it is an "everybody bar" but it has a huge queer sense about it, many queer staff members, and some great crossover already. Like I said earlier, I hope to throw events under the Lexington Club name. As I let go of the the Lex, I am already imaging new ways for us to come together and new places for us to share. I still love the Mission and will still work and live here. I plan to continue community building and to continue to help keep the queer Mecca that is SF alive.