Guardian-in-Exile team reveals tribute issue cover, street date, and more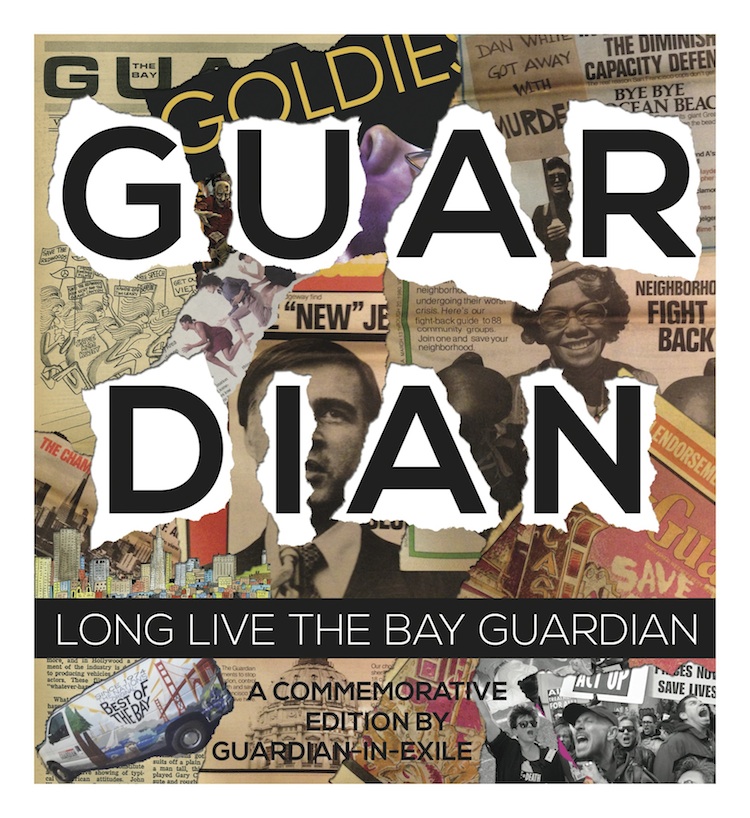 By Marke B. 
JANUARY 16, 2015 — Last night, the Guardian-in-Exile team of former Bay Guardian staffers met in my apartment. We were there to dig into some celebratory Cybelle's pizza and put the finishing touches on what we're calling the "Guardian Commemorative Edition," celebrating the Bay Guardian's 48 year history — and looking to the future of independent SF media. It's a good one!
The Guardian Commemorative Edition will be released on Thursday, Jan. 22 as an insert in the San Francisco Public Press Winter 2015 issue (available at these news stands for one dollar). Readers will also have the option to download an electronic edition via cool online service Gumroad. The electronic edition will feature an "extended" option, with 20+ more pages of mementos from the Guardian's long and storied history.
Please follow our Guardian-in-Exile Facebook page for more announcements.
Made possible through generous donations from the Bay Guardian community to our IndieGoGo campaign and completed under the fine auspices of the nonprofit San Francisco Public Press, the 24-page issue contains remembrances from founder Bruce Brugmann and former editor Tim Redmond, and reporting and writing from the former Guardian news staff. We've also called on our arts and culture critics to write about Bay Area music, film, dining, drinking, dance, stage, nightlife, sex, and more.
Longtime Guardian voices like reporter Rebecca Bowe, film critics Cheryl Eddy and Dennis Harvey, stage critic Robert Avila, dance critic Rita Felciano, music editors Emma Silvers and Emily Savage, tablehopper Marcia Gagliardi, man-about-town Broke-Ass Stuart, astrologist Jessica Lanyadoo, community activist Christopher D. Cook, transit advocate Jason Henderson, sex writer Krissy Eliot, and commemorative edition editors editors Steven T. Jones and Marke B. (that's me!) will be included — a continuation of the lively and necessary dialogue and writing the Guardian was known for.  The gorgeous-looking edition was designed by award-winning art director Brooke Ginnard.
We can't wait for the Guardian Commemorative Edition to hit the streets next week.