Huge celebration Sat/7 includes music, dance, art vendors, networking — and, of course, yummy frybread.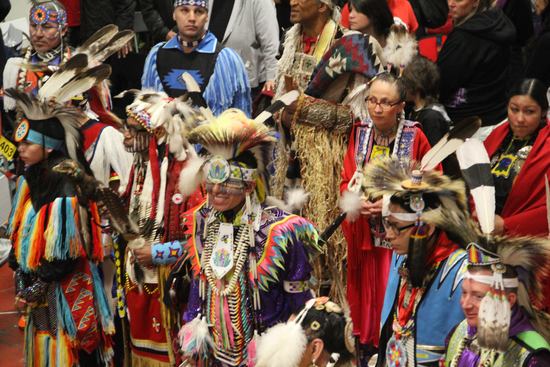 By Marke B. 
FEBRUARY 3, 2015 — One of my favorite community events of the year — the Bay Area American Indian Two Spirit Powwow, hosted by the BAAITS organization — is getting a serious upgrade in size this year, as it comes to the Cow Palace for the first time. The long-runnning, all-day event, put on by the local community of two spirits ("third gender" people whose gender mixes female and male characteristics) brings together the vibrant First Nations of the area for a meeting full of ritual, dance, music, food, business, and contact.
Last year's powwow was held at SomArts and packed the place full of rhythmic drumming  and singing, lively conversation, stately processions, booths full of handcrafted art, and the smell of that delicious Native American not-so-delicate delicacy, frybread. It's a beautiful experience to be among such an explosion of color and sound, celebrating and affirming those of non-conforming gender. (This year, a special welcome will be given to same-sex couples.)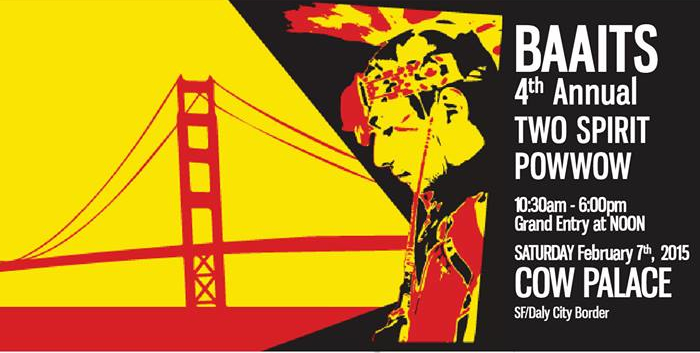 The powwow is open, free, and friendly to all (it's a good cultural experience for the kids) and runs from 10:30-6pm, with the main entrance procession happening at noon. Come as you are, please no costumes.
Here's the official press release, full of interesting things:
World's Only Public Two-Spirit Powwow to be Held at Cow Palace February 7
On Saturday February 7th, 2015, the fourth annual Bay Area American Indian Two-Spirit (BAAITS) Powwow will be held at the historic Cow Palace in Daly City, California, from 10:30 AM to 6:00 PM with featured dancers making their Grand Entry at 12:00 PM. This event is free and open to the public with free parking on site. It is the only two-spirit powwow in the world open to the public.
"Two-spirit" is a Native American term for people whose gender mixes female and male characteristics, such as masculine women and feminine men, and may include lesbian, gay, bisexual, transgender, and queer-identified (LGBTQ) people. This term is one of many terms historically used to denote individuals with mixed female and male characteristics in Native American or First Nations communities.  Such individuals often held—and many still hold— honored positions in their communities.
Typical of a modern powwow, on February 7th Native American dancers in traditional regalia will perform, led by skilled Head Dancers and accompanied by singing and drumming. Some dances will be open to any who wish to join in. In the two-spirit nature of the event, the powwow will feature a rare all-women drum group (Turtle Nation Singers) and— instead of just the traditional two Head Dancers, male and female— three Head Dancers, representing men, women, and third-gender people.
BAAITS Chairperson Ruth Villasenor says "This year, besides ensuring women's representation among our drummers and bringing in a third head dancer,  in traditional Native American social dances where men and women dance as couples, we will extend a particular welcome to same-sex couples."  According to Villasenor, "we want to do our best to build this new tradition."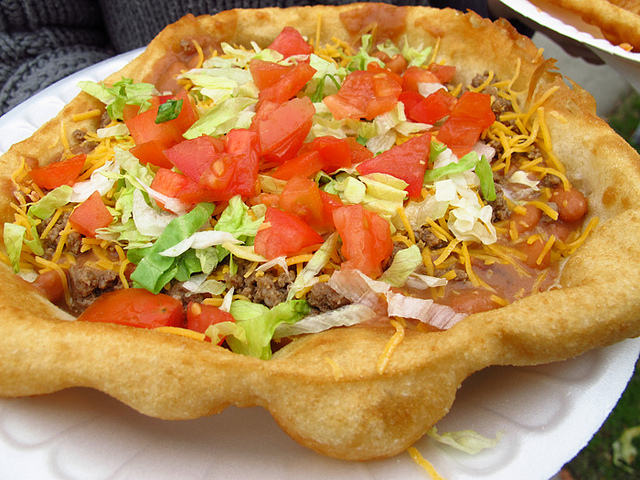 The goal of the event is to give Native Americans identifying as two-spirit or LGBTQ and their allies from all over the U.S. and Canada a chance to come together to celebrate Native American culture, build community, and express themselves in traditional and nontraditional ways.
Over 25 vendors will be on site selling frybread, Native American art and jewelry, and other wares to the expected crowd of over 2,000. The Native American Health Center will also be in attendance providing free health screenings.
Bay Area American Indian Two-Spirits (BAAITS) is a community-based volunteer organization offering culturally relevant activities for Native Americans identifying as two-spirit and their allies.
About the event
When: February 7, 2015, 10:30 AM to 6:00 PM
Where: Cow Palace, 2600 Geneva Ave, Daly City, CA 94014
Cost: Free
Parking: Free on site
Who should attend: Everyone is welcome. This is a family-friendly, clean and sober event. Street attire is encouraged. Please leave costumes at home.