SF's pro-Airbnb law and lax enforcement allows all sorts of operators to cannibalize the city's housing stock for tourist hotels. Check this one out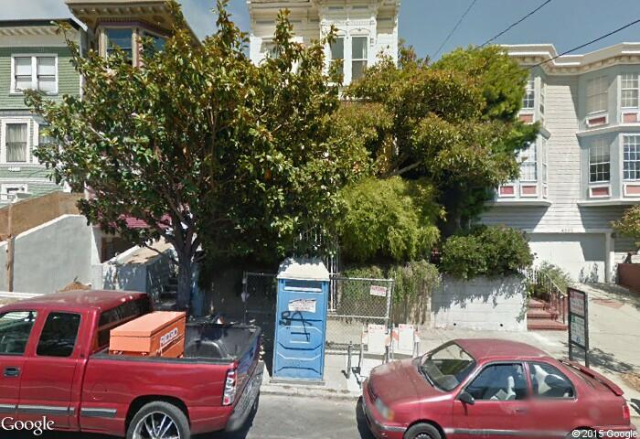 By Tim Redmond
JUNE 11, 2015 — At a couple of points during the debate on tighter enforcement for short-term rentals, members of the Board of Supervisors argued that there's been too much focus on Airbnb. There are, after all, other platforms that offer a similar product.
True: There are big outfits like Vacation Rentals by Owner, and smaller operations. Some of them use different models.
That, of course, doesn't mean the city should ignore Airbnb (by far, the biggest game in town). And the regulations that Sup. David Campos is proposing would also apply to other short-term rentals
But it's worth taking a look at some of the existing places that are operating commercial hotels in residential neighborhoods, openly offering vacation stays of less than 30 days, sometimes in direct violation of the existing laws, which require that the owner of a property actually live there, at least some of the time.
No, it's not just Airbnb – it's a bigger problem, and the Planning Department admits that it lacks the staff to even begin enforcing the law.
For example, it took me only a few minutes on Google (and the help of some of my 48hills commenters) to find Casa Luna SF. It's a multi-unit property on 17th near Castro that used to be a three-family housing unit. Now it's a full-time commercial hotel.
The building is at 4060 17th. It's owned by Casa Luna SF LLC, a California corporation. Records on file with the Secretary of State show that Casa Luna LLC is associated with Srinivas Katragadda, who owns a house on Everett Avenue in Oakland.
Until Katragadda bought the place in 2012, according to SF property records, it was a two-family house. There's also a carriage house in back, which records show was a one-family house. So there were at least three housing units on the site.
Now, according to the Casa Luna SF website, there are four hotel rooms. They rent for $225 to $419 a night. And they are available for as few as three days, according to this handy reservation link.
Gina Simi, the information person at the City Planning Department, told me that there is no Bed and Breakfast Inn or other commercial license at that address.
Since every available place on the property is listed as a vacation rental, it's hard to see how the owner could be living there – particularly since Katragadda also owns a house in Oakland.
Taking a look at the reservation site, it appears the "vista apartment" has already been rented for 13 nights in June, bringing in $5,447. The garden apartment is booked for most of June and July, and will bring in more than $11,000 a month.
So in this case, it seems clear that hotelization in a neighborhood has replaced several housing units.
I called the contact number on the website and left a message for the general manager. I also sent an email. I have received no response.
The website is pretty clear: It offers "eco-friendly luxury vacation rentals in the heart of the city."
Luxurious Egyptian cotton linens, goose-down comforters, premium firm memory foam mattresses, tasteful artwork, hand-blown Italian glass lighting fixtures, bathrooms with floor-to-ceiling marble tile, full soaking tubs with Jacuzzi jets, separate walk-in showers and European faucets and fixtures are just some of the touches that offer you both beauty and function.

All the basics are covered and complimentary as well. High-speed (30mbps) internet with secure wireless, dedicated private phone with answering machine and unlimited calling, premium satellite DIRECTV with movie channels, LED flat screen TV, and Bluray player. A clothes washer and dryer are free to use and we even supply eco-friendly detergent.

Even though you will be staying on a serene residential streets in San Francisco, you'll be just a half a block from Market Street, the palm-tree lined main artery of San Francisco.

Each of our apartments are designed and outfitted to be homes we would love to live in. We've made a home for you in San Francisco.
The last remodeling permits issued by the city were in 2003. Maybe all that work was done back then – there are two $60,000 kitchen and bath upgrades. But not for the rest of the units.
There are so many more examples: This place has quite a selection of rentals that are available for less than 30 days.  Hard to tell without trying to book whether you can get an STR here.
As I say, I was tipped off by comments on my site and then spend an hour or so looking around. It wouldn't take someone at City Planning much longer.
But the city doesn't do that, so it appears that, beyond the Airbnb debate, plenty of illegal hotels are operating right now, without permits – and with complete impunity.
Simi told me:
Our best guess at this point is something around 50-60 [STR sites], but that is not verified. It isn't uncommon for people to build their own website to rent out their room/unit, so it's very difficult to determine an exact number.

Limited resources do not allow for dedicated staff to "watch" or monitor the sites. We are, as always, complaint based. All staff time goes to registration efforts and investigating/enforcing complaints.
I get the limited resources, but jeez: It's not that hard. One staffer dedicated to searching for illegal hotels would be able to find way more than me in just a couple of days.
So yes: Airbnb isn't the only violator. But the Campos bill would require any hosting platform, presumably including the ones for all these other rentals, not to list a place that isn't registered with the city (which would mean the owner had to live there).
And Campos wants serious fines for violators – which would help, perhaps, pay for just a couple of enforcement staffers to go after the obvious violations.
Sup. Scott Wiener talked about his desire to go after the "bad actors" but leave alone the folks who occasionally rent out an extra bedroom to pay the mortgage or put their kids through college. Nobody – not Campos, not Share Better SF, not me – wants to stop that practice.
But right in his district, a block off Castro Street, is a hotel that does not appear to be run by a resident who is renting out an extra room. These are, as far as I can tell, housing units that have been taken off the market and turned into hotels. And there are plenty more in the city.
The reason  is simple: The ordinance that was passed last year, written in part by Airbnb and promoted by Sup. David Chiu, sent a message that the city wasn't serious about cracking down on illegal hotels. So all sorts of other platforms and individual operations have sprung up and expanded, knowing that the city won't do anything about them.
That's why the existing law is a failure.