After only three issues, Cáñamo Mexico faces intense scrutiny that could silence one of the biggest pot advocates in the country.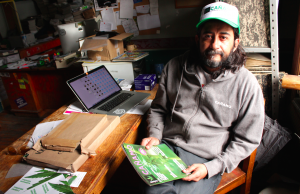 MEXICO CITY, MEX. — Six months ago, after 18 years in Spain and 10 in Chile as a leading source of information on weed and hemp, the High Times of the Spanish-speaking world Cáñamo Magazine published its first issue in Mexico. Editor Julio Zenil says his team was aware that they might run into some challenges. "Our first priority is not get ourselves into problems," says Zenil. "We try not to attack institutions, we don't attack the narcos – we don't even mention the word narco."
But when it came, trouble took the form of the federal government. This summer, Cáñamo received word that its first issue violated a federal law against publications promoting vice. [Full disclosure: the magazine has published an article of mine.]
Now three issues deep, Cáñamo Mexico's future is in doubt as it awaits a final ruling. If the magazine is found guilty of the crimes it's accused of, it could incur enormous fines that could silence one of the loudest voices for normalizing cannabis culture in a country wracked by drug war violence.
The first three issues of Cáñamo Mexico feature content you'd expect from a cannabis culture magazine. It's published a piece on potential cancer treatments, an interview with Harborside Health Center founder and Bay Area activist Steve D'Angelo, weed-related comics, an article on moms who smoke weed. Advertisements for rolling papers, hydroponic systems, and specialized soil nutrients are interspersed throughout its pages, and the cover always features a verdant nug glamour shot.
In the debut issue, an interview with singer Ismael "Tito" Fuentes de Garay of rap-rock band Molotov gives sensible advice about pot consumption, based on the musician's stoner experience. "If you're going to start smoking, do it … like at 21 or 20-something years," Fuentes de Garay tells Cáñamo. The piece is paired with photos of the singer in a white tee and dark sunglasses, holding a joint to the mouth of a cover model on a copy of the magazine. Innocuous enough? The Mexican Ministry of the Interior didn't think so – the piece with Fuentes de Garay is being used as specific proof by the Ministry's Quality Commission on Publications and Illustrated Magazines that Cáñamo Mexico encourages drug use, in violation of the Rules of Publications and Illustrated Magazines (Reglamento de Publicaciones y Revistas Ilustradas).
The laws, created in 1951, seek to establish all publications in Mexico as "vehicles to defend positive culture and education for the benefit of society in general, avoiding publications that undermine or destroy the moral foundation of the family." Material that encourages or teaches ways to break the law are deemed illegal – even material that promotes acts contrary to "morality or ethics."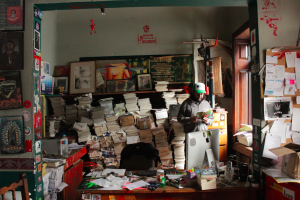 Cáñamo's staff received word that they were being investigated back in August, and despite some initial anxieties ("Surely our phones have been bugged," Zenil says) decided to go ahead with issue three. "Really, the magazine is not inviting anyone to consume," says Zenil. He looks pretty calm, sitting in the comfortably messy office in Mexico City's Roma neighborhood that Cáñamo Mexico shares with Revista Generación, Cáñamo editor Leopoldo Rivera's other, 27 year old publication. "We think the person behind the ruling must not be familiar with the law, because the interview that they cited did not include any invitation to smoke."
"This is a step Mexico has to take in relation to personal freedom and human rights," says Cáñamo Spain editor Moisés López, who spoke with 48 Hills while visiting his colleagues in Mexico City. Indeed, the government's decision to come after Cáñamo comes at an incongruous time. Just last month, a Mexican judge authorized the importation of cannabis oil for an eight year old girl who suffers daily epileptic seizures, the first legal authorization of medical marijuana in the country. Recently, elected officials from the Party of the Democratic Revolution (PRD) announced their support for the legalization of marijuana. As the United States continues to legalize marijuana on a state-by-state basis, many question how long Mexico will continue to deem the substance illicit.
This state of flux makes Cáñamo Mexico's message all the more important, says Zenil. "The [magazine's] goal is to prepare the Mexican population for the eventual legalization of cannabis. There needs to be a way for information to circulate and for the public to have access to that information." Many people in Mexico are familiar with the drug's role in violence in the country – the country's cartels continue to produce much of the weed consumed by drug users in the United States – but are unfamiliar with its medicinal properties and the industrial uses of hemp. Cáñamo Mexico is distributed to thousands of corner newsstands and takes part in mainstream book fairs, placing positive weed imagery in places where the general population is likely to be looking for something to read.
But for now, the magazine's staff in Mexico and abroad are waiting for a verdict to be handed down by the Attorney General (PGR) and the Federal Commission for Protection Against Sanitary Risks (COFEPRIS). When he spoke to 48 Hills, Zenil said he expected the ruling to be forthcoming, and that staff was feeling positive that they'd be cleared of charges.
Should the magazine be exonerated, the publicity could turn out to be a boon for the youngest edition of the venerable Cáñamo empire. Mexico seems to be ready for a different kind of depiction of marijuana — the team behind the magazine think so, at least. "There are people that smoke in all society strata here," says Zenil. "I think that in one way or another everyone here smokes or knows someone who smokes. The culture is widespread, but there's so little information about it."