A slew of exhibits and events take us back to 1915's Pan-Pacific International Exposition.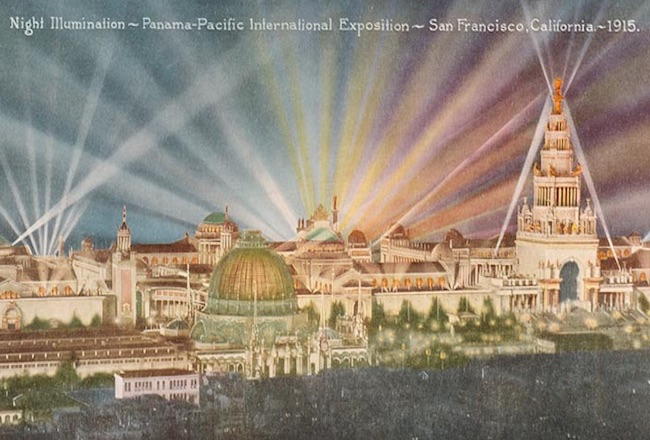 By Marke B. 
ART LOOKS San Francisco is getting thrown back, way back, lately: 100 years back, in fact, to the glorious Panama-Pacific International Exhibition of 1915 that simultaneously celebrated the completion of the Panama Canal and announced to the world that San Francisco had risen like a fine-plumaged Art Nouveau phoenix from the Great Quake flames of 1906.
Yes, stunningly kitschy Exposition remnant The Palace of Fine Arts been burning up the online news cycle, as our ever-privatizing Rec and Parks Commission attempts to monetize it with "luxury" hotels and spas (and nary a nod to the "fine arts" still being presented in its theater to thousands). But a ton of great events and shows courtesy of the California Historical Society and other local institutions observe the centenary of the "world's fair" spectacle in more civic-minded style.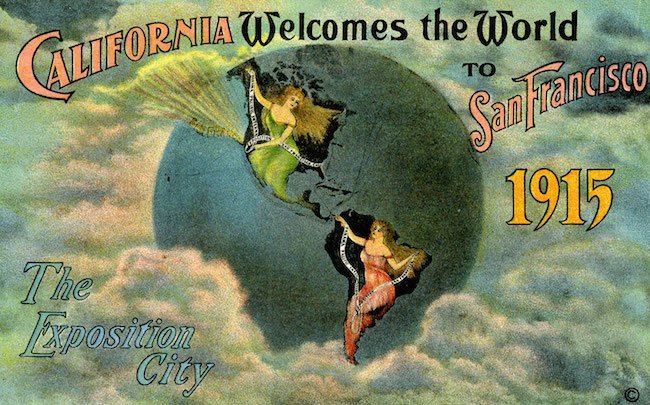 The de Young Museum's grand "Jewel City" exhibit — a 200-work sampling of the more than  11,000 pieces of art on display at the fair — as well as its accompanying "Prints at the Fair" show (70 paper works showing the range of the thousands displayed), will suffuse any SF-lover, and art-lover in general,  with a warm, golden glow.
William de Leftwich Dodge's enormous, explosively pastel mural "Atlantic and Pacific" — "an allegory, with processions of Western and Eastern nations converging toward a muscular colossus who represents the labor that produced the Panama canal"  welcomes visitors just as it did in the days when allegorical murals were usually the only peek you got at half-naked, muscular colossi. (See a video of its recent reconstruction/installation here.)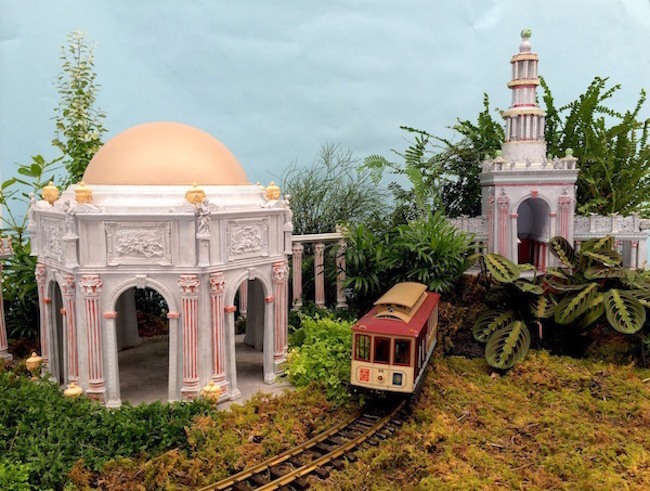 From the colossal to the exquisite, in the form of a beloved annual model train display, with fascinating flora. The Garden Railway at the Conservatory of Flowers is back, starting Thu/12 and running through April 10, and great for kids and adults who love things so neat they want to eat them. "In an enchanting display landscaped with hundreds of dwarf plants and several water features, model trains wend their way through the festive fairgrounds, zipping past whimsical recreations of the Exposition's most dazzling monuments and amusements, including the Tower of Jewels, Palace of Fine Arts, and more." So cute/cool!
As for the cascade of events marking the centenary — from a major exploration at the Oakland Museum of how the Panama Canal affected aboriginal Pacific cultures to a commemorative December 4 "closing day" celebration that w ill extinguish the Ferry Building's "1915" sign — check out the California Historical Society's complete listings.
Side note: One of my favorite things to come out of the Pan-Pacific Expo is the incredible fantasy dreamworks of Marin native and visionary architect Achilles Gildo Rizzoli (1896-1981). While never known in his lifetime, his hallucinatory, ecstatic drawings of impossible, Babel-sized buildings have been elevated as prime examples of outsider art. After having witnessed the PPIE, Rizzoli created (and perhaps mentally inhabited) his own imaginary, parallel universe "expeau" — YTTE, or Yield To Total Elation. While SF now seems full of "visionaries" tempting us toward total elation of the techno-womb kind, Rizzoli opened himself to the towering divine.