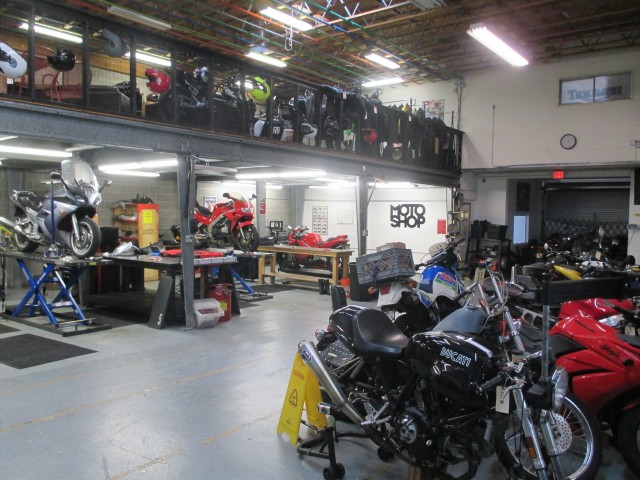 JANUARY 4, 2016 – The Board of Supes doesn't start meeting until Jan. 12, but the Planning Commission is back in action this week with two cases that reflect the dramatic changes happening in the city.
One is the conversion of a motorcycle DIY repair shop to luxury apartments in Potrero Hill – a move that probably meets all the legal requirements but that reflects badly on how the city is addressing the loss of industrial space.
The other is a proposal to turn a three-unit Nob Hill building into a legal hotel – after it's been rented, according to the city, as short-term (and thus illegal) units for years. The owner of the building says she won't rent to long-term tenants because she thinks the city's rent-control laws are too onerous and wants permission to do what she has been doing anyway – but housing advocates say that the proliferation of these hotel conversions are eating away at the local rental housing stock.
The Planning Department staff has recommended that the application be denied and that the owner, who has been warned repeatedly about unpermitted short-term rentals, be told to follow the law.
If the application is approved, it could pave the way for hundreds of other landlords to seek to turn their properties into hotel rooms.
Moto Guild is a cool business, the kind of shop that ought to have a place in San Francisco. It's a small operation in  6,000-square-foot warehouse that allows motorcycle owners a friendly and helpful place to store, fix, and learn about their machines.
I am a believer in the Robert Pirsig philosophy of technology – people ought to be able to understand how the equipment that they use in their lives actually works. That's especially important for motorcycles, which are inherently dangerous and require a connection between rider and bike that includes a comprehension of what might be going wrong when something sounds funny or wiggles or flashes.
At Moto Guild, you can take a class that teaches you how to change a tire – or how to strip and overhaul your engine. You can work on your bike with their tools for $15 an hour, or leave the broken "project" in the shop for as long as you need for $175 a month (way less than the cost of a garage.)
The place caters to locals, of course – people don't go long distances to work on their bikes. And now it's going to have to move to the East Bay.
And now a developer is seeking a permit to demolish the building, on DeHaro St. near the Anchor Steam brewery, and construct a 40-foot-tall building with 17 units, 15 of them two-bedrooms and the others one-bedroom. There will be no affordable housing onsite; instead, the developer will pay the statutory fees to support low-cost housing someplace else.
The owners of Moto Guild didn't respond to my request for comment on the project. I am told they knew when they signed their lease three years ago that they might be displaced for housing at any time. They are moving to operation to Berkeley, where they will need a new customer base: Nobody drives across the bridge for this kind of neighborhood-based service.
The zoning allows for housing. The laws allow a building owner to evict an industrial tenant, demo the place, and build condos or apartments. But isn't this the kind of place we ought to want to save in San Francisco? Isn't the ongoing loss of industrial space (there was nowhere else in the city for Moto Guild to go) something the Planning Commission ought to think about?
Maybe not: This item is on the "consent calendar." It can be approved along with a bunch of other items that are considered "routine," with no discussion or debate.
Just another little piece of San Francisco, tossed out of town because it's disposable. Happy New Year.
Then we go to Nob Hill, a block or so from Grace Cathedral, where Jennifer Solomon has owned a three-unit building at 40 Pleasant Street for more than a decade. She bought it vacant, she told me, and according to city documents, for some time it has been listed on VRBO as a short-term rental.
"I didn't want full-time renters," she told me. "I don't want to be stuck with the problems."
Solomon said she thinks that the rent laws are "stacked against the landlord" and "have morphed into something socialist. The city has taken away all the landlord rights."
The problem is that the city doesn't allow residential units like these three flats to be kept out of the housing stock and turned into hotel rooms. A neighbor. Alfonso Faustino, told me that he has filed numerous complaints with various city agencies – and indeed, Department of Building Inspection and City Planning records show that the property has been investigated for illegal short-term rentals.
"She is taking precious housing out of the market," Faustino told me.
There's no way these flats on Nob Hill are going to be affordable housing. But when you take thousands and thousands of apartments and turn them into tourist rentals, it has an impact on the cost of housing. Hardly anyone disputes that.
Solomon told me that she never evicted anyone, that she bought the property vacant. But as Share Better SF and Local 2 ask in a letter to the Planning Commission, the place clearly hadn't been a hotel forever:
How did the building become vacant so short-term rental could occur?  Were the tenants removed from this building?  How was building emptied out?  When did that occur?  Was it unit by unit?

Legalizing removal of the entire 3-flat rent-controlled building from desperately needed housing violates the Planning Code, the Master Plan and Prop M Priority Policies.  It exacerbates the loss of housing in the residential Nob Hill neighborhood.
And what 40 Pleasant is about, in a larger sense, is the city's (terrible) attitude that it's fine to ask for forgiveness instead of permission. If Solomon was running this place for years as an illegal hotel – and she never denied that to me – then she was breaking the rules. To turn around now and say: Oh well, that's the way it is, so let me keep going" is similar to what we've done with Uber and Airbnb.
Solomon told me that she agrees there are too many STRs in some parts of town. "But this is Nob Hill, it's perfect," she said. "I rent to opera singers and the people who run the ice skating rink."
And at one point in time, a few places like this might not have been a problem. But thanks to Airbnb, which turned a small-time STR market into a venture-capital driven international monstronsity, those days are over.
Solomon says she is going to ask for a month's continuance, and the commission typically grants those requests. But there can still be discussion. And if the panel decides to reject the suggestions of its own staff, it will be a huge and dangerous precedent.fs
And if a landlord in San Francisco doesn't want to be a landlord (with all the rules that the occupation includes, which really aren't that awful), he or she has every right to sell the building to someone who does – and in this case, considering how much the place has appreciated in the past decade, that doesn't seem like a hardship.