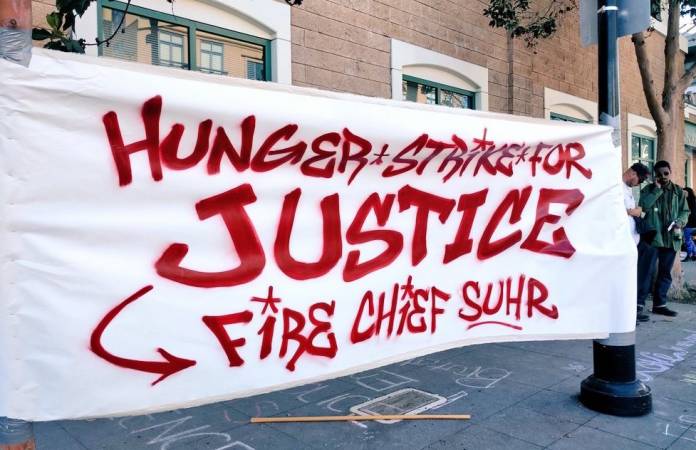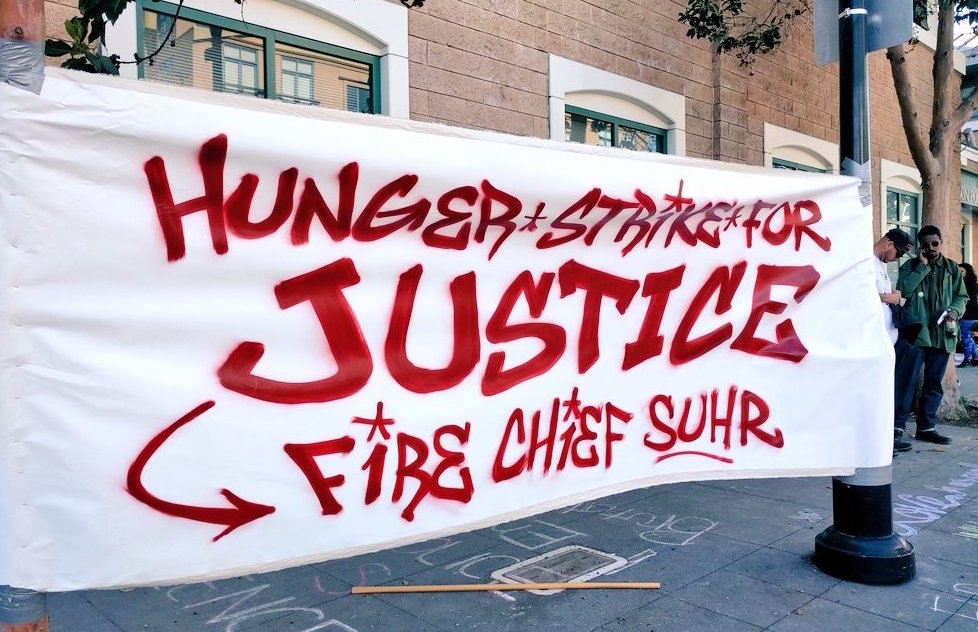 This post is part of our special coverage of #hungerforjusticesf. Six San Francisco residents are on hunger strike outside Mission Police Station, demanding that Mayor Ed Lee fire San Francisco Police Chief Gregory P. Suhr. Over the past three years the SFPD has shot and killed four men of color, the protestors feel that the hunger strike is the only option to demand an end to police impunity. Read our full coverage here. 
Bottles of coconut water, vitamin drinks and electrolytes pile up right outside the door of Mission Police Station, at 17th and Valencia. Day 3 of the hunger strike has kicked in yet as the hunger strikers sit lined up against the wall of the police station, and spirits are higher than ever. People keep dropping by, most bring sugar-free juices or electrolytes, others bring hope as they stop by to listen to demands and promise to spread the word.
Raeleen Valle-Brenes hasn't eaten for three days "I have been on a hunger strike for three days, but I do have the ability to go back home and sleep before I come back again," said Brenes. "We are doing this so people can realize that this is it, we have had enough, we need to come out and do something" Although Brenes was in high spirits, she is struggling with dizziness — yet is more concerned about her fellow hunger strikers who have been sleeping on the streets.
She's not alone. The past three days have seen the coming together of a small community, each one looking out for the other. People drop by to share anecdotes, jokes, frustration and anger. Despite going without food for more than 50 hours, none of the hunger strikers have lost a sense of humor.
Edwin Lindo, a native of the Bernal heights neighborhood, is on 76th hour of his hunger strike, having started 24 hours before the others. Lindo was rushed off in an ambulance yesterday but refused to be taken to the hospital. "I don't have insurance and I remember having to pay for my grandmother's care and the bill was $30,000.  They tried to tell me that wasn't going to be the case. That we live in a city that has free healthcare, I told them that wasn't the case," Lindo said. When Lindo refused to go to the hospital, paramedics staff left him on 18th and Capp street to walk his way back. When you haven't eaten in more than 76 hours, walking down a block can be extremely exhausting, and Lindo was already struggling with cramps.
Despite the ordeal, Lindo isn't giving up "It's day four for me, it's something special your mind gets clarity of why you are doing this. Your body is trying to keep the bare essentials and just stay up, but it's powerful. I have never done anything like this and it's powerful" he said. A car drives by honking and everyone waves back.
Ilych Sato, local rapper better known by his stage name Equipto, sits on the pavement facing the street "This is the hunger strike for justice day three, I'm feeling good, there have been a few complications with a few members, like Ed Lindo when the ambulance came. But we are still at it, we aren't going no where. Power to the people," he said. Sato's mother, Maria Cristina Gutierrez, 66, has done hunger strikes before. She walks around, occasionally, advising everyone to keep hydrated and to rest. "My mother's not here but I feel like she is," Brenes says laughing as Gutierrez reminds them to rest up and get some sleep.  Gutierrez herself is braving the cold, "I am okay, I am careful and keeping myself warm. I just need to be mindful as we are in this for the long run and we need to do this and stay strong while at it," she said.
Every now and then one of them would go off to rest in a parked car nearby. Community members visiting keep reminding them to rest and keep hydrated. A corner shop nearby has seen people coming in to get vitamin drinks and coconut water, as a worker there prepares another box of drinks, we get into a discussion on the hunger strike. "You mean there are people on a hunger strike?" she asks, when informed that a group of Bay Area residents have gone on the hunger strike to protest police killings and demand Chief Suhr and Mayor Lee step down, she nods "Ah, what's happening is unbelievable. It's unbelievable. But I know what's it like, I am a woman of color (a Latino) and I had to leave my job because of racism."
Lindo, Brenes, Gutierrez, Pinkston, and Blackwell are hopeful that their hunger strike will bring more attention to systemic racism, corruption, and unaccountability that has plagued this city."My message to the people is wake up, take a look there's people putting their lives on the line because people are getting killed," Lindo said. "The only change is going to come if we uproot the evil that is the folks in the police department that are killing people of color in the city. It's personal because I am one of them" he said. Lindo recalls that people occasionally pass-by and call them "bums" who should go back to work, not realizing that none of them are homeless.
A block down the road community, members have gathered at Duggan's Funeral Home to pay their respects to Luis Gongora, the 45-year-old Latino homeless man who was shot six times by Sgt. Nate Steger and officer Michael Mellone on April 7.
Back at the protest, a tourist couple from Britain stop by to take the flyer containing the call to action, as a community member explains the hunger strike to them the look of shock apparent on their faces. "We hope that some of the people taking the flyers will go back home and spread the word. It seems Ed Lee only listens to emails anyway," a volunteer remarks as she continues to request passersby to call for action.