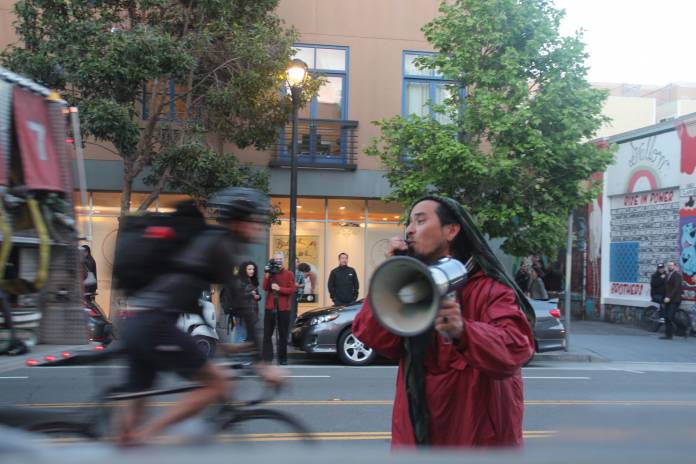 This post is part of our special coverage on the #hungerforjusticesf. Six San Francisco residents are on hunger strike outside Mission Police Station, demanding that Mayor Ed Lee fire San Francisco Police Chief Gregory P Suhr. Over the past three years the SFPD has shot & killed four men of colour, the protestors feel that the hunger strike is the only way they've left to demand an end to police impunity. Read our full coverage here.
Five hunger strikers are sitting outside the Mission Police Station at Valencia and 17th, which is a central location for tourists as well as people that live in the city. There's hope that this will bring more attention to the issue of police killings in the city.
"We are starving ourselves because the uncomfortableness we're feeling is nothing like the feeling — and I bring myself back to when Alex Nieto took his last breath and was shot at 56 times, said hunger striker Edwin Lindo. So when I felt that hunger in my stomach I felt those bullets going through Alex and I said I can still sit here. I said, he can't breath anymore but I can and there's five others standing with us saying that they're willing to stand and literally go hungry."
Lindo, a native of the Bernal heights neighborhood and candidate for a seat on the Board of Supervisors in District 9, spoke to a crowd of more than 50 people gathered to support the hunger strikers outside Mission Police Station on 17 and Valencia.
 Ilych Sato, local rapper better known by his stage name Equipto, a fellow hunger striker stood alongside Lindo and held the microphone.
He continued: "This is not a publicity stunt by any means of the imagination. We have real people with real families, with institutions that are being run, pre schools and careers.  This is legitimately our last option."
"What we are doing is powerful. And not because individuals are doing it but powerful because you all are coming out. Solidifying the fact that that this is powerful in our community."
As he spoke a tech shuttle bus, known in the city as the controversial private buses that transport employees of large tech companies to and from work each day, passed by in the background.  Moments after speaking to the crowd Lindo broke down with severe cramps and was rushed away in an ambulance. Lindo was 56 hours into his hunger strike at that point.
Earlier in the day, the Equipto expressed his disgust at Mayor Ed Lee's response to their demands. Lee's response to the hunger strikers and protestors was to tell them to "email him" as he's always available over email.

"While we're all out here, the action needs to continue. people need to go to city hall. putting pressure on Ed Lee, make sure it's not easy to get in the door. We have people on 17 and Valencia. We have things to tell Ed Lee" Equipto said, as an Lindo was being driven off in an ambulance
"We need to get together. We have to organize. We need all these organizations, coalitions to galvanize around what's going on. We need to be taking big bold steps. I know we don't have the time, but let's make the time, that's what me and my family are out here. We have put our lives on the line for this." he said.
Each days sees a new member of the community joining in protest, this evening one more person joined in bringing to five the number of people who are calling on Mayor Ed Lee to fire the police chief. Sellassie Blackwell, a San Francisco native and political hip-hop artist joined the four others.
Alongside Equipto is his mother, Maria Cristina Gutierrez. Gutierrez, 66, is the executive director of Compañeros del Barrio preschool on 16th and Valencia. Gutierrez spoke after her son and said she could not sit on the sidelines given the deaths of San Francisco residents Alex Nieto, Amilcar Perez Lopez, Mario Woods, and most recently, Luis Gongora. All were shot and killed by officers.
After attending protests for those murdered police, for Gutierrez the police shooting of Luis Gongora, the 45-year-old Mexican homeless man who was shot six times by Sgt. Nate Steger and officer Michael Mellone on April 7 in the neighboring Mission District, that was the last straw.
"I have to do something. I have to do something. I am the other person. I am Luis. I am Mario Woods. Do you understand that? I am Amilcar. I am all these people that are being murdered because the next one can be my own. And I am not going to allow that. No matter what. So I am not fighting just for the rights of those who died and their families I am fighting for their rights. It is my grandchildren. It is my children. My son. That are in danger. And I will fight for their lives. No matter what. Like a lion."
Another hunger striker, Ike Pinkston, a preschool teacher at Compañeros del Barrio, has been commuting to work three hours every day from Antioch for the past few years since being priced out of the city. Pinkston explained he was striking for his children who could also be targeted by police officers because of their race.
"Mario could be my son, he could be my son in a few years" he said.
As the strikers spoke to the community, every now and then a car would honk their horn to demonstrate their solidarity. The majority of passersby walked past with befuddled looks on their faces en route home after a day at work or on the way out to one of Valencia street's cosmopolitan bars and restaurants.
As darkness set in and the temperature dropped to 55°,  Lindo returned to join the group to spend the night sleeping in a tent outside the police station.