LETTER FROM MEXICO It was a sunny day at the beach in Tijuana. Jet skis buzzed in the waves, around the westernmost end of the wall separating the United States from Mexico.
Despite the fact it has existed here for years, Donald Trump committed to building this wall on Wednesday in an executive order. He also announced the creation of the Office for Victims of Crimes Committed by Removable Aliens, increased funding for immigrant detention facilities, and promised to pull federal funding from sanctuary cities.
On that same day, US government workers drove to this beach in a white truck and installed 60 yards of chainlink fencing, attaching it by flimsy twisted wire to the already existing metal columns marching into the Pacific.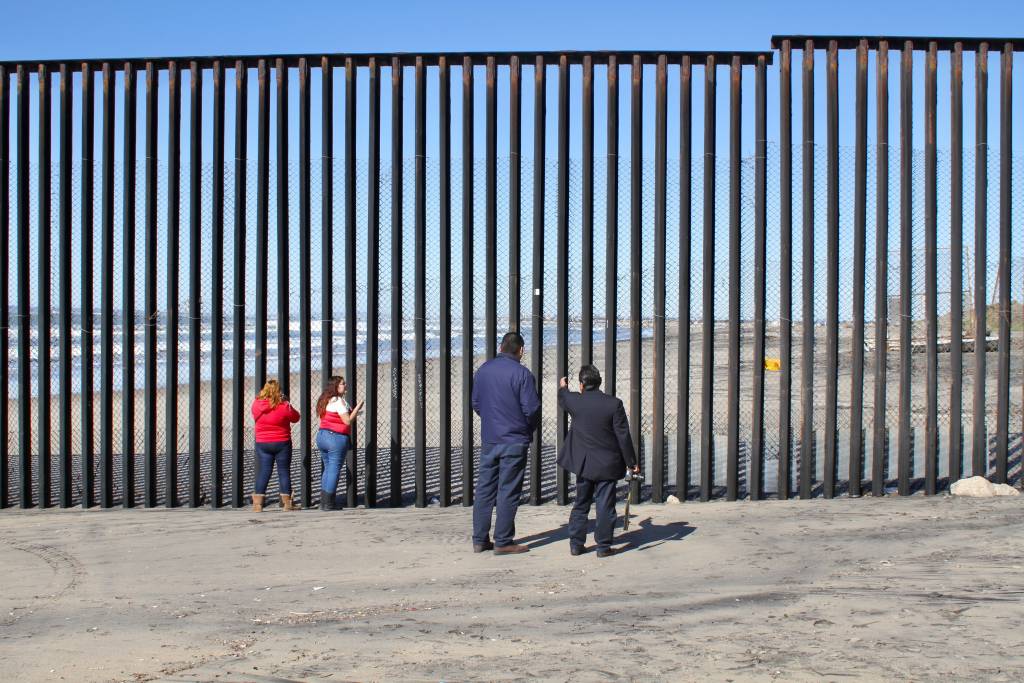 By Friday, the new fencing was already rusting. But Tijuana residents didn't miss the gesture.
Trump's antics have made this an incredibly uncertain place to live. 90,000 people pass Tijuana's San Ysidro border crossing every day. Many residents have dual citizenship, or have labored to obtain the SENTRI pass that allows them to make their weekly run to Target without a barrage of interrogation at the border.
In Tijuana, speeches about the adversarial nature of the two countries are a dark cloud. Here, life in the two nations seems inextricably linked.
But the laws aren't made to accommodate border life, and already stresses are showing from this week's political rollercoaster. On Friday, four-hour waits were being reported by those trying to enter Mexico, many of them workers who were trying to go home at the end of the day or week.
This week, SENTRI users reported being asked more questions than usual. For the first time that anyone can remember, there were Homeland Security officers checking cars headed southbound. Normally SAT (Secretary of Finance and Public Credit), the Mexican version of the IRS whose officers control the border, are the only ones checking cars bound for Mexico. The US is trying to extract taxes from US citizens fleeing the country, locals surmised. 
Mexico has become the Trump Era's first international relations disaster. An announced meeting at the White House between Trump and Mexican president Enrique Peña Nieto was downgraded to an hour-long phone call when Trump tweeted "If Mexico is unwilling to pay for the badly needed wall, then it would be better to cancel the upcoming meeting."
Under pressure from incredulous Mexicans, Peña Nieto announced the meeting had in fact been canceled.
Then on Thursday, Press Secretary Sean Spicer suggested Trump was considering imposing a 20 percent tax on Mexican imports. Accordingly, the peso fell.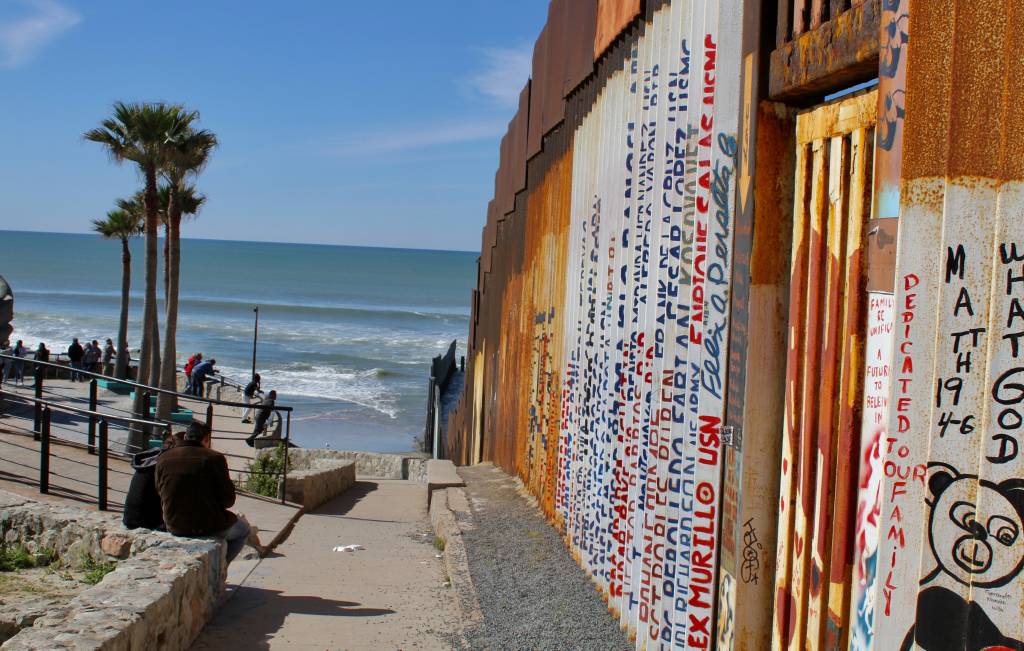 Everyone agreed on Friday that a phone call was appropriate. Afterwards, the two leaders have "agreed for now not to speak publicly about the controversial issue." The news was good enough for the market — the Mexican peso rose 1.4% after the statement was released.
Few believe that Peña Nieto has the best interests of the Mexican people at heart. He failed to bring up the wall during his joint appearance with Trump during US elections, bolstering the Donald's reputation as a statesman and giving the candidate a bump that some are saving swung the election.
Afterwards, the man responsible for engineering the meeting, Mexico's Secretary of Finance and Public Credit — and longtime friend of Ivana Trump's husband Jared Kushner — Luis Videgaray, was forced to resign.
The meeting had been a PR nightmare for the Mexican president, a show of spinelessness that hasn't been forgotten. Last week, Mexican newspaper Reforma published polls putting his approval rating at 12 percent.
But when Trump won the election, Videgaray was reinstated — but this time as the Secretary of Foreign Affairs, a direct liaison to the US president. The appointment has been seen as proof of Peña Nieto's desire to cater to Trump's demands. 
"With Luis, Mexico and the United States would have made wonderful deals together – where both Mexico and the US would have benefitted." Trump tweeted after Videgaray's resignation in September.
One can only guess at the border patrol's reason for tacking up the impotent chainlink.
It's not that people haven't snuck through the fence before. In a news piece about the new fencing aired by Baja California station UTV 157 this week, footage was shown of a child squeezing in between the metal bars, planting a Mexican flag on US soil, and immediately squeezing back through to Mexico. But the fence wasn't strong enough to stop a slim, determined émigré.
But more likely it is akin to Trump's assertion that Mexico has long taken advantage of the United State. An empty threat, meant to provide easy answers to his supporters, strike fear in the hearts of everyone else, and make money for someone, surely.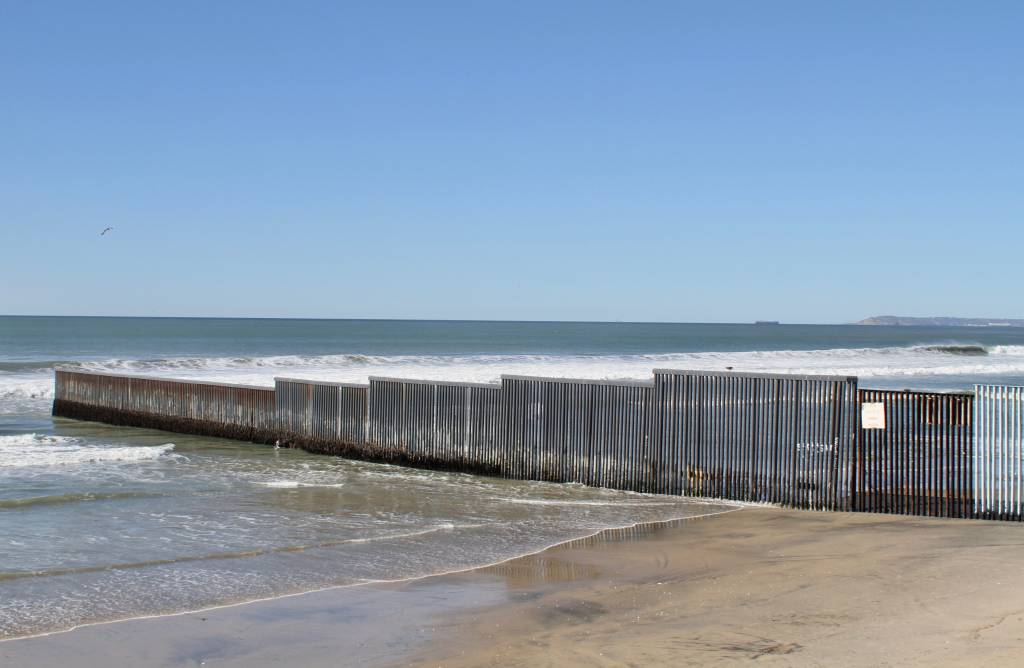 There are few Trump supporters in Mexico. Today was one of the warmest winter days in awhile and there were a bunch of people out at at Playas de Tijuana. 
A few yards away lies Friendship Park, which was opened in 1971 by First Lady Pat Nixon. On that occasion, reporters said the Republican wife commented "I hope there won't be a fence here too long. I hate to see a fence anywhere."
Until 1994, cross border families could come here eat together. People got married here, held religious services, children laughed on the swings provided.
In 2009, the US government closed the park except for heavily guarded weekend opening hours, when families could embrace for a few moments under the watch of border patrol.
Today, even these brief encounters have been canceled indefinitely. Tijuana residents don't expect them to resume any time soon.
It's pretty much a day at the beach like any other. Except instead of focusing their attention on the waves, many of the beachgoers' took a moment to direct their gaze up the coast, beyond the added chainlink that separates two countries whose future relationship is in more doubt than ever.