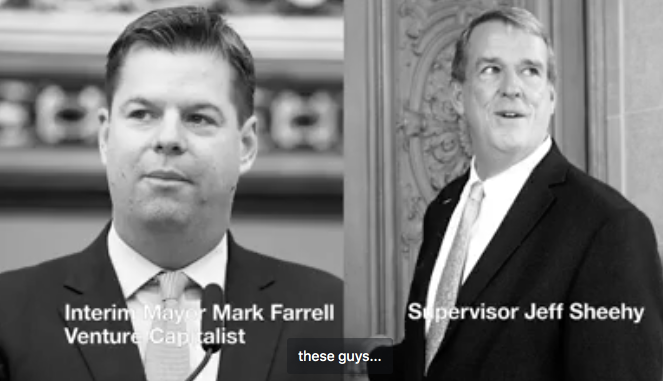 If the first political ad of the 2018 mayor's race is any indication, this is going to get ugly, fast.
The ad put out by a superPAC that has yet to disclose its donors attacks Mark Leno for a secret deal to put Mark Farrell in the Mayor's Office – although Leno wasn't a member of the Board of Supes, which took that vote.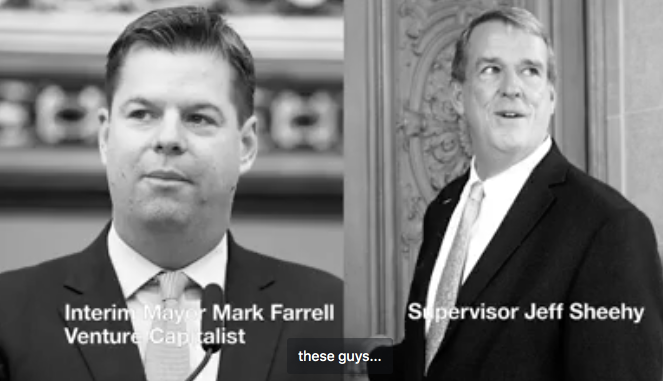 It seeks to portray the deal as something orchestrated by two men – Sups. Aaron Peskin and Jeff Sheehy – to help Leno, although in reality three of the six votes for Farrell were women. And Sup. Hillary Ronen was at least as involved in the discussion and debate over the vote as Peskin or any other man.
Sup. Jane Kim, who also voted for Farrell, also benefits from the decision not to allow Breed to run as an incumbent.
But it's a well-produced ad, very effective, and we may see a lot more of this in the months to come.
The superPAC ad demonstrates one of the big differences between the candidates: Leno and Kim have agreed to oppose and distance themselves from any "independent expenditure" committees that seek to use unlimited funds to attack their opponents.
Breed has not.
At some point the superPAC will have to disclose its donors; by then, if in fact, those donors are white male billionaires or their allies, the damage will have been done.
It's no secret that these "independent expenditure" operations, the biggest and most effective ones funded by the local tech and real-estate plutocracy, have changed the politics of the city. David Campos might well have defeated David Chiu for state Assembly if Conway and his friends hadn't spent hundreds of thousands of dollars attacking him. Kim suffered a withering million-dollar assault by white male billionaires who wanted a white man, Scott Wiener, instead of a woman of color in the state Senate.
Behind all of this, of course, is politics: The existing establishment is very happy with the way this city has been run. A small number of people have become very wealthy while the rest have suffered.
Leno held a press conference today and renewed his promise to
denounce, renounce, and reject all Super PACs made on my behalf or against any other candidates Despite this disgraceful attack, I will continue to reject the special interests that are trying to exert their influence on our elections. It's time to say 'enough is enough.'  That's why I am running a campaign to shake up City Hall and return it to San Francisco voters, not billionaires and their special interest Super PACs.
Leno told me that these kind of negative ads let candidates have others do their dirty work. "If London Breed wants to attack me, she should do it," he said. "There is no need for this kind of thing. If people want to support her, they should donate to her campaign with the same $500 limit we all have accepted."
He also said Breed should demand immediate disclosure of the donors who paid for the ad.
Breed has not commented – and sadly, at the mayoral debate Saturday, Chron Editorial Page Editor John Diaz didn't ask her whether she would agree to the clean elections pledge.
And so it begins.