ONSTAGE As someone who grew up watching San Francisco Mime Troupe productions, I can tell you that there is a right and true way to view them. This basic checklist includes a multi-generational group of friends, a variety of beverages, picnic blanket, sunshine (not too much; partial clouds are fine as long as temps hover around Bay Area medians), a forgiving nature when it comes to cornball humor, and a willingness to temporarily exchange outrage over the year's political atrocities for laughter. You may forgive yourself for the break away from Supreme Court headlines on your computer screen, traded in for the free, en plein air park viewing experience has been designed to re-charge your capacity to resist.
Hence the silliness. "Realism is anti-revolutionary," explains Rotimi Agbabiaka, who co-wrote the script with troupe veteran Joan Holden for Seeing Red, this year's Mime Troupe summer show offering that opens its run on July 4th at Dolores Park. "Realism really enforces the status quo."
But the Mime Troupe plays have never been in danger of being too real. Their power lies in ridiculous characters, unlikely plot twists, and of course, the cast's periodic bursts into song. In a Skype interview in late June with 48 Hills, Agbabiaka and Holden spoke about where Seeing Red found the potential for revving audiences's solidarity motors (the 1912 US socialism heyday) and the ups and downs of locating one's art in an institution with a 59-year legacy of setting dissent to musical theater. The conversation that emerged gives one a good idea of what its like to carry the weight of a heavy creative legacy.
Given the rough-hewn atrocities of the Trump era, it may be no surprise that the collective chose time travel as Seeing Red's fantastic liberty. The plot revolves around a Trump voter who is spirited back in time to a moment in US history when socialism was hitting hard. Eugene Debbs won seven percent of the votes for president. The Wobblies were igniting strikes across the country. The focus on the proactive reaction to familiar economic inequalities was chosen to shore up audiences' spirits and get them thinking outside the two party system for political answers.
"They had a completely grand and ambitious vision for society, for fundamental change," says Agbabiaka of the socialists of the era. "They wanted to make a society that's run for the benefit of regular people who are the ones who are working their asses off to build this thing."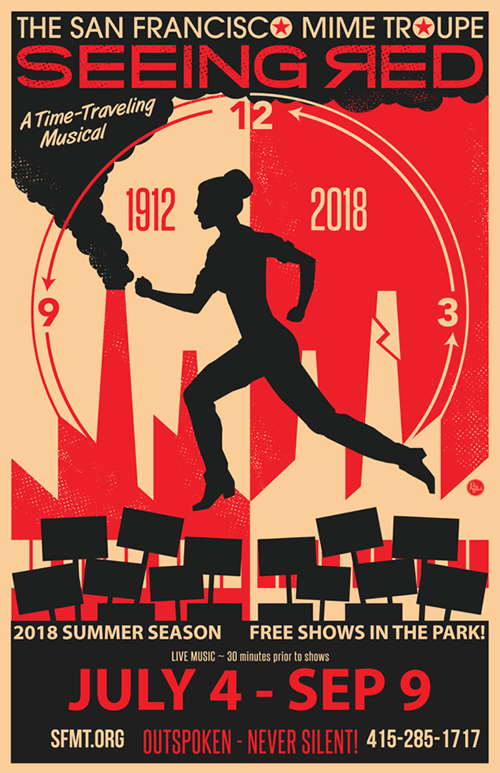 Holden and Agbabiaka both found their first professional job in theater at the Mime Troupe, separated by a period of 53 years. Holden was first recruited as a scriptwriter back in 1967, when the troupe was R.G. Davis' company rather than the collective it is today. She was the group's resident scribe until 2000, when she set out as a freelancer, at one point adapting Barbara Ehrenreich's influential book Nickel and Dimed for the stage.
Agbabiaka linked up in 2010 when he was cast in a play, skipping his MFA graduation ceremony to make the drive to Mime Troupe headquarters. He has called San Francisco home ever since. "The Mime Troupe was what brought me to San Francisco, and what in many ways has kept me here," Agbabiaka says. This is his first stab at writing a Mime Troupe production, though he scripted a successful, autobiographical solo show in 2016. 
For Seeing Red, Holden and Agbabiaka went through an extensive research process, reading up on both history and modern day Trump voter concerns (the protagonist of Seeing Red voted for The Donald, though by the time she joins us, she is feeling uneasy about her pick.) The thought of so much reflecting on the past for present-day inspiration led me to asking the two about their own reality working in a radical arts organization in a San Francisco that perhaps, has seen more progressive times. Was this time travel for clarity a meta reference? Were there drawbacks to operating within such a legacy organization?
Holden responded by mentioning audience expectations, hardened over time — possible roadblocks in the troupe's ability to bring fresh flavors to the stage. The antidote she's found has been confidence in her own artistic strengths. "You've got to trust that and nothing else. You can't let your critical judgement and your fears guide — that's a conservative force. You have to trust your imagination."
But the up side to working within the historic theater group is pronounced. Superlative cast and crew members are one plus, says Agbabiaka. Holden gets straight to certain material realities in her explanation of the perks of being a Mime. "Owning the means of production," she says. "We bought this building with three city lots in the Mission for $55,000. You don't get to do that anymore. I often think that the building is salvation."
The company is well aware of its responsibilities to do its own legacy proud. In Seeing Red, the troupe want to raise the urgency of solidarity, the necessity of living the revolution through joy, the arts, through doing the things that keep us thriving. "We're against Trump, we're against 'them,'" says Agbabiaka. "Where do we begin to talk about what are we for, what kind of society do we want to live in, what kind of world do we want to live in?"
The answer, for some, this summer will be splayed out on the grass at the — always free! — Mime Troupe shows as Seeing Red travels around the greater Bay Area. Consider it your political duty in trying times. "I've always thought comedy was revolutionary," says Holden. "It is a willingness to free your imagination."
SF MIME TROUPE: SEEING RED
Opens July 4, 2pm, free
Dolores Park, SF.
Continues through September 9 around the Bay Area. 
More info here