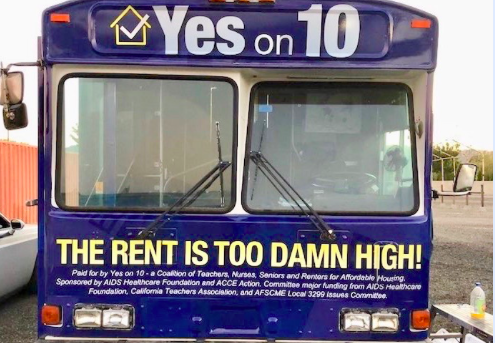 "Local governments are on the front lines of managing homelessness, displacement and gentrification. They need the ability to stop the bleeding. Proposition 10 would give them an additional option for helping those at risk of losing their homes. Proposition 10 isn't the solution to the state's affordable housing crisis, but it is a valuable tool to manage the consequences." —Los Angeles Times, September 15, 2018
"It's about local control, which is why we recommend Californians vote 'yes.' " —The Sacramento Bee, September 14, 2018
If enacted, Proposition 10 will repeal the Costa Hawkins Rental Housing Act, nothing more, nothing less.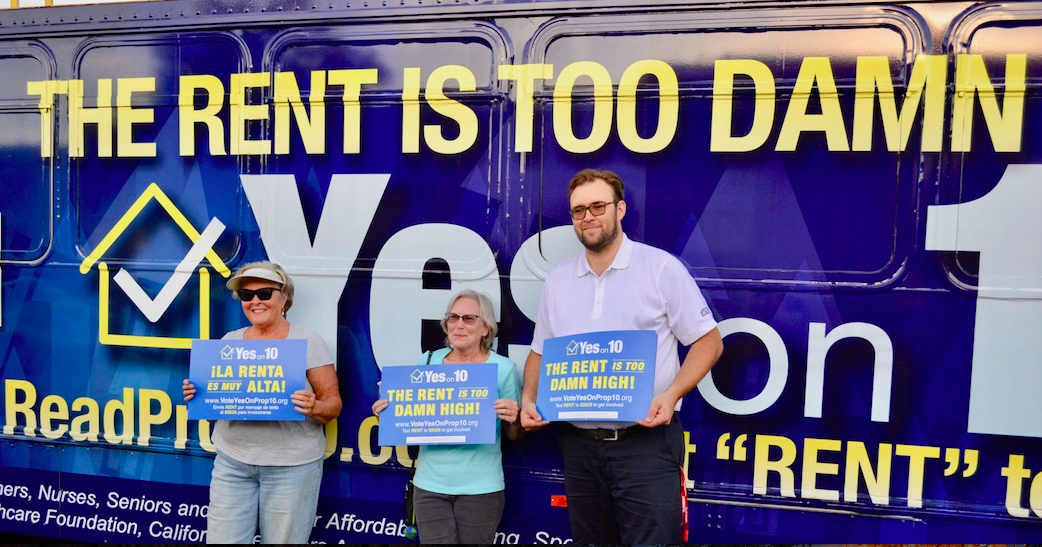 What is the Costa-Hawkins Rental Housing Act?
Costa-Hawkins was a bipartisan measure authored by Jim Costa (D-Fresno). A congressman now and a member of the Blue Dog Democrats, Costa has always been a shill for big agriculture, big oil, and the so-called real estate industry;  and Phil Hawkins (R-Bellflower), a one-term 56th Assembly District representative who currently serves on the Board of Directors of the Central Basin Municipal Water District.
The California Legislature enacted the Costa-Hawkins Rental Housing Act in 1995 with the passage of AB 1164 (Hawkins) and its predecessor, SB 1257 (Costa) with support from one-percenters like the so-called Coalition for Fair Rental Policy, the California Building Industry Association, the California League of Savings Institutions, the California Land Title Association, the California Mortgage Bankers Association, and various property owners and apartment associations throughout California.
The Costa Hawkins Rental Housing Act banned any vacancy control—regulated rents that continue when a unit is vacated (think Berkeley.) It also entirely exempted single-family dwellings from rent control.
The most pernicious effect of the act was to absolutely prohibit local jurisdictions from enacting any future rent control for housing built after February 1, 1995.
Think of it this way: In 1995 Congress prohibits states from enacting any automobile fuel emission controls or standards (for sake of the argument let's not debate the constitutionality of this). The benefit to a few special interest groups is obvious—the oil companies and the auto manufacturers will get richer and richer. Meanwhile the pollution becomes more and more toxic. People begin to die. Shouldn't our state have the ability to enact measures to control that pollution? Shouldn't we, as a state, a more local government, be allowed the right to chart the course of our own future?
As a state law, the Costa-Hawkins Act preempts any attempts by local governments to deal with the well-documented current housing crisis by controlling the price of rents in housing built after 1995. Proposition 10 repeals Costa-Hawkins, but does not mandate any rent control itself. It will be up to local governments to decide if they want rent control or not.
Proposition 10 embodies the true spirit of California's initiative process.
California has a long history with the initiative and referendum process. Enacted in 1911, it was described in the Los Angeles Times as a vote "that thrust from power the Captains of Greed."
An argument for the original measure to enact the initiative process stated, "One of the strongest arguments in its favor is the character of many of those who oppose it. Opposing it will be found without exception the servants of special interests, and those who profit through special legislation. Added to these are those who may be termed our "Political Aristocrats," who distrust and scoff at the people; who are accustomed to sneer at self-government as 'The rule of the Mob,' or 'the Tyranny or Majorities.' "
The initiative process has been maligned in recent years, largely because special interest groups masquerade as populists (think Trump) and spend tons of money to confuse voters to support their various whims.
Proposition 10 is an initiative written and supported by tenant groups who represent real people, tenants who are neither rich nor particularly powerful…yet. Costa Hawkins was enacted by griftocrats showered in bribes…I mean contributions…from the so-called real estate industry that represents a small class of people who still deign to call themselves lords.
Proposition 10 is exactly the type of law the creators of the initiative process envisioned—a law proposed by an underclass ignored and vilified by their supposed representatives.
The ludicrous arguments against Proposition 10
The various TV ads opposing Proposition 10 seem to cloak themselves in a kind of pro-tenant language: Prop 10 has no protections for renters, seniors, veterans, or the disabled. Correct. Prop 10 has no specific provisions to reduce rents. Correct. Prop 10 contains zero funding for affordable housing and contains no requirements that housing be built. Correct.
All of these "arguments" essentially ask the question: Why aren't there any peaches in this apple pie?
Another argument against Proposition 10 goes something like this: "Prop 10 is the wrong approach. It repeals animportantCalifornia rental housing law with no replacement and no plan to address affordable and middle-class housing or deal with the problem of increasing homelessness on our streets."
Proposition 10 seeks to repeal an existing law than neither provides any tenant protections, nor would allow any local government to attempt to increase protections. Costa-Hawkins would prevent local governments from establishing rent control for buildings filled with senior, veterans and the disabled built after 1995. Costa-Hawkins would prevent local governments from establishing specific provisions to reduce rents. Costa-Hawkins would prevent local governments from using rent control as a means to help to create affordable housing.
Costa-Hawkins is only important to those "Captains of Greed" those landlords who can't imagine a place where local control, real democracy, might seek to control rents.
Proposition 10 Does Not Mandate Any Rent Control
Once again, Proposition 10 only repeals Cost-Hawkins in order to return rent control decision making to local governments. Those who oppose repeal want to paint it as some kind of new rent control law. It is not.
Those who oppose Proposition 10 would rather debate rent control on a statewide basis so that they can hide behind their slick, meaningless TV ads. They don't want local governments to have right to chart the course of our own future They abhor the idea that they may have to debate the issue locally. That, locally, someone might know them and confront them personally, exposing their opposition for what it really is—unmitigated, inhumane, aristocratic greed.