ALL EARS The sound of Harlem during its jazz heyday is so indelible that it jumps to mind instantly, almost a century later. For me, it's Ellington playing rent parties in the early 1920s, with street noise filtering in through the window. But what is the sound of Harlem as gentrification works to erase its history?
Harlem-based jazz vocalist Somi set out to make that music when she wrote her latest album, Petite Afrique—which went on to win the 2018 NAACP Image Award for Outstanding Jazz Album, over major players like the Preservation Hall Jazz Band and Cécile McLorin Salvant. On Sun/13, Somi makes a rare appearance in Oakland to bring this masterpiece to The New Parish. 
The album is as much an intellectual endeavor as a musical one. Somi began the songwriting process by interviewing members of Harlem's West African immigrant community, who are often absent from portraits of the neighborhood. Those perspectives provide a potent entry point for questions of displacement and belonging, and Somi is uniquely qualified to explore them. She's a first-generation immigrant herself, and she brings an education in anthropology to her songwriting.  
But before Somi could set her cultural critiques to music, she had to decide to become a musician. The journey took her to East and West Africa, before landing her back in Harlem with a renewed sense of what stories to tell, and how to tell them. 
48 HILLS You grew up playing cello (and chasing other creative pursuits), without the expectation that you would make a career out of it. How did you transition from classical music to improvisation and songwriting? 
SOMI Yes, I loved playing the cello, and I always like to think of it as one of my first voice teachers. I never aspired to be a professional classical musician, but I did daydream about becoming a professional singer. In retrospect, I think it is hard for a first-generation American child to consider the path of an artist, knowing how much your family sacrificed for you to be in this country. (My family is originally from Rwanda and Uganda.) My transition from classical music to improvisation and songwriting probably began with writing poetry and experimenting with the vocal sounds I could make in response to or in imitation of my cello.  
48 HILLS Was it scary to become the person at the center of the music?
SOMI I think finding the courage to stand in the center of anything you love is always a process. I definitely did not show up confident that I could call myself a singer—let alone make a career out of it. All I know is that songmaking feels good. That alone is what gives me the courage to keep showing up for my voice and this journey.  
48 HILLS What happened during that year between college and grad school that made you start to think that a career as a singer was possible for you?
SOMI I moved to Kenya and Tanzania for a year. It was the first time in my life that I was experiencing my homeland as something other than a tourist. I had been studying cultural anthropology with the intention of becoming an MD and medical anthropologist. That year abroad gave me unexpected answers about who I was both as an American in Africa and an African in America. It might sound cliché, but I finally felt like I knew where I was from and, therefore, where I wanted to go . . . towards the music.  
48 HILLS How did you come to be mentored by Hugh Masekela? How did working with him shape you as an artist?  
SOMI I had the good fortune of meeting Hugh Masekela after a performance of his in New York. I gave him a demo, and his office contacted me six months later. Over time, he became my closest mentor, and I miss him dearly. He was always challenging me to step outside of my comfort zone for deeper artistic growth, and he taught to me to trust in the implicit global citizenship of a musician's life.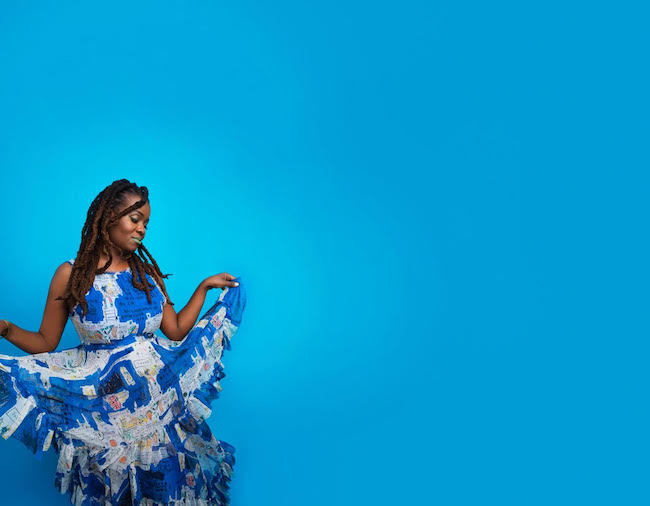 48 HILLS What made you want to remove yourself from the music industry after your second album to go incubate in Lagos? 
SOMI I lost my father in 2009 when my second album came out. There is a particular type of sobriety that casts itself on life when you go through that type of personal grief. When a former graduate advisor of mine asked me to do seven-week international teaching artist residency at a provincial Nigerian university, I jumped at the opportunity to reset my broken heart. Little did I know that that residency would turn into a deeply inspired 18-month sabbatical in one of Africa's greatest cities. My time there was a great example of Hugh Masekela's lesson on global citizenship.
48 HILLS Did that experience change the way you approached the industry or your music-making? 
SOMI The experience shifted my creative process to become more explicitly anthropological with the research that ultimately informs the stories I'm trying to tell. I also think that experience reminded me to trust that the African continent and its nascent cultural economy have room for transnational voices like my own, which was a welcomed salve to the often limited notions of African narratives and images in traditional Western music industry models. 
48 HILLS What crystallized during your sabbatical or while you were writing The Lagos Music Salon, the album that came out of it?
SOMI I am ever-committed to voicing the nuance of African identities, and only a fraction of our stories have been told.
48 HILLS Did your time abroad help you bring a more anthropological lens to Harlem when you returned to New York? 
SOMI Absolutely.
48 HILLS What did you want Petite Afrique to communicate about this moment in Harlem? 
SOMI Petite Afrique was simply meant to be a compositional meditation on the dignity of Harlem's longstanding African immigrant community in the face of rapid gentrification. In an age of rampant xenophobia and Islamophobia, I am thankful that this work allowed me and a diverse array of audiences to have honest conversations about the times we live in and our shared humanity.
48 HILLS The album begins with "Alien," a reinvention of the Sting song "Englishman in New York." The original song has a hard edge: Sting seems to be defining himself in opposition to New York. What about "Englishman in New York" pulled at you and made you want to riff on it? 
SOMI When I was a child, I thought it was so strange that legal residents of this country, including members of my family, had to carry cards around that called them "legal aliens." That song was a huge hit back in the '80s and I remember thinking Sting must think it's strange, too. 
As I became older, I realized that, as much as I loved the song, it was told from a very Western point of view. The original lyric is almost smug or, as you said, "in opposition to New York." That is a very different experience than that of most immigrants of color in this country. Our journey is mostly aspirational in that we usually arrive wanting to be a part of American life, not in opposition to it. Most of us do not have the privilege of knowing that the opportunities are the same back home should we decide to leave. So I wanted to write a version of the song that not only demonstrated the stark experiential differences within the immigrant communities while still pushing back at the fact that, to this day, we still call human beings born in another country "alien."
48 HILLS Your songs "Black Enough" and "The Gentry" are both searing social commentary wrapped in such delightful music. Does approaching these conversations through music help get past people's defenses or take the conversation to places it might not otherwise go? 
SOMI Absolutely. It was the conversations that audience members wanted to have after each concert of this music that made me decide to produce a national performance and dialogue series through American cities with the largest African immigrant communities. The series tried to create room to unpack the narratives inside this work with more time and intention. In fact, the last time I performed in Oakland was at Impact Hub for an installation of that series.  
48 HILLS You're also writing a modern jazz play on the life of Miriam Makeba. What about her story makes you want to tell it? 
SOMI My response is: What isn't it about her story that it is not more widely told?
SOMI
January 13, 8pm, $25-30
The New Parish, Oakland
Tickets and more info here.