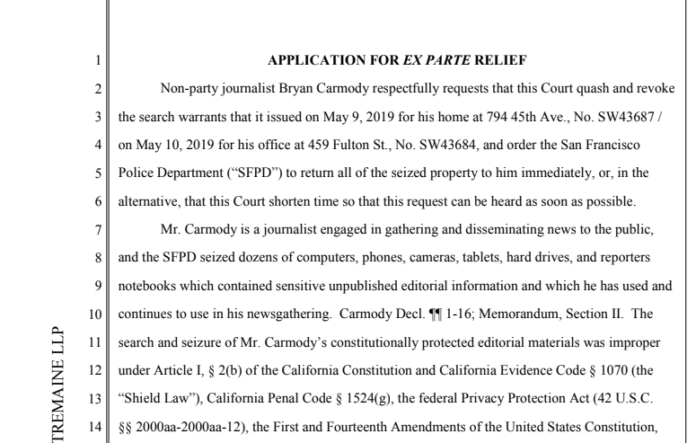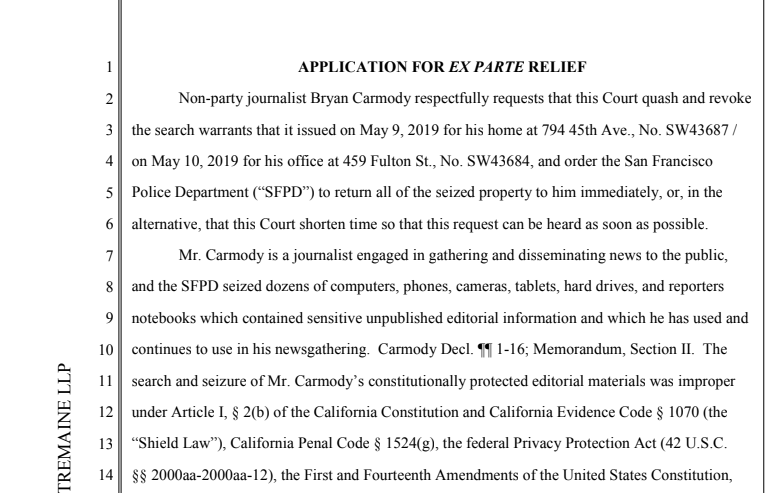 The fate of the property of journalist Bryan Carmody – and the role of the local courts in allowing a clearly illegal search warrant that is an assault on the First Amendment and the California Constitution – will play out in court Tuesday/21.
Thomas Burke, Carmody's attorney, fled a motion last week asking that the search warrant the police used to seize Carmody's computers, cameras, notes, and other property be quashed and the property be returned to him immediately.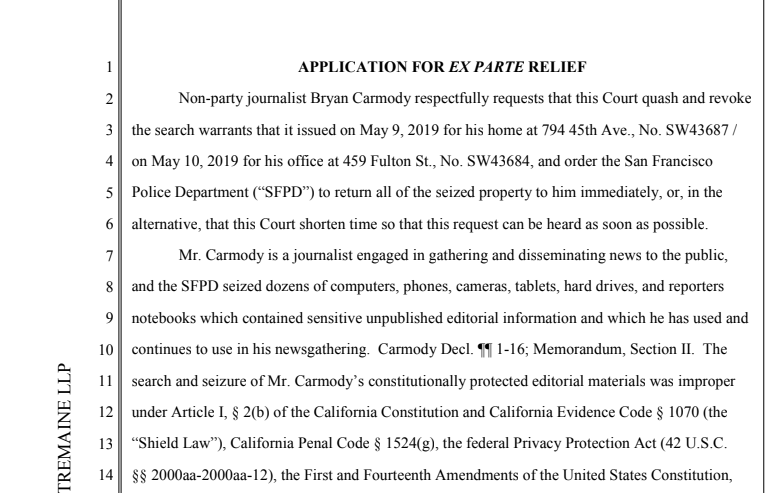 The case will come before Judge Samuel Feng.
The case leaves City Attorney Dennis Herrera in a tricky situation. He's generally been good on news media issues – but now has to defend the Police Department in a case where there's absolutely no legal justification for what happened.
The role of Mayor London Breed and Chief William Scott in defending this assault on the free press has made national news and has been embarrassing for the entire city. Now, Herrera has to argue that the shield law, the state Constitution, and the well-established rights of reporters to protect confidential sources.
From the brief:
State and federal law make it virtually impossible for government officials to obtain and execute search warrants targeting journalists' newsgathering material. Instead, the Legislature and Congress both have adopted "subpoena-first" regimes which ensure that journalists have the opportunity to assert their rights against compelled disclosure in a noticed, contested court proceeding before a search takes place.

Despite this unambiguous controlling law, the San Francisco Police Department dispensed with the subpoena requirement entirely in this case and executed a pair of violent and breathtakingly overbroad searches of journalist Bryan Carmody's home and office after obtaining plainly invalid warrants. In a needless display of force, nearly a dozen armed officers used a sledgehammer to break into Mr. Carmody's residence and then kept him handcuffed for hours as they rummaged through his personal and professional belongings and seized 68 different items, including numerous computers, phones, cameras, tablets, hard drives, and reporters notebooks which Mr. Carmody uses for his work as a journalist.

The Shield Law protects against the compelled disclosure of journalists' unpublished editorial information and resource materials. The law has been clear for decades that the Shield Law applies to freelance reporters like Mr. Carmody, and it broadly applies to any and all unpublished information obtained in the course of gathering and disseminating information to the public. Mr. Carmody gathered the information at issue in his role as a journalist, and as a non-party embroiled in a criminal investigation his protection under the Shield Law is absolute and not subject to any balancing of countervailing interests.

The government has not, and could not, make such a showing in this case, in which it has engaged in a breathtakingly overbroad fishing expedition by seizing dozens of electronic devices containing massive volumes of data related to all of Mr. Carmody's newsgathering activities, with no particularized showing of need for any particular piece of information, and no showing of exhaustion of alternative sources.
Representing the city will be Sean Connolly, who is a former lawyer for the SF Police Officers Association now working for the city attorney.
I have long argued that the news media shouldn't have paid for or used the leaked report about Adachi's death. That's an ethics issue, not a legal issue. In terms of the law, as far as I can understand it, this one's a slam dunk – and the cops who asked for the search warrant and Judges Gail Dekreon and Victor Hwang who approved it, have a lot to answer for.
And speaking of police: May 22 is Harvey Milk's birthday, and there will be numerous celebrations. Funcheap SF has a good rundown here.
In the first few years after Milk was assassinated by Supervisor (and former cop) Dan White, city leaders including Mayor Dianne Feinstein and Assembly Speaker Willie Brown showed up for the birthday marches (although Feinstein never went to a Pride Parade as mayor).
But as former Supervisor and Assemblymember Tom Ammiano remembers, there was never much talk about police reform in those days from City Hall. "It was no oversight, just a rubber stamp," he told me — except from Harry Britt, Milk's successor, who managed to create the Office of Citizens Complaints (now the Office of Police Accountability) — but he had to go to the ballot to do it.
The Democratic County Central Committee will meet Wednesday/22 to discuss, among other things, the controversial move by UCSF to affiliate with Dignity Health,a Catholic hospital group that does not offer abortions, has been charged with discriminating against transgender people, and in some cases asks affiliated doctors to sign a document agreeing that contraception is "intrinsically evil."
From a petition signed by some 1,500 doctors and staff:
We are writing to you as UCSF faculty, staff, students, trainees, and alumni to express our deep concern about the UCSF affiliation with Dignity Health, particularly in light of the recent merger of Dignity Health with Catholic Health Initiatives (CHI). While Dignity Health has traditionally operated both Catholic (the majority of their hospitals) and non-Catholic hospitals, CHI hospitals and clinics are all direct Catholic ministries. These Catholic hospitals are required to follow the Ethical and Religious Directives for Catholic Healthcare Services issued by the United States Conference of Catholic Bishops. According to the June 2018 update of these directives, Catholic health care facilities CANNOT PERMIT the following services:

Use of any form of contraception (a method to prevent pregnancy) except the provision of "natural family planning" counseling for married heterosexual couples
Use of in vitro fertilization to become pregnant (conception outside of a female's body)
Use of a sperm or ovum donor
Use of a surrogate to carry a pregnancy
The termination of pregnancy (abortion), even in many cases in which a pregnancy is considered life-threatening

Dignity Health owns some non-Catholic hospitals (e.g. St. Francis in San Francisco), but these facilities must follow the Dignity Health Statement of Common Values whichdoes not permit use of in vitro fertilization, or the termination of pregnancy.

In addition, Catholic healthcare facilities interpret the Ethical and Religious Directives to explicitly prohibit the provision of gender affirming services (such as hormone treatment, hysterectomy, and mastectomy) for transgender people.
These are scary times for reproductive rights, transgender rights, and the rights of women to control their own bodies. UCSF is a public institution operating with tax money in a state where the vast majority of people support a woman's right to choose (and pretty much everyone except a tiny minority – and I am including most Catholics here– opposes the Church's position on birth control and in vitro fertilization).
Hard to imagine that we are even having this discussion in 2019. But UCSF isn't backing down. And we haven't heard from Gov. Gavin Newsom on the deal.
The item was added to the DCCC agenda late, so it will take a two-thirds vote to allow discussion and possible approval of a resolution opposing the affiliation. The opponents of the affiliation deal want the Board of Supes to pass its own resolution (and potentially, this could wind up at the state Democratic Convention in June).
The committee will also consider a new set of rules for behavior of its members – spurred by the bizarre racist statements of Angela Alioto at the last DCCC meeting. There's no formal legislation, Chair David Campos told me; he wants a group of members and community people to draft the rules.
The supes will consider Tuesday/21 the nomination of landlord lawyer David Wasserman for another term on the Rent Board. The Rules Committee unanimously supported the nomination, and it will probably pass easily at the full board.
But a few things are worth noting from the Rules hearing Monday.
Critics argued that Wasserman may not live in San Francisco – he owns a nice house in Mill Valley, where he freely admitted he was living when former Mayor Ed Lee named him to the panel.
Wasserman takes his state homeowner's exemption on his tax return at the Mill Valley address – which creates what the lawyers call a "rebuttable presumption" that he lives there.
And rebut it he did – he said that he is registered to vote in SF and that his driver's license lists an apartment he owns on Fourth Avenue.
But he said that when Lee appointed him, "I scrambled very hard to find residency here. After a couple of months, I purchased a four-unit building in the Richmond district." So he wasn't living her when he was appointed.
He said he lives in one of the units now. Fine, maybe he does.
But here's the more poignant moment in his testimony:
I humbly act — ask for the following. Whether you vote to remove me or not, at the end of the day, that is unimportant compared to the bigger picture of not politicizing the Rent Board, and I believe that is somebody who has been involved with the Rent Board for 23 years as a practitioner and almost five as a commissioner. We have great talent down there, on both sides, the tenant side and on our side, and I'd hate to see that system become politicized.

For the last 40-plus years, since 1979, we had a Rent Board that works.
Yes: For 40 years, there was an unwritten rule that the mayor would consult with the landlord and tenant communities before making appointments. The landlords wanted Wasserman; Ed Lee appointed him.
But it was Mayor London Breed who shattered that four-decade truce when she kicked Polly Marshall off the panel and appointed someone who clearly wasn't qualified. The supes made sure that was fixed, but please:
Where was Wasserman when Breed politicized the Rent Board? I didn't hear a peep from him.
The mayor's housing bond will be at the Board of Supes Budget and Finance Committee Wed/22. I don't think anyone is against the idea of a $500 million bond act for affordable housing – except that it's far too small. With more than 8,000 homeless people on the streets and in their cars, $500 million will barely make a dent.
There's no reason the bond act can't be much larger – say, $1 billion or even more – except that nobody at City Hall wants to push a bond that raises property taxes. I get it – you need two-thirds to pass a bond act, and the moment you raise taxes you get opposition, and if landlords can pass it on to tenants, you get more (legit) opposition.
But I continue to ask: If the folks at City Hall really wanted to build a significant amount of new affordable housing, couldn't they craft a measure that limits pass-through to tenants, raises taxes (just a little) on property – and campaign for it? Couldn't we get a two-thirds vote?
The Public Safety and Neighborhood Services Committee will hold a hearing Thursday/23 on the Feb. 6 gas line explosion at Geary and Parker. The fire burned for hours while PG&E refused to shut off the gas to the areas as crews hand-dug through the street to get to a valve. A contractor working for Verizon didn't have a valid state license, KQED reports.
Sups. Sandra Lee Fewer and Catherine Stefani want to dig through the disaster and figure out what really happened – and how to make sure it doesn't happen again.