Ben Folds is not your average rockstar, so it's no surprise that the genre-bending alternative, pop, and classical artist's autobiography, A Dream About Lightning Bugs, is not your typical tell-all.
Instead of issuing yet another celebrity memoir teeming with lurid tales of sexcapades and drug abuse, the former Ben Folds Five frontman and multi-platinum-selling solo artist, best known for such cult classics as "Brick," "The Luckiest," and "You Don't Know Me," fills his 336-page bio with career lessons for artists, which he himself learned the hard way from his own successes and failures.
Folds, who serves as the first-ever Artistic Advisor to the National Symphony Orchestra at the Kennedy Center, scores for film and TV, and hosts the ArtsVote 2020 Podcast Series of interviews on arts policies with current 2020 presidential candidates, is particularly suited to teaching readers such things as how to find their creative voice, think like an artist, and sustain a lasting and multidisciplinary artistic career.
The singer-songwriter is excited to impart even more lessons when he appears in San Francisco, in conversation with SF Chronicle pop music critic Aidin Vaziri, on his birthday (Thu/12 at JCCSF) and ice the cake with an intimate performance of some of his standout tunes.
But first, he chatted with me about his most valuable lesson for creatives, why arts education is critical, and why every single person should write their own damn memoir.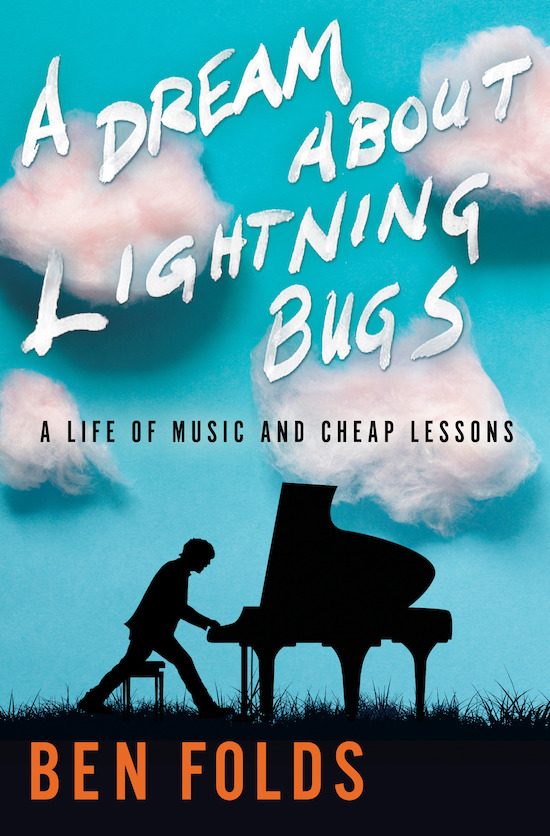 48 HILLS There are a lot of lessons in your book for aspiring musicians and creatives in general. Which, in your opinion, is the most important one?
BEN FOLDS I would simply drop off the suggestion that human life is essentially creative at its core and separating art from life is not always an easy, possible, or smart thing to do.
People are inherently creative. I don't know what lesson comes out of that. It's just something to remember as people embark upon life, whether you're selling insurance like Charles Ives, one of the great composers, was doing, or whether you're shaking your ass on stage like Elvis was doing.
48 HILLS Reading your book, I can see why you've become such a huge advocate for arts education and music therapy funding in our nation's public schools. Why have so many been quick to abandon arts education?
BEN FOLDS Because I think in order to achieve the incredible things we've achieved, we have all become experts in our fields. So I think the compartmentalization into various expertise has given birth to the idea that creativity is only valuable if it's the expertise—that which puts food on the table—when creativity is actually how we live, what we're interested in, what brings us joy, and what makes us human.
The purest environment in which we really foster creativity is in the arts. So the reason that I'm really in favor of reestablishing the value of arts education is that it's so good for everybody's life going forward.
48 HILLS I know you've spoken to many Democratic candidates for president on your podcast to get their stances on this issue.
BEN FOLDS Such a number has been done politically on the arts as a frivolous thing to invest public funds into and in the course of that, we have devalued the very idea of art, and that's a grave mistake.
But I've talked to plenty of politicians that are very for arts education that will be the first to tell me that they sucked at art and music and when they were in it didn't understand why they were doing it. But they can now see the value when they make a good public speech and the cadence, rhythm, timing, and pitch they choose are all artistic decisions.
48 HILLS In your book you describe how your Aunt Sharon was big on investigating and recording your family history for posterity. Since you have kids, I wonder if part of the reason you wrote your memoir was to get down a Folds family history for them. 
BEN FOLDS Well, it is. But they know most of that stuff anyway. I think a lot of the things about my adult life, they won't have known until they read the book, but I can't honestly say that they've read the book.
I probably wouldn't have read my father's book till I was in my 40's, had he written a book. So I don't anticipate they've read it. That doesn't mean that they don't love me, but one day they may read it and go, "Oh, he did this and this and this before I was born. I had no idea because he didn't talk about that." So that could come in handy.
My daughter has become pretty interested in the Ancestry.com stuff, and so I've actually learned quite a bit.
48 HILLS So are you related to anyone famous?
BEN FOLDS No, I don't think so. There's notably veterans up in the chain and a lot of mountain people in there who didn't know that anything was going on outside of that. My grandfather was considered big stuff and famous because he was from the big city of Martinsville, North Carolina, and he sold tractors. So he was kind of the rockstar of the family.
48 HILLS You've said that you hope that in the process of  writing your memoir you eliminated some "badly filed memories."  What did you mean by that? 
BEN FOLDS There's another angle to that. I nearly called the book Write Your Own Damn Memoir and the joke of that was that I think that people in their 40s should actually take a sabbatical and write their own memoir. The reason I believe that after doing it is because you sometimes have memories that are not right because they're false, filed like bricks in your memory by the people, say the 10-year-old, that you once were. But when you reexamine your life, you can take each bad brick out, so it doesn't inform your life or decision making for the rest of your life.
48 HILLS You'll be at the Jewish Community Center of SF on your birthday. How do you feel about celebrating your birthday with us?
BEN FOLDS I like that people are buying my book and showing up to talk about it. I can't imagine anything more generous.
48 HILLS How do you typically mark your birthday?
BEN FOLDS By not announcing it. By not having my friends or family do anything about it if they would restrain themselves. I don't need anything. I know it's my birthday that morning. I'll wake up and go, "Yeah it's my birthday," but it's not avoiding it. I just don't celebrate it.
BEN FOLDS: CONVERSATION & PERFORMANCE
Thu/12, 7pm, $35-$65 
JCCSF, SF.
More info here.