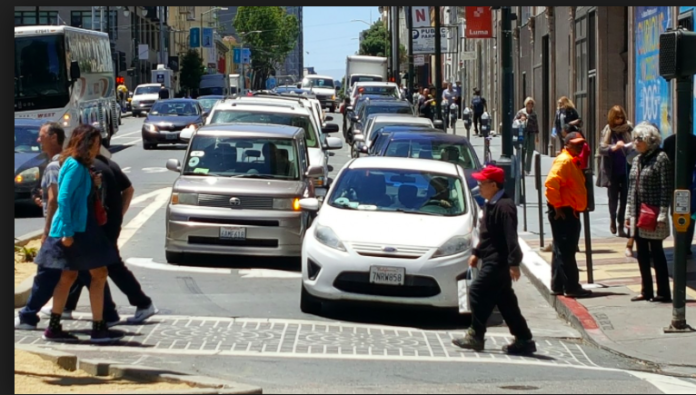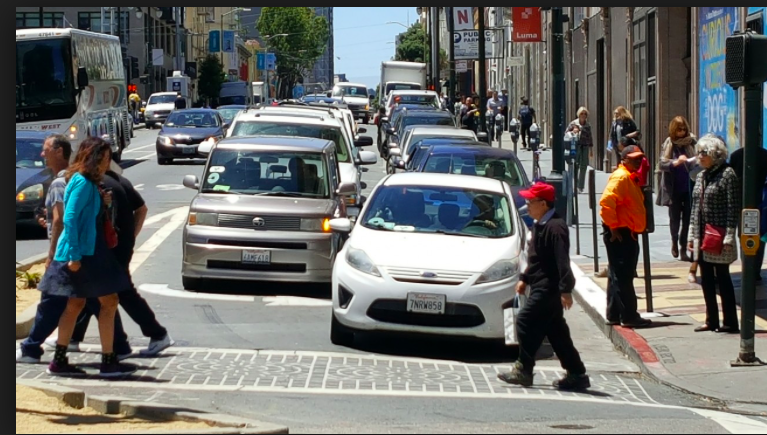 The San Francisco Planning Commission appears ready to go forward on a proposal that could bring as many as 15,000 new residents to the Market-Van Ness area although the commission president says she has concerns about the impacts of that level of development.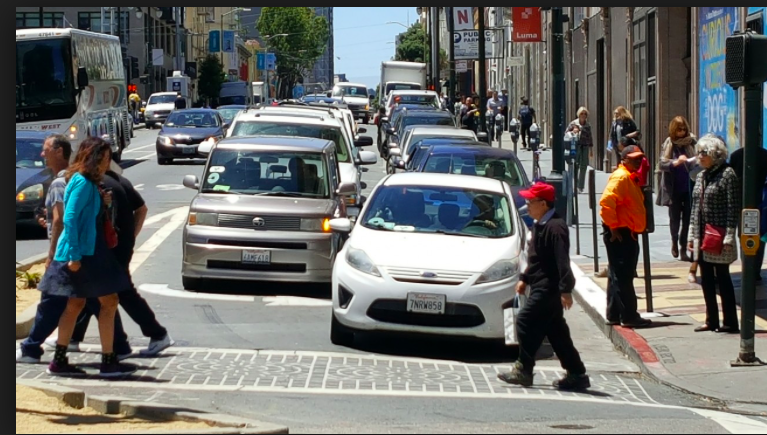 The discussion was another clear sign that the city's current environmental analysis is becoming completely irrelevant in a world where Uber, Lyft, Amazon, and food-delivery services are transforming traffic and transportation in cities.
It doesn't matter anymore how little parking a building  has or how close it is to transit if unregulated car traffic from Transportation Network Companies and single-occupancy cars delivering food and packages clog the streets and pollute the air.
Only four of the seven commissioners, a narrow quorum, were on hand for last week's presentation on the draft environmental impact report for "The Hub"– the 84-acre area that is now seen as a giant new neighborhood.
The idea, of course, is to put housing near transit, and The Hub is a center for public transit – surface buses, Muni Metro underground, and BART.
But speakers pointed out the fundamental problem: The mostly wealthy residents of the new towers will almost certainly be taking Uber and Lyft and ordering food and goods from delivery services – and those cars (yes, cars and some trucks) will create gridlock in one of the most important intersections in the city.
Those surface Muni lines that make this a transit-rich area are also dependent on streets that are not choked with cars.
Tes Welborn, a housing activist from the Haight, pointed out that if 15,000 people move in, and only 10 percent of the them get a package a day and 10 percent get a meal delivered, that's 3,000 vehicles. Which doesn't even count the number who will get around on Uber and Lyft.
The world of transportation has changed dramatically in the past decade. Even if most residents of a building don't have private cars, vehicle traffic is a now a huge part of their lives. Plus: The current transit in the area is pretty maxed out, and it will cost hundreds of millions of dollars, far more than the developers will pay, to add capacity.
Jason Henderson, a San Francisco State professor, noted that "passenger loading will swarm this area."  The DEIR says there is "no feasible mitigation" for the problem.
Actually, Henderson said, that's not true: The city could build a loading zone and block Uber and Lyft from the main central Hub. "People can walk a few blocks" for their ride, he said.
Peter Papadopoulos, director of the Mission Economic Development Agency, said he doesn't think this is the time for a massive upzoning on the edge of the Mission – for a different reason. The landowners and developers are going to get hundreds of millions of dollars in increased wealth from the city, he said, "and we can't do value recapture" right now.
Papadopoulos also said that the DEIR ignores the evidence that this level of high-end development will drive up land prices nearby and displace existing residents.
Land-use lawyer Sue Hestor said that the Academy of Art University has nine projects on Van Ness, and those will include private shuttles. There are also Google buses on Van Ness. "We are spending millions to redo transit on Van Ness, and if we can't control the Google buses and the TNCs," it won't help, she said.
"The Planning Department has a lot more work to do."
Commission President Myrna Melgar said that she agreed with some speakers – "our analysis and review should keep up with the realities of the world we are living in, with Uber and Lyft and our disinvestment in public transit." She also called for "equitable value recapture," but said that "I'm not sure not moving forward with this DEIR is the solution."
Melgar hit the right point: The "reality" of today's urban world requires planners to change the way they approach this sort of analysis. It's no longer true that developing near a bus or train line will encourage transit use if the residents are likely to use Uber or Lyft to get around. It's no longer true that compact neighborhoods will lead to a booming local restaurant and shopping scene if residents buy their food and goods online and have them delivered (by cars and trucks, which we are trying to get out of cities).
It's a huge problem – and so far, the planners are just ignoring it.