Between embargoes and secret release dates that see artists dropping projects when a Twitter trend is to their benefit, it's a little perplexing assembling a strong list of music projects that accelerate the concept of "sound forward." Hence, there is some GOOD music coming that I can't talk about. Embargo is a dirty, dirty word.
But this list, 17 for 2020, proves great projects are on the books too.
Alland Byallo, Dilatant (January 17th)
Alland Byallo, the California-born-and-raised DJ-producer, returns in 2020 with his second release in the past five months. Dilatant is a "drummy but musical broken beat deep house kinda thing, with a deadly Rhodes solo from wildly talented Jazz pianist Matt Paull" according to the producer.
You'd be wise to give it a listen. Byallo, a founding member of [KONTROL], the seminal 2000s monthly party at the EndUp which introduced San Francisco to the minimal techno sounds flowing from Berlin, was a strong influence not just on this event, but for eventually attracting MutekSF. Get on that Dilatant, ahead of the curve. More info here.
Afrikan Sciences, 02022020 (February 2)
Damn. Listening to an Afrikan Sciences advance promo is the equivalent of living in the future, high on your ancestors' memory pills decoding that talking drum. Shout out to Watchmen. Listen, I incessantly write about Eric Porter because he's the truth. Those arrangements, NOBODY is making electronic music like that now. Period. So I will keep on.
For over a decade he's re-contextualized the genres of house, techno and breakbeat with fluid arrangements that slip in and out of just one classification. The Brooklyn-based, electronic music producer uses minor chord dissonance, oblique disruptions, and tempo rigidity, to communicate how outliers move about in this world. Cinematic, Experimental and Dancefloor are the colors he often paints in.
02022020, which will be self-released on his Student Body Presents label, is no exception. Porter remains steadfast. Not all House music needs to snap to an uninterrupted 4/4 beat. Want proof? Cop this release on Bandcamp Feb 2 and then go see him perform Feb 8th with Sassacyprigo at dweller: Make Techno Black Again, Bossa Nova Civic Club in Brooklyn, New York. More info here.
Khruangbin & Leon Bridges Texas Sun (February 7)
Flush in the apex of their live show, playing "August 10,ʻ from 2018's Con Todo El Mundo, (which kept them on tour for 130 dates), Khruangbin's experimentation can't help but veer into the salacious classic "Night Nurse" by Gregory Isaacs—ransforming the 1982 rub-a-dub call for personal attention into another quick-witted sound pastiche by the trio. To quote Denzel Washington in full Malcolm X voice: "This is what they do."
Given the opportunity, guitarist Mark Speer, bassist Laura Lee and drummer Donald "DJ" Johnson will flex that crate-digging nerd card and show out.
On tour, Khruangbin and singer-songwriter Leon Bridges crossed paths during a run of shows stretching from Los Angeles and New York. Although their musical styles together may differ, there remained a connection. Subtleties that mesh. Did I mention both hail from Texas? Khruangbin from Houston. Bridges from Fort Worth. It's in the DNA. When a Khruangbin session produced a song that seemed like it could compliment Bridges' voice, the band sent it over. Bridges returned the track with his vocals the very next day. Entering a studio together, with only B-side hopes in mind, the session guided itself, indicating the project had legs for a bigger outcome.
Texas Sun adds one more layer to the Khruangbin deep stock. "C-Side," a laidback track comprised of plinking guitar lines, simmering polyrhythms, and comfy tones on vibes, sees the group return to "cooler than you" mystique. More info here.
Steve Spacek, Houses (February 7)
Steve Spacek, AKA Steve White, has a new record coming in early February. Houses will land via Black Focus Records on February 7th. Containing 13 tracks with Detroit influences, White produced the entire LP using an iPhone and iPad. Steve White is a UK producer and one-third of the electronic music band Spacek. In the past, he has collaborated with the likes of J Dilla, Raphael Saadiq, and Common. He released his last album, Natural Sci-Fi, in 2018. More info here.
Gil Scott-Heron and Makaya McCraven, We're New Again—A Re-imagining by Makaya McCraven (February 7)
Makaya McCraven, a vital new voice in modern jazz, reinterprets  I'm New Here, the thirteenth—and last —studio album from iconic musician, poet, and author Gil Scott-Heron. The release will follow in the footsteps of Jamie xx's highly acclaimed 2011 remix album We're New Here and will be McCraven's first release of 2020, after the huge global acclaim heaped upon his 2018 album Universal Beings. McCraven, described by New York Times as a "Chicago-based drummer, producer, and beatmaker, [who] has quietly become one of the best arguments for jazz's vitality." More info here.
Yazmin Lacey, Not Today Mate (TBA)
There is an immediate ice-water through the veins sensation every time the Nottingham-based singer Yazmin Lacey unfurls her raspy, burnt-caramel-sweet voice. 2018's discovery When The Sun Dips 90 Degrees EP,  packed lyrical phrasing, part Badu attitudinal, but all candid and quotable. That unruffled UK "sort it" swag traveled around the globe. Her latest single "Not Today Mate" continues further down the Soulquarian mellow-direct presentation. As always, no cheap or flashy vocal acrobatics here, just grown folk measured pace.
Lacey dishes up her much-adored silky vocals over an evergreen instrumental produced by Jake Milliner, giving us a potent taste of what to expect from her forthcoming EP, due imminently via Own Your Own Records. This Brownswood Future Bubblers graduate remains a shining avatar for the UK's Jazz movement: a young, Black woman creating her own reality. More info here.
David Walters, Soleil Kreyol (February 7)
Creole is a culture that crosses oceans, connects continents and allows; Africa, America, Europe and the Caribbean to converse in the universal language of music, dance, and carnival. Scattered around the globe, these different Creole cultures once found a crossing point where they were first represented: New York. It was this inspiration that pushed David Walters to make such a late-night cool début of an album. Walters was mentioned by Gilles Peterson as an artist to look out for in 2020 on BBC Radio. More info here.
Moses Boyd, Dark Matter (February 14)
Rewind to 2018. Alive In The East, a 10-track, 45-minute free-jazz kinetic sermon from saxophonist Binker Golding and drummer Moses Boyd deal their future-funk to a boisterous audience who incessantly provides hoots, churls, and hollers. Recorded in June 2017 at the influential Total Refreshment Centre, north-east London, it's the UK jazz renaissance happening in real-time.
Fast-forward to 2020, Moses Boyd is finally releasing his début solo album and we are quite stoked about it. Adding the title of composer, songwriter, and arranger to his skill set over the years, he's won a MOBO and Jazz FM award, toured with Sampha and Kelsey Lu, drummed on Sons of Kemet's Mercury-nominated album Your Queen Is A Reptile and recorded with DJ Lag on "MY POWER" for Beyoncé's official soundtrack for The Lion King: The Gift.
A dude been busy, really busy, getting official.
Dark Matter, out Feb 14 on his Exodus imprint, will feature guests Joe Armon-Jones and Nubya Garcia Among others. "Shades Of You" the first single, featuring British vocalist Poppy Ajudha points to a new direction for the artist on this project. Boyd says: "I still love jazz, but this is something different. There's been no pressure or expectation of anything. There was no immediate need to do anything, so I was really free. A very liberating experience. It's a very produced record. Many different sounds, setups, places, and music taken from different places and sessions but I feel like finally, it sounds like I'm a producer that also plays jazz." More info here.
Agrio, La Murga EP (February 14)
Agrio is a duo from Madrid, Spain consisting of guitar & drums. They write instrumental songs with powerful riffs, beats, and melodies. While not easy to pin down, the twisted and scuzzy runs, psyche rock meets prog journeys from the upcoming La Murga EP will blow your wig back. No seriously, it will. Situated between grunge and post-rock, these three cuts rip. Slated for release February 14th on  San Francisco's Broken Clover Record imprint, label boss Mickey Darius assures us the upstart, started in 2018 "is in the business of birthing freaky records, wearing hearts on sleeves, turning it all the way up & fighting the good fight. Staying left of center always." More info here.
Sunny Jain, Wild Wild East (February 21)
Sourcing musical inspiration from the scores of Bollywood classics to Spaghetti Westerns, Indian folk to jazz improvisation, and South Asian languages to English prose to express the immigrant experience as one navigates the terrain of what it means to be "American." Sunny Jain, a Brooklyn-based musician, and composer, the son of immigrants from India, draws upon his family history of migration for vision, employing rhythmic shifts, dissolving soundscapes, and the interplay of structure and experimentation to represent the heartbreak and triumph within the South Asian diaspora.
Wild Wild East explores the American myth of westward expansion using various sounds and traditions. It's a rich sonic text. More info here.
Caribou, Suddenly (February 28)
When Dan Snaith put his first track in five years as Caribou on YouTube last December, an avid fan commented: "not bad for a guy with a math Ph.D.".
You canʻt make this shit up people.
The new album, Suddenly, out on Merge Records February 28, full of warmth and Technicolor, bears and swerves left just for kicks. Songs drop out and morph into something else entirely just as they're hitting their stride, while samples, chopped up, burst out of nowhere. "Home" a welcome comeback, leaving fans yearning for more, sees the Canadian polymath return with collage type jittery arrangements. More info here.
Best Coast, Always Tomorrow (late February)
Los Angeles rock duo Bethany Cosentino and Bobb Bruno of Best Coast teased their long-awaited return in 2020 with their new track, "For the First Time" last November. The song comes with their signature surf-rock essence and a feeling of '80s nostalgia. They are still "completing work" on the new album, and will kick off a tour in support during late February. More info here.
Lyra Pramuk, Fountain (March 20)
Displaying how the limits of the human voice can be restructured, avant-pop artist Lyra Pramuk joins Icelandic label Bedroom Community with her début album, Fountain. Described as futuristic-folk music, the seven tracks on the album were manufactured entirely with Pramuk's own voice being redesigned by electronic production methods.
Pramuk is known for her vocal collaborations with Holly Herndon and Colin Self. The title of her début album is derived from her family name which means "well spring" or "fountain" in Czech. 'Fountain' was mixed by her twin brother, Ben. "Tendril," with its broad sweeping harmonics, indicates this is a game-changing special project, not to miss. More info here.
Tokimonsta, Oasis Nocturno (March 20)
Jennifer Lee, who records, performs and produces under the moniker of TOKiMONSTA, is a classically trained pianist from Los Angeles, who started working on beat production while in college when she participated in workshops by LeimertPark's Project Blowed and Low-End Theory. Along the way, she became the first female producer to have records released on Flying Lotus' Brainfeeder imprint.
Fast-forward to 2020, she's a Grammy-nominated artist, producer, creative visionary and Young Art Records label boss.
Her new album, Oasis Nocturno, the second act to her last album Lune Rouge, finds TOKiMONSTA making broad and refined production choices. "Fried For The Night" featuring Dreamville's EarthGang is a beat-driven track featuring a blissed-out melody accompanied by a surreal Technicolor landscape in the video. More info here.
Thundercat, It Is What It Is (April 3)
It Is What It Is follows Thundercat's game-changing third album Drunk from 2017, that completed his transition from virtuoso bassist to bona fide star and cemented his reputation as a unique voice that transcends genre. "This album is about love, loss, life and the ups and downs that come with that," stated the charming musician and Tokyo enthusiast "It's a bit tongue-in-cheek, but at different points in life you come across places that you don't necessarily understand… some things just aren't meant to be understood."
The rowdy 'fonk' of "Black Qualls" is classic Thundercat, teaming up with Steve Lacy of The Internet and funk icon Steve Arrington. Thundercat knows where he comes from and always pays respect to the artists who inspired his nonconformist artistry.  Discovering Arrington's output in his late teens, Bruner says he fell in love with his music immediately: "The tone of the bass, the way his stuff feels and moves, it resonated through my whole body." More info here.
Moses Sumney, græ (May 15)
With his producer hat cocked to the side, Moses Sumney constructed a fusion expanding début on 2017ʻs Aromanticism. Touched with unhappy Radiohead sprinkles, Maxwell-meets-D'Angelo falsettos, and cosmic journeying, led by Thundercat on bass, establishes the fact this young Black iconoclastic is more than a mood.
Sumney is the damn movement.
His new, generous album græ, 20 tracks total, allows his staggering voice to traverse alt-rock dramatics and hopped up free-jazz terrain. Once again he looks to involve all the compositional grand gestures we expect from a "Warm Jets" Eno or an "Inner City Life" Goldie. grae is one to check, fer sure. More info here.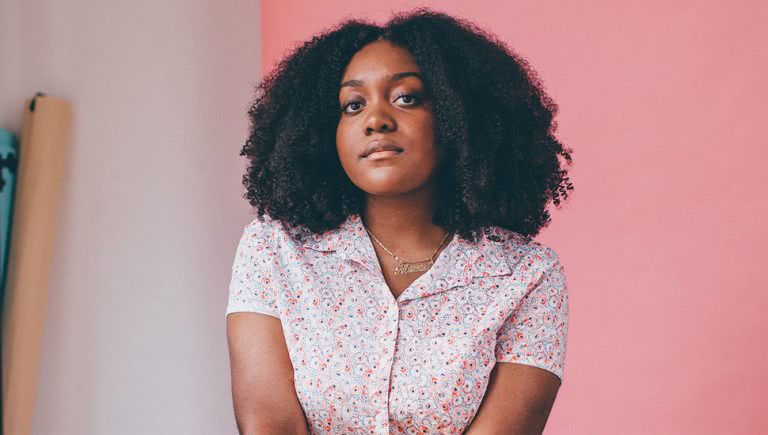 Noname (TBA)
Who freaking knows why Chicago rapper Noname remains secretive and reluctant to engage in discourse about her new project online. Those "tweets from the streets" helped her last two albums, Telefone and Room 25 become bangers among the public at large. Last November she did give information via Twitter on her upcoming follow-up to Room 25 in her special way. "I don't really talk about my music much on here," she wrote. "But I'm dropping an album in 2020 if anybody's interested."
We are interested. Along with what seems to be her performing at Coachella in April as well. More info here.