I finally made it to Salesforce Park, a perfectly pleasant, perfectly sterile civic project atop the new Transbay Terminal. The downtown public space is billed as a "living roof"—the gardening, featuring plants from around the world, is impressive and sculptural, if far too overdetermined to feel outdoorsy—and the whole thing probably aspires to the urban-activation genius of New York's High Line.
While it's a lovely stroll, with features like a glass Salesforce Gondola ferrying people from the Salesforce Plaza below (it frustratingly only runs one way), there are three things which will keep Salesforce Park from attaining the cultural and even poetic highs of the High Line. First, obviously, the noxious branding. Salesforce, we get it, even if we still have no idea what that phallus-housed company actually does. Or where the public part of this project ends and the private part begins.
Second, the charm of the High Line, despite inciting a rampage of development and gentrification, is that you feel like you are walking though old New York (the path used to be a railway for meat cars winding above the Chelsea neighborhood), even peering into decades-old brick buildings and warehouses. The view from Salesforce Park, however, is completely unrecognizable as San Francisco, hemmed in by blinding glass towers and new construction. Even the area itself is disorienting—Rincon Hill has been rechristened as "The East Cut," a chilling rebranding that only a broker could love.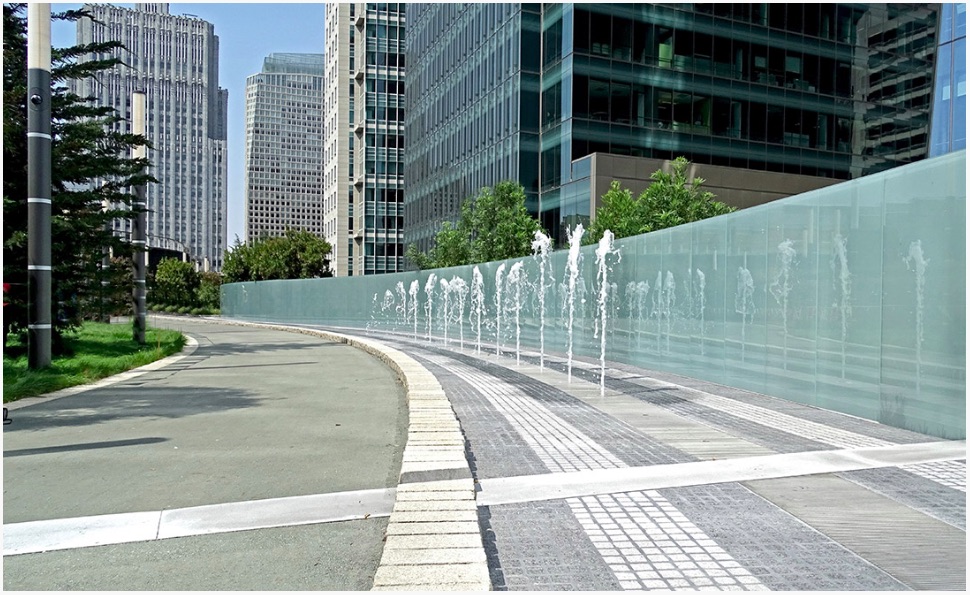 But most of all, Salesforce Park is starved for public art. There is plenty of event space and seating (hostile architecture, of course, wouldn't want any homeless people to settle on a public bench!), even a Zumba arena and a large section where you can check out and play free board games. But apart from one fantastically whimsical sculpture (Ned Kahn's thousand-foot long, boringly named "Bus Fountain," which shoots streams of water up as vehicles pass below) and a Calatrava-like overpass bridge, there's barely any artistic expression apparent. Contrast this to the dozens of murals, sculptures, and installations along the High Line.
How did this happen? Inside the Transbay terminal itself, as KQED arts editor Sarah Hotchkiss has described, are some large, intriguing installations. Just down the street, at the former Rincon Hill Post Office, you can see some of the most famous and historical murals on the West Coast. Imagine the bottomless-pocketed Salesforce commissioning 30 artist to create something for this outdoor 5.4 acres, an art-washing that would be welcomed by an underfunded scene. Maybe something's on the way. As it is now, though, the whole thing feels somewhat bleak, like an open-air office. There's a Starbucks.
Luckily, the rest of SF seems to be slowly waking back up to public art beyond those legendary Mission murals and neato windows—from the humungous, politically-conscious street art pieces going up in the (rapidly gentrifying) Tenderloin and Mid-Market areas, to tiny pop-up wonders like Peephole Cinema, which is exactly what it sounds like, and this adorable thing on Market I just noticed: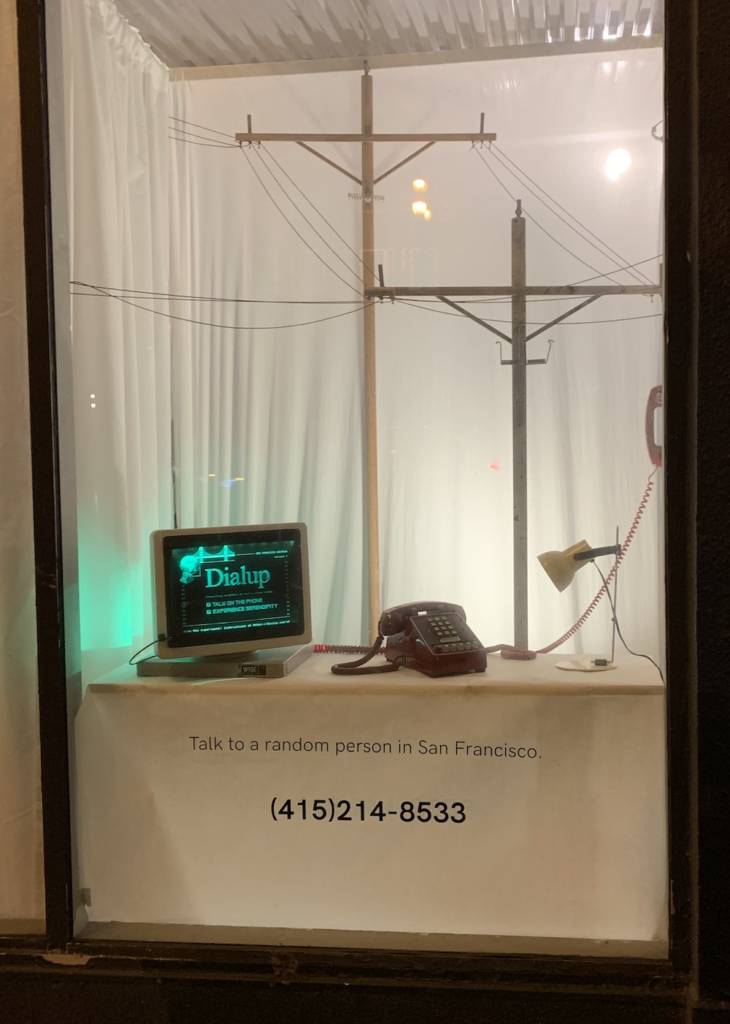 Now, Hotchkiss herself, along with partner-in-curation Zoë Taleporos of the San Francisco Arts Commission, joins in the guerrilla-esque artifying with Premiere Jr., a wee billboard-cum-gallery in the Inner Sunset, on Irving between 7th and 8th avenues. They've rented the 72-square-foot billboard for a year, and will be commissioning four different local artists to take over the space, beginning with Lindsey White Sunday, February 9-April 19 (opening party Sun/9, 2m-5pm, outside the nearby Fireside Bar, where there's the best view of the piece).
The thought of an artsy billboard immediately calls to mind the glory days of culture jamming and the Billboard Liberation Front. But while the politics behind Premiere Jr. may be more liberating than liberationist, there's still a good dose of street-level (or rather, roof-level) subversion, especially when it comes to the state of SF's public art.
Taleporos told me, "I currently work as a Public Art Project Manager at the San Francisco Arts Commission where I am involved in commissioning a wide range of artworks for public spaces, including murals, free standing sculptures, and architecturally integrated projects by both local and non-local artists. While San Francisco's Percent for Art Ordinance allocates 2% for public art (New York and Los Angeles only allocate 1%), that funding is usually restricted to commissioning permanent public artworks that are tied to large stakeholder groups and complicated sets of restrictions.
"You don't see a lot of temporary public artworks in San Francisco because funding opportunities for that type of work are hard to come by," Taleporos said. "And the politics of public space are so robust here. So, when you have a self-funded project on a tiny, weird space that no one else wanted, a project that's only on view for three months, you have nothing but freedom to experiment."
Both curators have been involved with such projects before—Taleporos was a co-director and curator of Royal NoneSuch Gallery in Oakland and Queen's Nails Projects in San Francisco. And Hotchkiss was the founder and co-director of Stairwell's, a project that led walking tours and staged exhibitions in nontraditional spaces. But something drew them to this particular spot.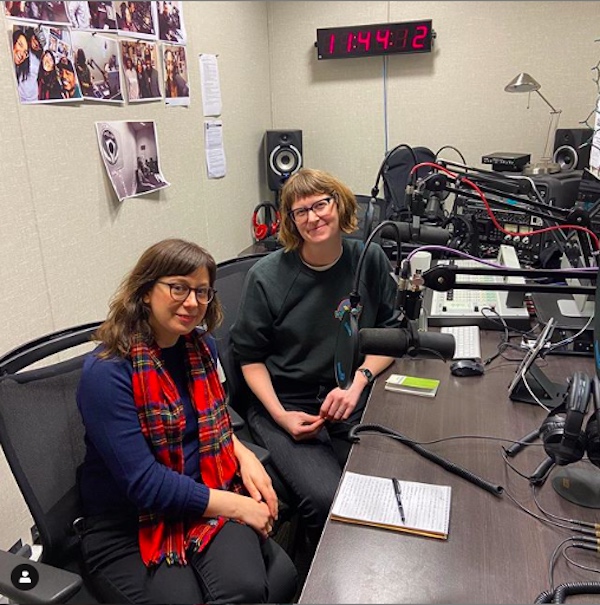 "I live very close to the billboard and have spent a lot of time waiting for the N Judah while looking up at it," Hotchkiss said. "It's extremely small, and only seems to exist because there's another, larger billboard for it to hang off of. It is just such a weird little space, it was really calling for an art experiment to cover its surface. We contacted Clear Channel and it was available starting at the beginning of 2020—the timing worked out perfectly."
Unsurprisingly, Clear Channel wouldn't pony up any discount for the project, and the two are paying for the billboard and providing honorariums to the artists out of pocket. But "it's surprisingly affordable to rent a 6-by-12-foot billboard for an entire year—more people should interrupt their neighborhood advertising!"
Challenge accepted. And a billboard obviously comes without the outrageous rent hikes driving so many small galleries to close. If you can't survive on the ground, take to the skies. But what about the art itself? Lindsey White, the first contributor, is a visual artist who's worked in photography, video, sculpture, and book-making. She won the prestigious SECA Award in 2017, and her work often summons humor and magic.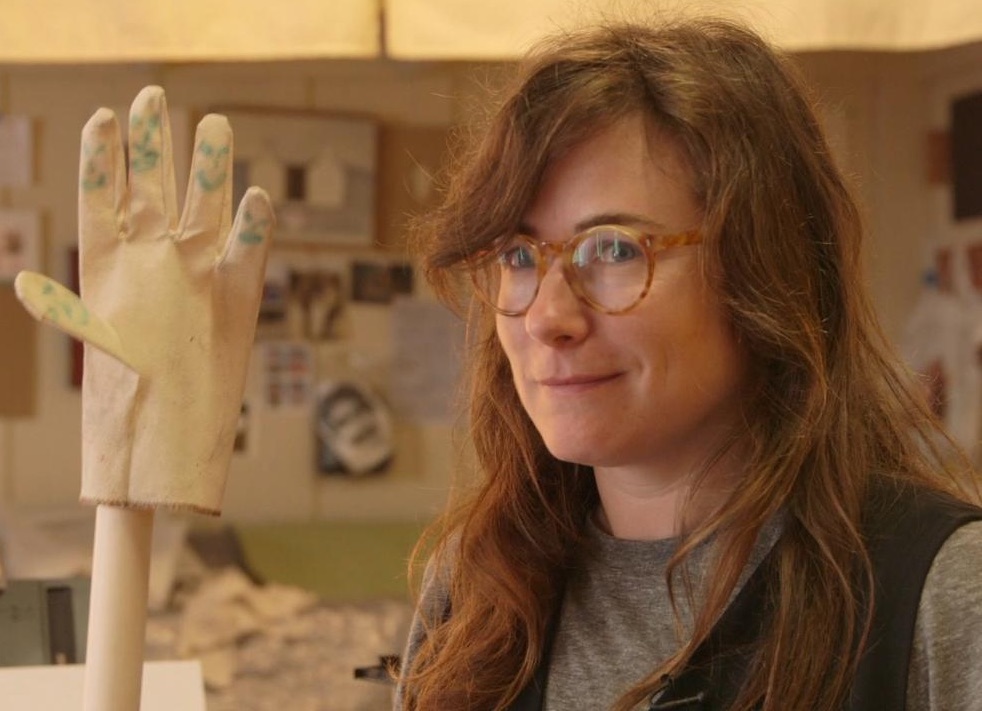 "I haven't made a billboard, but I did present a series of photographs in Copenhagen subway kiosks a few years back," she told me. "My favorite exhibition opportunities are generally in alternative or public places, like SFO or the subway, so a billboard project is right up my alley. I love when art becomes part of an everyday, lived experience.
"I felt intimidated at first, because I wanted to make a piece that got people's attention and was entertaining, but that also asked questions and tapped into an existential mind space," White continued. "Hopefully, someone will be sipping their coffee as they wait for the N Judah, and they'll look up at my billboard and be curious enough to call the toll free number."
I asked White, without giving too much away before the unveiling, what was the inspiration for her piece? "A wig, fake mustache, buttons for eyes, and a big question. I wanted the billboard to feel kind of timeless, but have the ability to rattle around your head like a good jingle. I was also thinking about how every billboard in the Bay Area seems to be for a tech-based demographic. Why not push back with something a little antiquated? Either way, I hope people will get a good laugh."
And, as an artist, what are her general thoughts on the state of pubic art in SF? "The San Francisco Arts Commission has developed a lot of great public projects, from airport terminals to kiosks," White told me. "On another note, I think tech companies should stop paying artists to make art on their private campuses and instead support artists to make genuine public art for various local communities. Those sort of projects aren't branded, they're real. Most importantly, projects like Premier Jr. add to the long history of artist-run projects and keep San Francisco interesting."
PREMIERE JR.: LINDSEY WHITE 
Sunday, February 9-April 19
Opening gathering Sun/9, 2pm-5am, outside Fireside Bar at 7th Avenue and Irving
Billboard location: 624 Irving Street, SF. 
More info here.