UPDATE: 'Drag Becomes Her' has been postponed. 
There are approximately 800 miles separating Seattle and San Francisco's drag scenes. What bridges them, says RuPaul's Drag Race Season 3 winner and northwest native Jinkx Monsoon, is their mutual focus on inclusion and reverence of talent and dedication over appearance.
"We live in a very image-based society, and with social media and the abundance of visual stimulation, sometimes people forget that while fashion and makeup are amazing, you can't watch a dress or some eyeshadow perform," says Monsoon. "If you're going to see a live show, it shouldn't matter if the queen is fat or thin, her eyebrows are perfect, or her look is couture. If she can't deliver onstage, what's the point?"
This is also a central question in Peaches Christ's show Drag Becomes Her (Sat/14 at Castro Theatre)—a riff on the 1992 dark comedy film Death Becomes Her—in which Monsoon and her Seattle sister BenDelaCreme (RuPaul's Drag Race All Stars Season 3) costar.
In the drag parody, Monsoon plays vain, conniving actress Madeline Ashton (a role originally popularized by Meryl Streep) and DelaCreme takes on the part of her rival, author Helen Sharp (first played by Goldie Hawn), both of whom will stop at nothing to achieve eternal youth at the expense of everything and everyone in their lives.
I spoke to Jinkx Monsoon and BenDelaCreme about the impact of Death Becomes Her on their lives and careers, why the camp film remains such a cult classic among queers, and its underlying moral.
48 HILLS You've both done the show Drag Becomes Her with Peaches Christ before. What made you want to return?
JINKX MONSOON I started drag because I've always wanted to be an actor, but all my favorite roles are female roles. As someone who tried to be "male" for the first half of my life, I was rarely given opportunities to play the roles I knew I'd actually be good at.
So, I created Jinkx, an extension of myself, who would be able to step into my dream roles, like Madeline Ashton. Usually, I would want to be the redhead [Helen Sharp], but not when it comes to this film. When we perform this show, I finally get to do for an audience, what I've been doing secretly in my bedroom for ages. That makes it sound like I made a career out of masturbating…and I haven't don't that. Yet.
BENDELACREME I always love working with Peaches. She is a brilliant artist and producer. Her shows really feel like the raucous, no-holds-barred roots of camp drag theatre. And she is so beloved in San Francisco. Performing on that stage in front of the wild following she's gained through the years is like surfing a tidal wave.
Of course Death Becomes Her was one of my two favorite films growing up, along with Who Framed Roger Rabbit, so getting to live out my childhood Goldie Hawn fantasy is a true gift. I also really enjoy hitting Jinkx Monsoon with a shovel.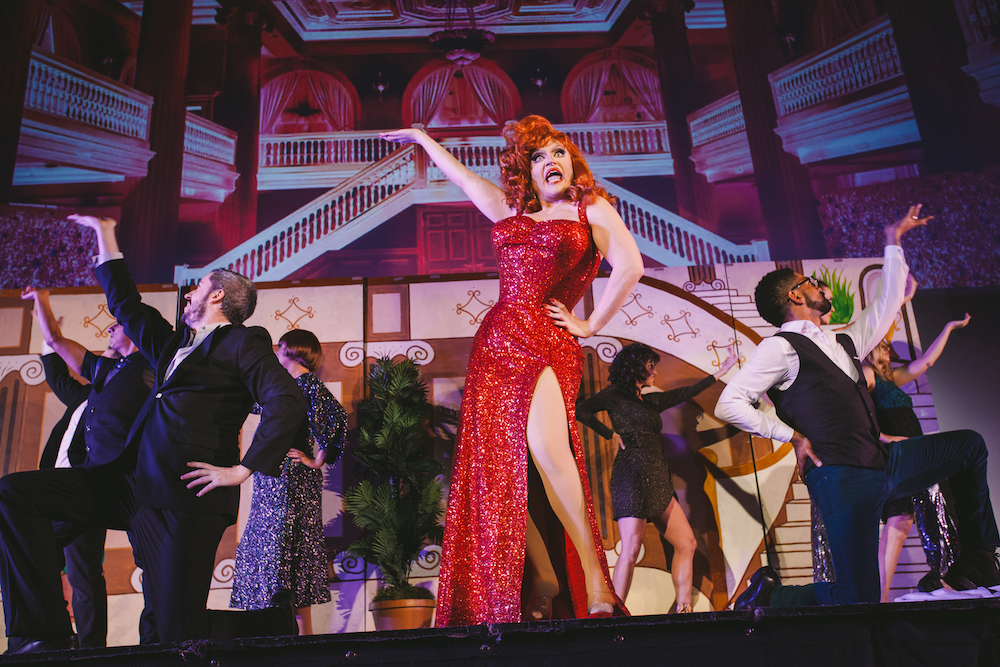 48 HILLS What drew you to the film Death Becomes Her in the first place?
JINKX MONSOON I was five or six years old the first time I watched it. I joined my mother in the living room while she was watching it, and I think the campy, over-the-top femininity spoke to me immediately. I've just always enjoyed watching physical comedy with extreme circumstances. It became my favorite movie of all time, the moment I watched Meryl Streep's body come back to life at the bottom of the stairs. Then, the shovel fight?!?! The whole film—Meryl and Goldie made up a body language for those characters that has yet to be matched in any film I've seen.
BENDELACREME Death Becomes Her was that one VHS that I begged my parents to rent every time we went to the video store. With enough pleading, I'd usually get to bring it home at least a few times a year, and I would spend the whole rental period hitting rewind as soon as it ended to cram in as many viewings as possible. It truly has everything: comedy, horror, magic, and the most bizarre '30s-'90s hybrid style glamour you've ever seen.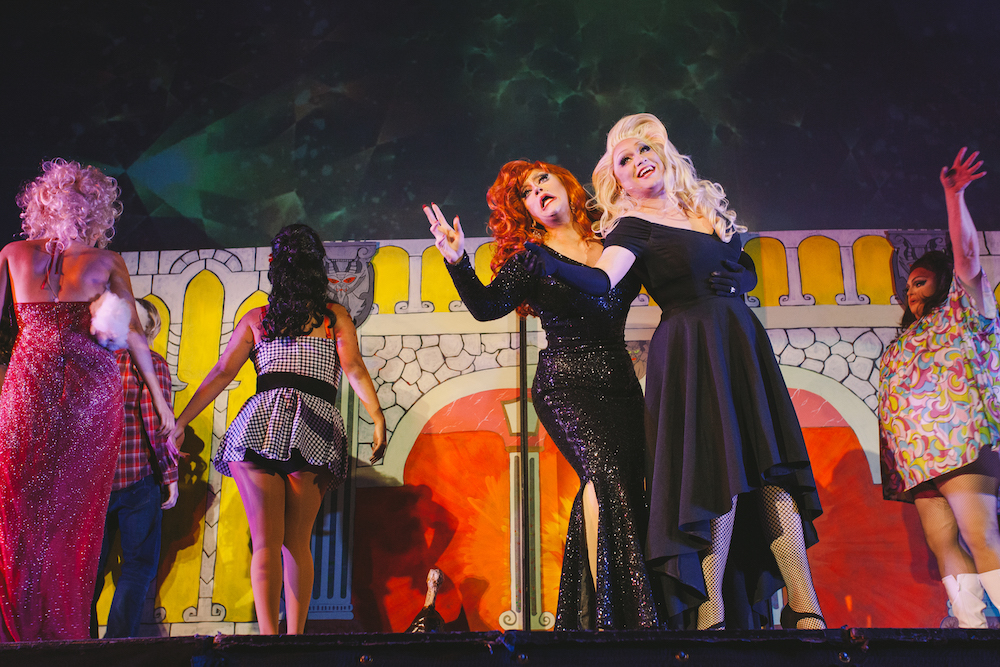 48 HILLS Jinkx, you've said that the women in Death Becomes Her would influence the creation of your drag persona. How so?
JINKX MONSOON I've watched Death Becomes Her so many times, I've lost track. So when I created Jinkx, it was ingrained in me; Meryl, Goldie, and Isabella Rossellini's performances were woven into the fabric of my being. There was no way I could start doing drag without that influence coming through in everything I do.
While Jinkx is very zany and kooky, she is also very vain and selfish. I specifically let her be the place I channel my less desirable traits. She would do anything to live forever with perfect, unchanged beauty. If this potion were offered to her, she would have gulped it down the moment you said "magic potion." She wouldn't care about the side effects one bit. Death Becomes Her and Absolutely Fabulous created Jinkx Monsoon within me. Then Chicago and Moulin Rouge forced it out of me.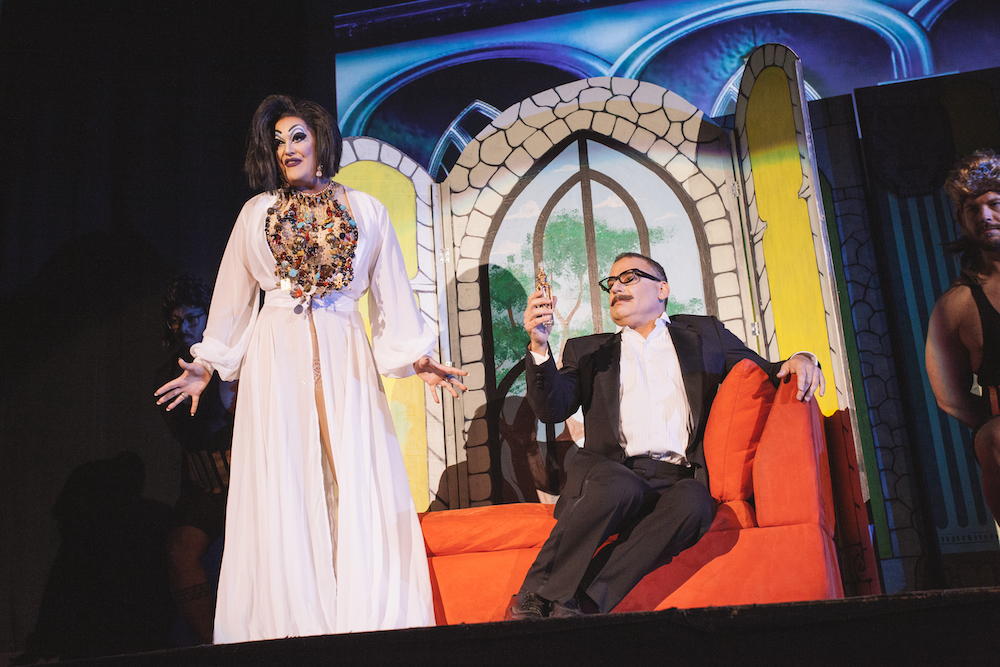 48 HILLS Why do you think the film's become an LGBT cult classic?
JINKX MONSOON I think the performances from the principal actors are so iconic and well executed that this outlandish plot seems like Shakespeare. It's a complete masterpiece. I think in film, so often the goal is for everything to be "natural" and "true to life"—but the LGBTQ+ community loves an epic, over-the-top performance. This film gave four Hollywood heavy hitters permission to be camp, over the top, and iconic. Every other line is quotable. Every vocal inflection in Meryl's speech is burned into our audio memories. It's just got that indescribable IT factor that is necessary for something to be cult or queer.
BENDELACREME I don't even know where to begin. It's like Night of the Living Dead meets Sunset Boulevard meets "Dynasty." It's classic camp! The plot, the sets, the costumes, and the performances are all so over the top, but you still completely love and relate to these despicable characters. There's humanity in their monstrousness.
48 HILLS If there's a moral to the story, what is that, in your mind?
JINKX MONSOON When you do things out of spite, jealousy, vanity, or revenge, you may get what you want, but you'll also get what you deserve. That, and don't fight at the top of the stairs.
BENDELACREME Death Becomes Her is a story about the struggle for acceptance in a world that values superficial beauty over substance. It's about the danger of getting swept up in the battle against aging and our own bodies that cannot be won. And if a topless woman tries to get you to drink a glowing liquid, run.
DRAG BECOMES HER (POSTPONED)
Sat/14, 4pm & 8pm, $20-$120
Castro Theatre, SF
Tickets and more info here.