The City College Board put Chancellor Mark Rocha on administrative leave today, the first step toward what will almost certainly be a full dismissal Thursday/26.
According to the agenda released today, the board will meet in closed session that day, presumably to hire an interim chancellor.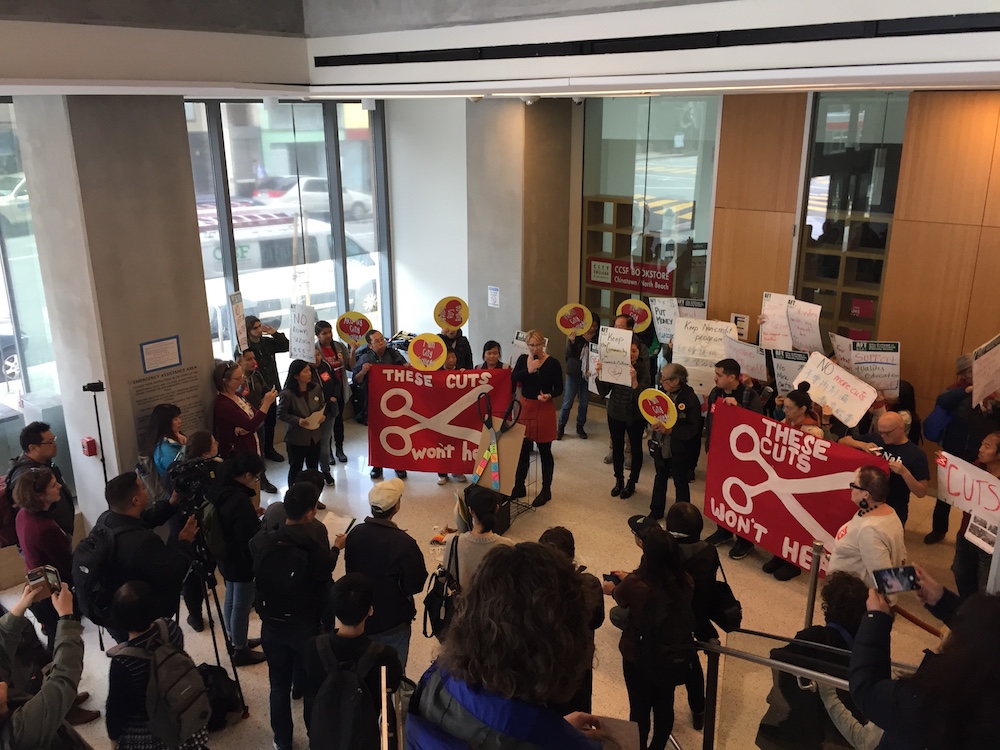 The move comes after the board held a special meeting last Friday to evaluate Rocha's job performance.
Shanell Williams, the board chair, released this statement to college teachers and administrators this afternoon:
I'm writing to let you know that the Board of Trustees has placed Chancellor Mark Rocha on paid administrative leave effective immediately. A leadership team made up of Senior Vice-Chancellors will manage day-to-day operations until the Board names an Acting Chancellor.

I know this news may come as a surprise. I want to assure you on behalf of our Board, that the College is in good hands. There is a plan in place to move the College forward.

The College is closed this week for Spring Break. Classes will resume via remote learning on March 30. There will be no change in any of the current policies or procedures enacted as a result of the COVID-19/Coronavirus.

City College has been and will continue to be a cornerstone of this community.  I look forward to working with all you as we fulfill our mission to serve our students and help them achieve their hopes and goals for a quality education.
It's a dramatic move that marks a major change at the school at one of the most critical times in its recent history.
Rocha has been overseeing some profound changes, including widespread class cuts, as the school has been going along with state officials who want to gut the role of community colleges in California.
Some state leaders (in a move started by former Gov. Jerry Brown) want to turn all of the institutions into nothing more than junior colleges whose goal is to prepare students to transfer to four-year schools.
City College of SF does that – but it does so much more. It's been a genuine community college that offers lifelong learning as well as vocational training, English as a Second Language, citizenship-preparation classes, and multiple classes open to everyone, even if they aren't seeking a degree.
But in the past two years, Rocha has been cutting those sorts of classes.
Even when the Board of Supes offered to make money available to save the classes, Rocha said he didn't want it. He said the cuts were part of a larger plan to change the direction of the school.
I have asked members of the board for months why they aren't fighting back – going to Sacramento, using our local legislators, and saying that the funding model of the Jerry Brown era was wrong and needs to be changed.
Based on comments from public meetings and the faculty union, teachers at City College overwhelmingly disapproved of Rocha's policies and the way he was running the school.
Now it appears that the board has decided it wants a change.
I have no way of knowing whether Rocha did some specific thing that caused the board to take this action; since it's a personnel matter, nobody is talking, and that's normal and appropriate.
There's still a lot of concern about his somewhat covert plan to award huge raises to his administrators.
But from the sources I've talked to, it seems likely that the board was tired of his style (which faculty and former Board Member Rafael Mandelman warned about when he was hired) and the direction he was taking the school.
So now the board has a major challenge. The members need to pick an interim chancellor who can bring everyone together; not only is the school moving to online classes because of COVID-19, it's likely that the state is headed for a recession and funding for all local services will suffer.
A ballot initiative in the fall would change the way property is assessed in California, allowing commercial property owners to pay higher taxes; that would bring in billions more for education, including community colleges.
But in the meantime, City College is going to face some major financial issues – just when its services are going to be needed most. And the only way this will be anything other than a disaster is if the person in charge has the respect and trust of all the stakeholders.
A top-down administrator who makes unilateral decisions isn't going to work at this point. Whatever hard choices have to be made, the faculty union and the staff unions have to be a part of the process. More than any other management qualification, the interim chancellor and the new permanent chancellor have to have community credibility.
That person also has to have the skills and charisma to help convince voters that Prop. 13 reform is necessary, that the money will be well spent, and that City College is a treasure that deserves to be saved.
Oh, and that person has to be willing to be open and transparent both with the college community and the news media.
If the trustees repeat what they did last time – conduct a search and hire someone who on the first day lacked the support of the faculty – it's going to be a disaster. That's my prediction.