Last May, Governor Gavin Newsom announced a plan to close California's state-run youth prisons, an initiative that has since been stalled. But San Francisco may have set a precedent. In June of 2019, the city voted to shutter SF Juvenile Justice Center (the city and county's short-term youth detention facility) by 2021. Many proponents of the closure cited the negative effects of imprisonment on adolescent development, racial disparities, and the high cost of incarcerating youth in a city with increasingly low levels of crime.
As an artist who works with youth, these exciting policy changes got me thinking. What role can artists play in cementing increasingly more common reformist and even abolitionist visions?
I have spent the past seven years teaching weekly poetry workshops at the soon-to-close San Francisco Juvenile Justice Center. This year, local cartoonist Tanna Tucker and I collaborated to celebrate student writing. I chose ten poems that had been written by my student poets and Tucker incorporated them into her stunning visual work.
Tucker has spent nearly a decade creating political work. She's been featured on the Nib, LAAB Magazine and within anthologies such as Black Comix Returns. She is currently working on her first graphic novel with Abrams ComicArts. She recently took time to talk with me about her artistic process and her views on the role of visual artists in abolitionist movement-making.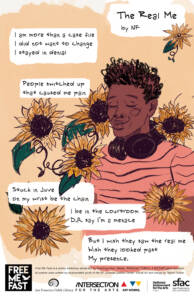 48 HILLS Firstly, what comics are you currently reading? What comics inspire you?
TANNA TUCKER All my friends' work! For example, Trinidad Escobar, who you worked with in the past. Breena Nunez and Lawrence Lindell are amazing. They all use comics to discuss identity and community. I'm currently reading "This One Summer" by Julian Tamaki. I grew up reading tons of anime! I don't know a single graphic artist my age who didn't grow up sitting in the aisles of Barnes and Nobles for hours reading anime for free. 
48 HILLS What inspired you to say "yes" to our youth poetry project?
TANNA TUCKER I wanted to engage with abolition. What does it actually, in a material way, look like to provide alternatives to incarceration? I wanted to assist in normalizing the experiences of San Francisco youth by visually depicting what they wrote in their poetry. abolition is the goal, but while folks are still incarcerated we must ask how we can support them. How can we help keep their spirits from being broken by this experience?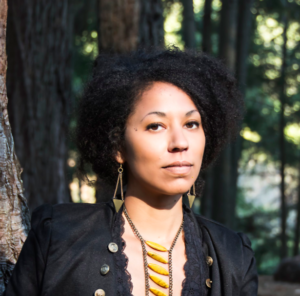 48 HILLS How did you engage with each poem? How did you come up with the image that went with each piece?
TANNA TUCKER What I heard from a lot of the students' writing is that they didn't feel fully seen. For example, a line reads, "I'm trying to understand what it's like to feel free." You and I also had conversations, created loose notes, worked with suggested images like sunflowers, and on honoring things that resonated with particular students. I didn't get to meet the students in person because of COVID-19, that would have made it feel even more like a collaboration.
I did want it to be about their beauty without washing away the difficulty. In "Reason for Being" it would have felt false and invalidating if I tried to force an uplifting image. As a teen that also struggled with depression, it wasn't helpful when people brushed over or invalidated my difficult feelings. It was as if the students were saying; these are the things I need to talk about! I wanted the images to normalize the notion that they are more than this experience of incarceration.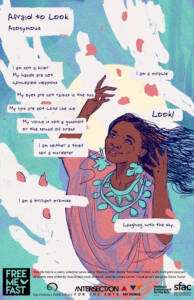 48 HILLS Can you talk about how your past work with text and visual art informed how you approached this project?
TANNA TUCKER I am a cartoonist. Accounting for dialogue and text in the composition is part of the process and becomes part of the image. There's a lot of ways we could have done it. We could have simply paired the image with the text. But I wanted to try to engage with it from a cartoonist approach. When you're doing comics, part of the composition is the dialogue bubbles. You have to plan for that when you're laying down the composition for the image — it is kind of a graphic design approach. You have to consider text and image at the same time. Otherwise it could feel less integrated, as if the text were an afterthought. I wanted an aesthetic where the text and the words from the poem were woven throughout the piece.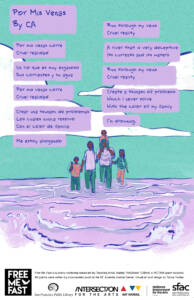 48 HILLS What is one dream you have for youth impacted by legacies of mass incarceration?
TANNA TUCKER My dream is that we abolish mass incarceration and, in the meanwhile, my hope for impacted youth is that they remember that you are not defined by mistakes or tough experiences. Learn from it what you can, yes. But do not, for a moment, accept this as your fate or something you are deserving of. My dream is that they will continue to investigate and harness their own creative voices. And that they can continue to seek out those invested in their growth because we are seeking them too. I want different accountability practices besides jails and prisons. How do we dismantle what creates these harms? There are practices that deal with the basic needs that people have. If you're not doing both then it's not going to work. My dream is that we reckon with capitalism.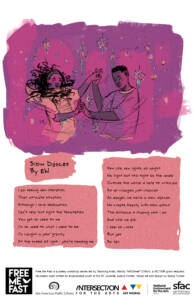 This project was commissioned in part by the WritersCorps' teaching artist in residency (WCTAIR) grant, a project of the San Francisco Arts Commission and San Francisco Public Library.