It's a rough time for live theater. As San Francisco arts organizations brainstorm ways to carry their message into the COVID era, some of the city's most veteran radical creatives seem to have pulled off their transitional landing. Over the weekend, the SF Mime Troupe debuted the second episode of their nine part radio play series "Tales of the Resistance."
"The troupe's revolutionary message is more important than ever, and I believe the audience may be more receptive than ever," Mime Troupe lyricist and composer Daniel Savio told 48 Hills in an email interview. "More people are waking up to how interconnected our world is, especially how systems of power and oppression interrelate." Savio, son of free speech movement leader Mario Savio, has been involved with the group since first joining it as a keyboardist in 2006.
Since the company was founded in 1959, the SF Mime Troupe has made slapstick heavy stage shows based on the working class' issues of the day, meant to entertain and educate multi-generational crowds. There's no denying that 2020 has unleashed a swarm of plagues upon our heads—and with COVID-19 regulations outlawing live theater events for the foreseeable future, Savio is right that it was urgent that the troupe find a way to pivot.
And it seems that they have. The first two episodes of "Tales of the Resistance" focus on disappearing labor activists at an Amazon-like corporation, and on a nurse who is determined to provide health care even to those without insurance. The series promises to weave together these storylines, as well as those of a self-proclaimed "good cop" and a tepid software developer. Through this synthesis, the Mime Troupe hopes to make sense of a world that seems to be spiraling out of comprehension—without sacrificing its love of comedy. I fell out at one of the second episode's fake commercials for a brand called "Girrrrrrrl Momentz" ("with a bunch of r's and a z!)", a send-up of today's empowerment-themed capitalism. The episodes will debut every two weeks throughout the summer.
The fact that the Mimes seem to be pulling it off, however, is not to say it was an easy transition.
"We've spent decades developing physical styles to tell a story to people fifty to a hundred yards away," says longtime Mime Troupe member—and "Tales of the Resistance" co-writer—Michael Sullivan. "Putting that on its head to be totally non-physical was an ironic challenge in our 60th year."
There were also unique opportunities offered by the audio-only format.
"[Radio plays provide] a precision of storytelling, and particular way of painting the world in the listener's mind," says Sullivan. "I've also used them as training tools for my writing because of their concise nature, and because I just like the breadth of the noir, horror, sci-fi, and adventure styles that traditional radio shows encompassed. They're a hell of a lot of fun."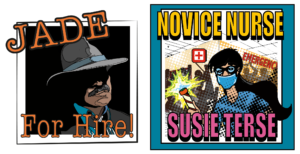 The Mime Troupe veteran says that even after channeling the art of the radio play to write the episodes, the rehearsal process itself was a major hurdle. The troupe opted out of in-person rehearsals, choosing instead to brave the time delays of video calls. Such measures of new normality proved taxing, particularly on the bandwidth of the house Sullivan shares with Velina Brown, Mime Troupe collective member, director of "Tales of the Resistance," and his partner.
"Our internet had so much strain for the past few months, to the point that our phone line actually short circuited!" says Sullivan.
The troupe is well aware that presenting their calls to action barely disguised as entertainment via the internet is a massive shift from the traditional Mime Troupe experience. Members of the public used to watching the free productions from a blanket in their favorite park may miss that immediate communal feel of the IRL plays.
But—hello!—times have changed. And if you have to get you radical commedia dell'arte in an audio format these days, c'est la vie. (If you're aching for the visual component, 2015 Mime Troupe stage show "FreedomLand" is available for free viewing online for a limited time.)
"I've talked to friends, semi-strangers, and heard from just random people that they really liked it!" says Sullivan of the debut episode of "Tales of the Resistance." "I think all the shows are going to be great, but I am extraordinarily prejudiced."
Listen to the first two episodes of the SF Mime Troupe's "Tales of the Resistance" here. The third episode "Fear of the Dark" premieres August 15th.