I almost couldn't watch. And I've watched a lot of bad politics.
The Republican Convention has been something different, a new low beyond the worst of my lifetime as a political reporter. It was openly white supremacist, openly using racism to stoke fear, and more full of open, clear and obvious lies than you could even expect from Donald Trump.
It was also just … icky.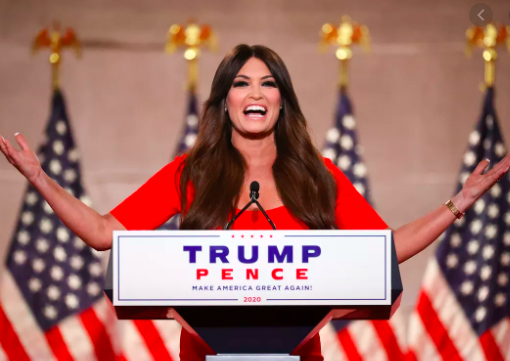 If this weren't so serious – if there weren't a real chance that Trump could remain in the White House, whether he wins the election or not – some of it would be funny.
Kimberly Guilfoyle, who once worked alongside Kamala Harris in the San Francisco DA's Office, referring to Harris and Joe Biden as "socialists." (Kamala Harris is not by any stretch even close to a socialist, and Guilfoyle knows her and knows that.)
Guilfoyle saying that everything wrong with this country is happening in California, which is run by her ex-husband Gavin Newsom.
Oh, and she shouted into an empty room.
But it's not funny, it's sick.
The couple who pointed guns at Black Lives Matter protesters got a prime speaking slot (and in an openly racist rant, said that the suburbs – the white, straight suburbs – will be unsafe under Biden). These are folks who destroyed a local synagogue's beehives and tried to block a gay couple from moving into the neighborhood.)
And they are prime-time speakers at the RNC.
Tonight, I am watching horrifying video of Kenosha, Wisconsin police shooting and paralyzing Jacob Blake. And the Trump RNC is using racist tropes to talk about "law and order."
Here's what my friend David Talbot says:
Dark America vs. White America… I'm typing to you from under my desk after listening to Fun Couple Kimberly Guilfoyle and Donald Trump Jr. weave their terrifying vision of a Democratic Party America. Where Communist COVID germs from Communist China will be allowed to cross our open borders — thanks to socialist Joe Biden — and infect our decent, hardworking (white) citizens as they stand with assault weapons outside their suburban homes protecting their chemically-enhanced lawns from marauding Black Lives Matter anarchists. Guilfoyle's volume just kept LOUDER AND LOUDER until I started screaming too. Dogs were howling next door, car alarms started shrieking, and I heard moaning and weeping from the tightly shuttered houses up and down our block.

Don Jr. only ratcheted higher the Fear Factor. After five months of lockdown, and a full week of unhealthy air alerts, we're all as hysterical as Kimberly and Don Jr. AIEEEEEE!!!

As CNN talking heads later pointed out, a presidential candidate's children are supposed to humanize the nominee, to speak warmly of their childhood memories. But Don Jr. — who according to one eyewitness report was once whacked in the face by Donald Sr. because he objected to his son's collegiate attire — was all hellfire and brimstone.

Trump's firstborn pivoted briefly to all the positive things the Trump administration has done to fight the pandemic — like getting all those "P, P and E" (that's what he said) in the hands of frontline medical workers (which will come as a wonderful surprise to all those frontline medical workers, who are still waiting). Unfortunately, Don Jr. used a phrase that makes those of us who remember the Vietnam War era shudder. When it comes to stamping out the rampant virus that has killed over 176,000 Americans, Don Jr. assured us, we're "seeing a light at the end of the tunnel." Uh-oh.

But it was not all doom and gloom from the Republicans on opening night of the Trump Coronation. Senator Tim Scott from South Carolina (who, in defiance of Joe Biden, truly is black AND a Trump supporter) was by contrast to other speakers warm and fuzzy. He even promised us that if Joe Biden is elected, there will be "a socialist utopia in America."

Really and truly? That's enough to get me out from under my desk.