Days before Mayor London Breed declared the shelter-in-place order back in March, Gabriela Alemán was already trying to figure out how her older neighbors could get food without exposing themselves to COVID-19. She called her sister, Xiomara and their friend María Castro Noboa, to think of a solution.
"We had to make sure the elders in our community had access to hot meals," Alemán explained. "So we bought a hundred meals from the bakery Eterna Primavera, and started to distribute."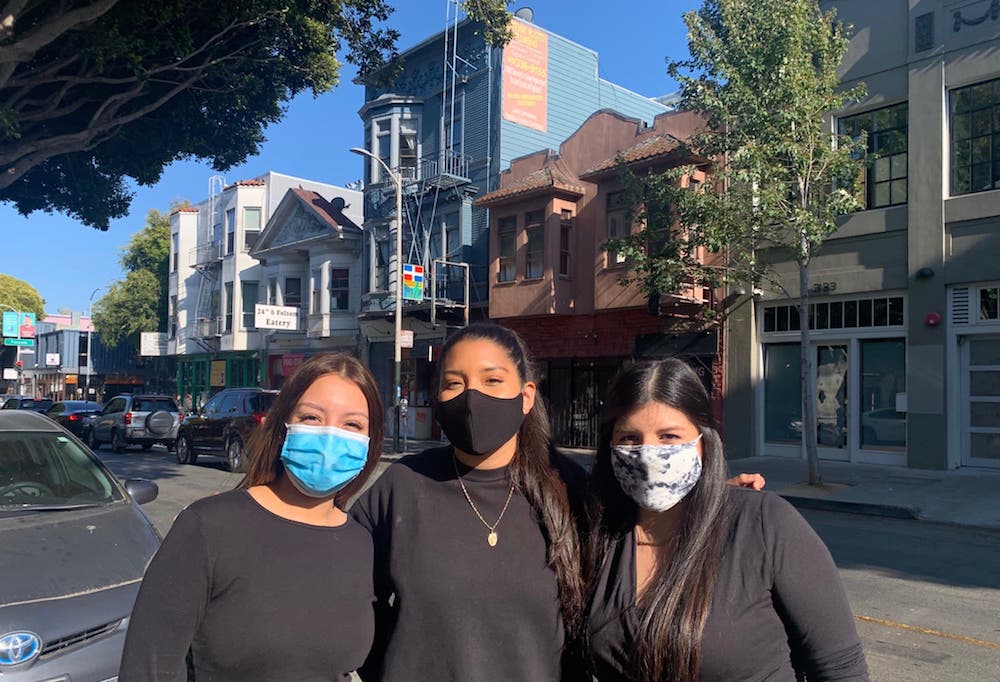 A few weeks later, the Mission Meals Coalition and its food initiative known as the People's Pantry were born. Dozens of small businesses and nonprofits across the Bay Area have joined the People's Pantry, which connects under-resourced residents to both groceries and hot meals made by coalition members.
And despite its name, Mission Meals assists families beyond the borders of the Mission District. "Access to food is a human right," said Castro Noboa, "whether it's your immigration status or your zip code, or you are unhoused, none of that should matter when it comes to accessing food."
Most of the recipients are either homeless, day laborers, or seniors, and most came to the People's Pantry through a referral. Mission Meals has no fixed location; volunteer drivers drop off meals to each recipient. All of this, according to the founders, is to assure that coalition resources remain accessible and foster what Alemán described as "cultural humility."
"Cultural humility doesn't mean just opening our doors and saying 'we have free food here,' she said. "There has to be an understanding that transportation might be an access barrier. So we also make sure that we can go to them and ensure that we cut that barrier to make it more accessible."
With this in mind, Mission Meals partnered up with San Francisco Community Fridge to open the first free fridge in the city. Situated in front of Adobe Books on 24th Street, the fridge holds food items like milk, eggs, greens, and corn flour. Next to the fridge are PPE material and stocks of pet food, part of Patitas, the initiative also started by Mission Meals to also feed dogs and cats of the neighborhood.
The fridge is available from noon to 7pm everyday. Anyone can come by and take as much as they need, following a model similar to other free fridges established in Oakland, Los Angeles and New York City.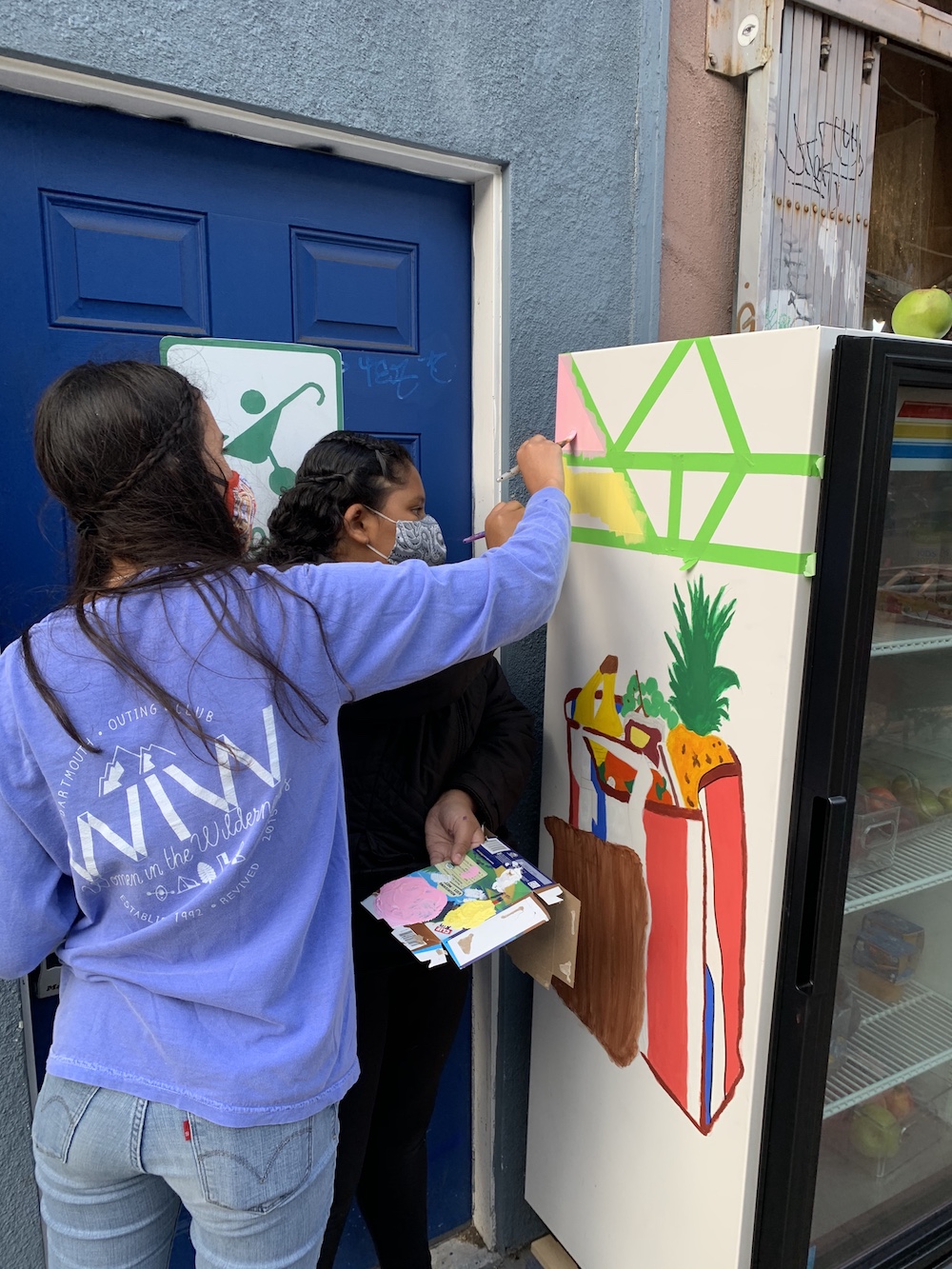 Mission Meals asks that potential donors check on their Instagram account @mission.meals to see what the fridge needs at the moment. Anyone can take from the fridge, but donating is a little more complicated. SFCF recommends contactless food drop-off at alternate sites where Mission Meals staff can then screen and clean each item. Food is always in demand, as Alemán and Castro Noboa note that the fridge empties out almost every day.
While SFCF gathered the funds to purchase the fridge, Mission Meals is responsible for its upkeep and promoting its purpose in the neighborhood. "Before even considering bringing in the fridge, we asked the community if this is what they wanted," Alemán said.
All over the surface of the fridge are colorful designs and paintings made by Mission youth in collaboration with local artist Valeria Olguín Ontiveros. "The art component is in line with our history, the history of the Mission, and the history of 24th Street," Alemán expresses. "That's why it was so important to include Central American youth, who do not have the same points of access to the arts."
Alemán, engagement is only one part of seeking consent from the community she serves. "There's a lot of what seems to be almost dehumanizing imagery coming out of District 9, especially knowing that we are one of the hardest hit by COVID," she explained. "We are supporting them in securing food access but there is so much more than someone that is food insecure. They are people, parents, community members, who deserve to have access to these resources without having to feel embarrassed."
It's been two weeks since the launch of the fridge, but Alemán and Castro Noboa have already had unpleasant experiences with members of the press that insisted on taking photographs of those who take food from the fridge. Both Mission Meals and SFCF have made it clear that this is not permitted.
"We want to preserve people's dignity," says Castro Noboa. "Shame is usually a big barrier to accessing these services." But there are challenges to provide this safe space for users of the fridge.
"As a collective of women and BIPOC and queer folks, we are usually not the ones people are accustomed to listening to," Alemán explains.
All three founders of Mission Meals are under 30 and identify as women. Both Castro Noboa and Alemán expressed their frustration with the way conversations on food accessibility in District 9 have looked over the role of women.
"Both here and in our parents' countries, it's been women, women of color, who have led this work. Women are the pillars of our community and I think we are very strong representatives of that," said Alemán. "We were there when no one was there, and we will still be there after." Alemán acknowledged that once the pandemic ends, a lot of the resources coming into disadvantaged communities may stop flowing in. But she also points out that while pandemics may come and go, support networks between neighbors and friends stay put.
"Mission Meals was initially funded through my art page, Smug Morenita," Alemán said. "Since then, it has been the DJs, nightlife, the poets, and writers that have funded this food work. We are using our creative skill set to raise funds for this cause."
To continue sustaining both Free Fridge and the People's Pantry, Mission Meals has launched a fundraising campaign through Patreon. More than 100 people have already signed up to donate once a month. Most of these donors are also from the Mission and other areas the coalition serves. "Even though free fridges seem new, something similar has always existed for a long time in our communities," she said. "Under-resourced people will want to support other under-resourced people. Even if mutual aid is not explicitly invoked, we still see it happen."