It is difficult not to have a special spot in your heart for the Mission. While the Yemalu tribe (part of the Ohlone people) just about succumbed to the arrival of the Spanish colonists in the late 1800s, the equally non-welcome Irish, Germans and Italians have moved on. The lower-income Latinx people and equally struggling artists still to be found there have no equivalence for tenaciousness with which they hang on to their homes. The techies and tech buses have had a heck of a time reshaping this vital neighborhood. Of course, its people need help. Lots of it.
Last Saturday, the people raised their voices one more time. They were tough, they were loud, they were unstoppaple.  Speaking to the issues—cogently and bluntly—they also addressed the heart, and the mind. That's the power of poetry, music and dance, especially experienced live.
For more than 30 years, Dance Mission Theater's powerhouse Dance Brigade and its offspring have been in the struggle to retain and honor the Mission's soul. The multi-sectioned 2015 "Hemorrhage: An Ablution of Hope" had been inspired by the threat and growing number of lost, low-income housing. The half hour excerpt picked up on that issue but expanded on it. The taiko drummer-dancers, wearing black and matching masks, looked more than ever like the women warriors they are.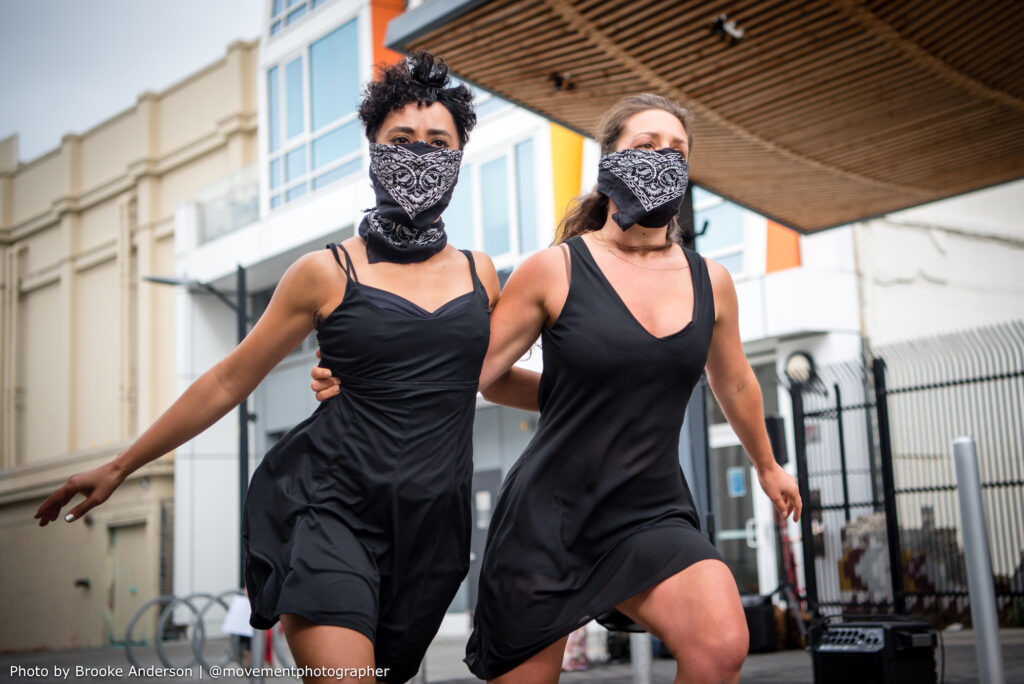 For this (masked, socially distanced) outdoor performance, on the lot of a burnt down building, previously home to eateries, stores and low-income residents, Dance Brigade invited fellow activist artists. Adrian Arias created a tumultuous black on white mural during the performance. Flavia Elisa Mora's reciting of her poem "Mission Renaissance" wove in and out of the dancers yet spoke eloquently on its own.
Roberto Hernandez, director of Carnaval and a leader with Our Mission No Eviction introduced the event in both Spanish and English. The intermingling of the two languages felt completely natural. Hernandez' oratorical style was forceful but it was also both personal and embracing in the way he told the story of the slum landlord who, after the fire, had shaken hands with the late Mayor Ed Lee in a promise to rebuild with affordable housing. Yet, apparently, the owner last week filed a permit request for market-priced housing!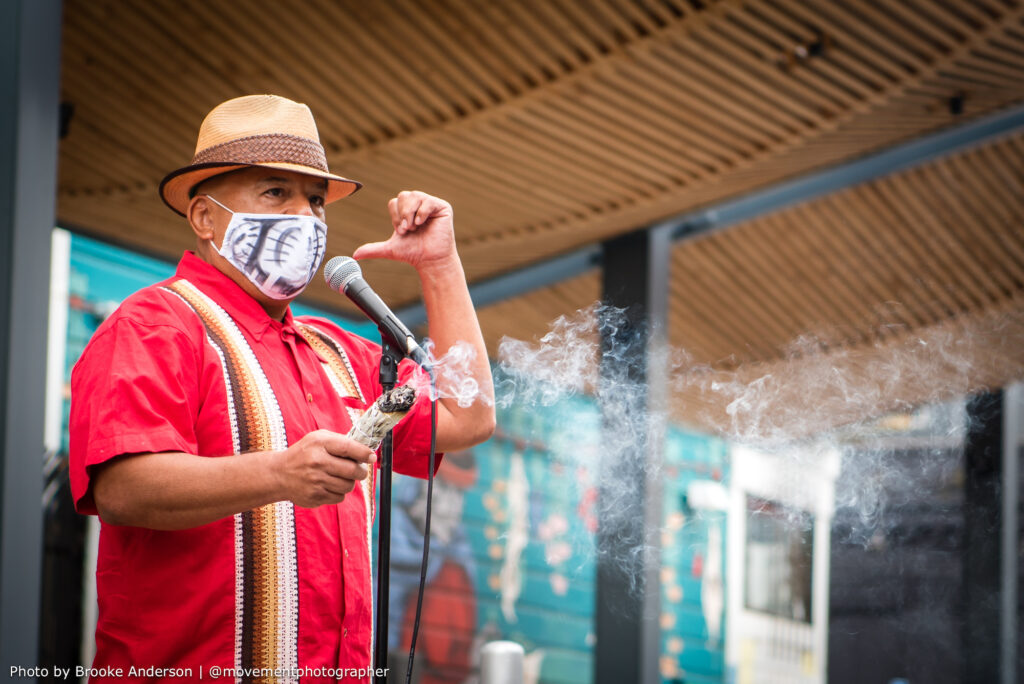 But Hernandez wouldn't let us give in to this dispiriting news; shaman-like he led us into contemplation and thanksgiving for children, women, men and those ancestors that we eventually will join. In that way, it perfectly fit with the Dance Brigade's work that so often clothes its howl at injustice with hope, however, precarious it might be.
The excerpt of "Hemorrhage" was no exception. After the impeccable taiko drumming, during which individual artists stepped out into movement solos, the piece switched moods. Fredrika Keefer and Bianca S. Mendoza started a lovers' duet that expanded a communal dance to one of Mexico's popular songs, "Como Te Voy A Olvidar." Who could resists its refrain of "Amor, Amor, Amor."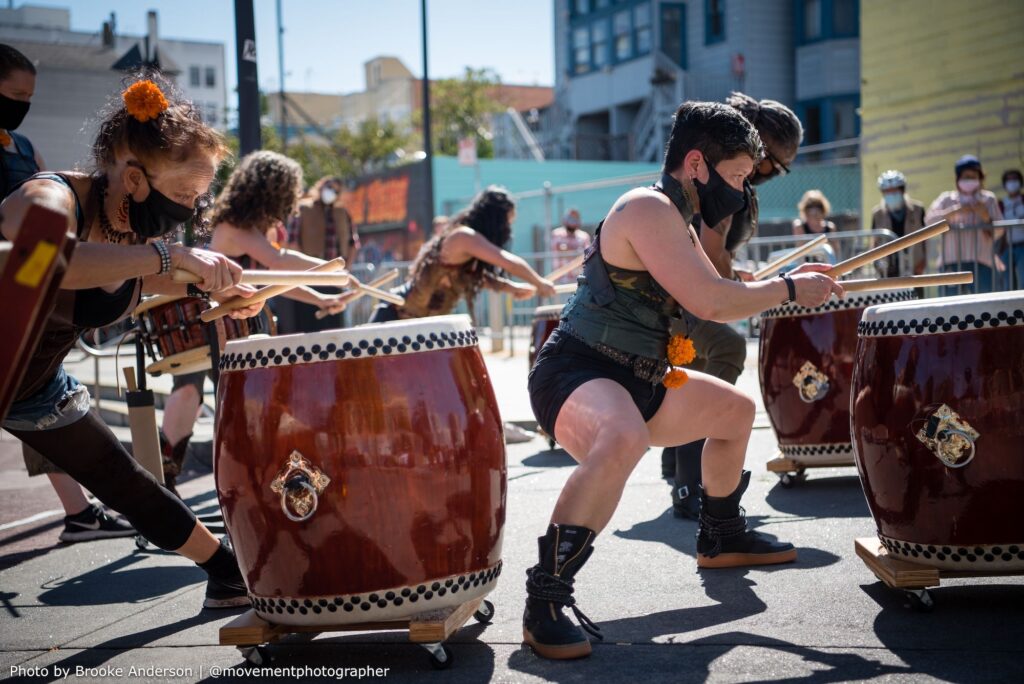 In the coming weeks Dance Mission will continue its community-involving programs. "Incantation" on October 29 (4:30-6 pm) is a "prayer protest, process and performance for regime changes" that will start  at 22nd Street and Mission (the site of the fire) and travel to the 24th Street BART plaza, where Arenas Dance Company, Rara Tou Limen and Dance Brigade will perform pop-up dances. Adrian Arias will paint again.  
"Lifting the Veil" on November 2 (7pm) will happen in the windows of Dance Mission (24th Street and Mission) with live dancing and video projections. 
Not organized but supported by Dance Mission, will be Our Mission No Eviction's Dia de los Muertos (November 2) event at the lot at 22nd Street and Mission, which will include planting a garden and honoring the life lost in the fire.