"I can't tell you how excited we are—and of course a little exhausted and nervous," Folsom Street Events Interim Director Angel Adeyoha told me with a laugh over the phone, after three days of unpacking boxes in the organization's new space on Ninth Street between Howard and Folsom. "But I always say, If I'm not scared, I'm not doing it right."
Many of us are holding our ball-gagged breaths to see if major events like the organization's massive, 37-year-old fetish-fest Folsom Street Fair and its "dirty little sibling" Up Your Alley can happen in person this year, in the wake of last year's digital gatherings due to the pandemic. To that, Adeyoha says they are planning to go ahead "according to all guidelines and restrictions, with the utmost care for the safety of our community, which probably means something that again looks a little different from what we're used to. It may be something more like the Sunday Streets program."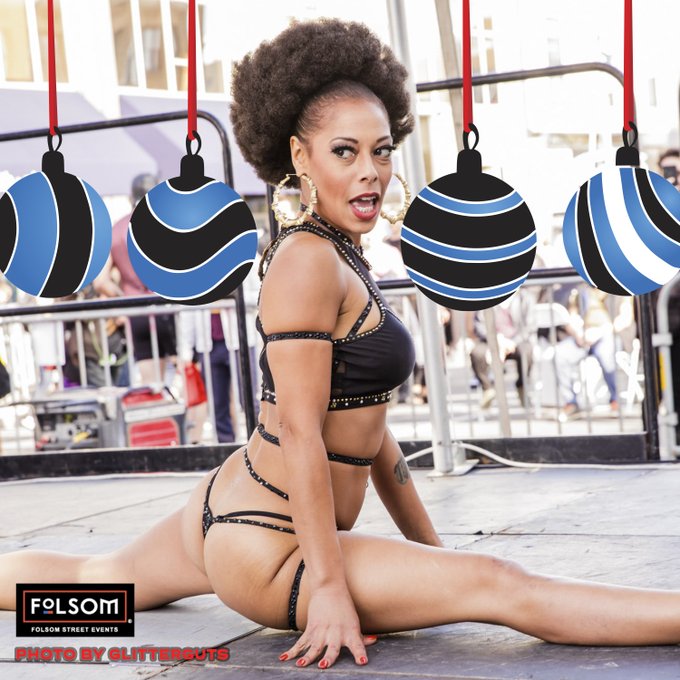 But in the meantime, non-profit FSE has taken a giant real-world step, pivoting to a brick-and-mortar space and reformulating what the fair's impact and legacy can represent in the post-pandemic world. The new Folsom Street Community Center for Alternative Sexualities intends to foreground the org's community education, arts programming, and fundraising as a year-round resource, rather than concentrated solely on events. (FSE has granted more than $7 million to community organizations from the money it raises at the fair).
"We've used this moment for intense reflection around community service and leadership, and how we can honor our activist, anti-gentrification neighborhood roots," Adeyoha told me, something many in the nightlife and queer community have also been making their goal.
"We're foregrounding our commitment to gender equity and racial justice alongside sexual liberation. And with so many community organizations struggling to stay afloat or losing spaces in SoMa, we wanted to figure out a way to use our resources to help."
This radical intent gave rise to the idea of a multi-use Community Center, whose space FSE recently leased and which Adeyoha tells me is "big and beautiful, and full of endless possibilities." The org plans media tours in the near future, with intended soft launch programs in March, ramping up with more events through the year toward the actual fair.
Here's a preview of the new space (including the disco pig!):
So, what's on tap for this center? Already FSE is partnering with the Center for Sex and Culture, which lost its space two years ago, to host its crucial library and archives. Meeting spaces will vital programs and events that want to expand into SoMa, like the Castro Country Club's recovery meetings. FSE also envisions art shows, film screenings, workshops, performances, game nights, and other activities that have scant space to thrive in SoMa.
"We have recording equipment and green screens, so we can help drag queens and other performers access the digital technology and training they need to survive in the current situation," Adeyoha told me. "One of the things we learned from last year, and that we want to keep developing, is how much a digital component increases the accessibility of the fair, in terms of different body types and community members who face other challenges."
Folsom Street Fair gloriously celebrates kink, of course, so what about playspaces and demos, I asked. "We're developing something with [playspace] Catalyst and others to bring sexuality, play, and education to the space," Adeyoha said. "This is just the beginning of the amazing things we can do here."
Full press release below:
ANNOUNCING THE FOLSOM STREET COMMUNITY CENTER FOR ALTERNATIVE SEXUALITIES
Folsom Street has signed a lease, and begun work on launching our new Community Center in SOMA! We are pivoting from our legacy of fundraising, community education and arts programming annually through our events, to a year round resource for many small organizations, groups and clubs who are struggling to stay in SOMA or who have been pushed out. The Center for Sex and Culture is one of the organizations that we will share space with, hosting the CSC and Folsom Street Library and Archive. We will also make space for organizations that want to expand their services into SOMA, like the Castro Country Club, to host recovery meetings that are targeted toward our stakeholder communities.
Folsom Street has made immense strides this past year toward profound changes in our leadership and our commitment to meaningful and measurable racial and gender equity in our work. We have prioritized those at the intersections of BIPOC and LGBTQ2I+ identity in our programming, our recruitment and our visioning for the future of our organization. Those changes will remain central to the next chapter of our work as an iconic part of the San Francisco arts and culture landscape. Our goal is to protect our long legacy and build a future that focuses on our roots of service to our community.
We can't wait to welcome you to the Folsom Street Community Center for Alternative Sexualities! All groups, clubs, and organizations in our wide and diverse community will be celebrated, with a focus on those at the margins. We will prioritize BIPOC and LGBTQ2I+ events, groups and services. If you have sexual liberation included in the change you're making in the world, we want to support your vision!
Some of the things that will be happening at the Center:
Library and archive (co-created by the Center for Sex and Culture) Art shows
Film screenings
Media production
Meetings/classes/workshops Game/craft/social nights
Drag and performance workshops Fundraising events
Comprehensive, shame-free, kink friendly sex education
Volunteer trainings
AND SO MUCH MORE!
The Center will allow us to continue to be innovative in how we bring the community together throughout the year during the pandemic. We're so grateful for the steady support of the community and we're excited to serve in this new way!
Stay tuned for updates about our events and how we plan to show up (safely) in the streets together this year!