This September, Folsom Street Fair's jingle-jangle of nipple rings and crack-crack-crack of the whip will be floating out of your laptop speakers—rather than above the heads of half a million participants in the world's largest fetish and kink fair.
The fair and its "kinky little sibling," July's Up Your Alley Fair (aka Dore Alley Fair), both produced by Folsom Street Events, which annually flood the city's businesses with visitors and select community nonprofits with necessary grant money, are moving online due to health and safety concerns in the wake of COVID. The move was announced Monday morning, cementing a season of big festival cancellations, including Pride and Burning Man.
"It's so cliche to say we're making lemonade out of lemons," Folsom Street Events Interim Executive Director Angel Adeyoha told me over the phone. "But what else were we going to do with all these lemons? Queer people and leatherfolk have been improvising throughout history, it's just what we do. The health and safety of our community comes first."
According to Adeyoha, the Folsom Street Events board and staff had been watching closely for any possibility that the fair could still be held, although it prepared for the worst. "When Pride announced it was cancelling, we knew we had to do the same with July's Up Your Alley Fair. And then Governor Newsom said there would most likely be no large gatherings until next year, maybe, we knew we had to adopt a different plan for Folsom," Adeyoha said.
"Nothing is going to look the same this year, in any context. So we are changing direction and focusing on creating an online experience that preserves the spirit of the fair, while promoting our fantastic community partners, performers, and vendors," Adeyoha said. "We'll be offering them connection and material support for this year's changes. We're still going full steam ahead on raising money for our annual grants, and producing something unique that maintains the vibe of the event."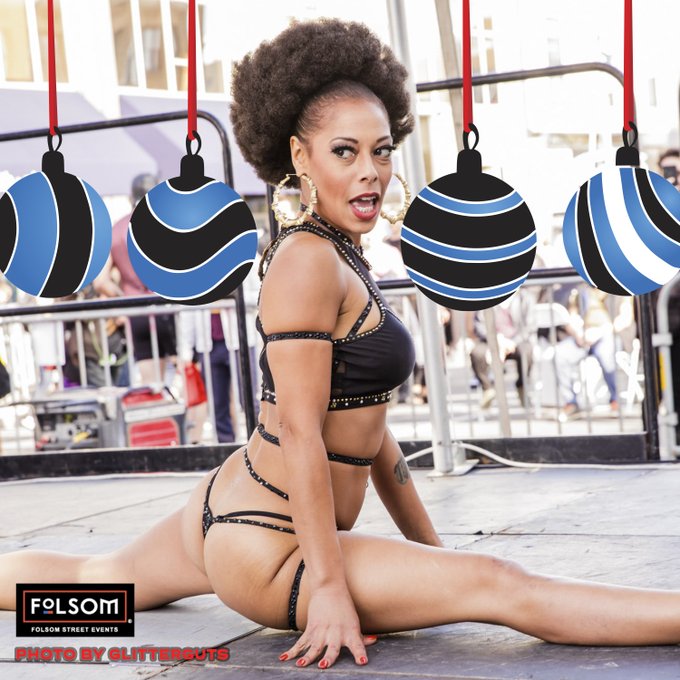 Maybe it's unfair to ask this at such an early stage, but any idea what this online experience might look like?
"We are listening to the community and following the guidance of some of the organizations we've worked with for years. We'll be releasing an online poll for our audience to tell us directly what they feel we should include, and holding space for our vendors and event staff to adapt to the changes," Adeyoha said.
"Well definitely be preserving aspects like BDSM demos and entertainment—what's exciting is now we can include participants and performers from all over the world, including DJs and musicians."
"One thing we're definitely doing is looking to the Sisters of Perpetual Indulgence, who have been part of the fair forever. Adeyoha said. "Their online version this year of the Easter Hunky Jesus contest filled me with hope, because it showed how effective an online community-building experience like that could be. It was so sweet and touching, too, to see how the community showed up and interacted in this time of crisis."
Adeyoha says that among other fundraising efforts, Folsom Street Events plans to launch a Patreon in the near future, "to help keep the lights on": Participants can subscribe for exclusive content and to support the fairs. The best way to find out about next steps is to follow Folsom Street Events on social media—Facebook, Twitter, Instagram—and subscribe to the organization's newsletter. "And please reach out to us at any time through our website," Adeyoha said.
In the meantime, Adeyoha urges everyone to support local nonprofits (Adeyoha gives a special shout-out to the Bay Area Leather Lifeline —"If you would go out every week to events like a beer bust or fundraiser where you would kick in $15 or $20, remember those events aren't happening anymore, and these institutions need your support. And please support our tireless healthcare workers and first responders."
Full press release below: 
FSE ANNOUNCES CANCELLATION OF UP YOUR ALLEY AND FOLSOM STREET FAIR
World's largest leather and fetish events to go virtual in 2020
Folsom Street Events (FSE) is announcing that this year's Up Your Alley, Folsom Street Fair, and related events will be held virtually rather than in-person. The board of directors and staff will produce virtual events to celebrate the historic fair weekends by staying socially connected while physically distant. ​The new events will be on the weekends of July 26, 2020 and September 27, 2020. For more information, visit folsomstreetevents.org.
In making the decision, the impact of the COVID-19 pandemic on public health and the response needed from Folsom Street Events was clear. Interim Executive Director Angel Adeyoha commented, "​We feel it is the ethical and the responsible choice to make before fair planning and production proceeds any further.​ The safety and wellbeing of our attendees and community members are our top priority. It was a hard decision to cancel our in-person events this year, but we hold ourselves and our events to the highest safety standards. Our team of staff and board members take their responsibility to our communities incredibly seriously."
Folsom Street Events has observed a standard of care for LGBTQ2S+ community members since its roots in the AIDS crisis. This decision upholds that legacy by choosing to gather virtually until it is once again safe to proudly take to the streets.
"We know that our events are a beacon of self-expression and visibility for so many," Adeyoha added, "and we look forward to remaining a vibrant San Francisco tradition this year and for years to come."
"I know the cancellation of in-person celebrations of the Folsom Street Fair and Up Your Alley is disappointing, but it is best for the health and safety of everyone involved," said Mayor London N. Breed. "I want to thank Folsom Street Events for their careful consideration of the current situation, and for making a decision that is in the best interest of public health but still allows people to celebrate virtually."
2020 will mark the 37th year of Folsom Street Fair and 35th year of Up Your Alley. Combined, the annual events bring hundreds of thousands of fairgoers from around the world to the historic San Francisco South of Market (SOMA) neighborhood and more than $200 million to San Francisco businesses.
"Folsom Street Fair and Up Your Alley are important legacy street fairs that contribute to San Francisco's unique cultural fabric and economy. While we will miss the fairs this year, I commend Folsom Street Events for taking this proactive step to protect public safety," said Maggie Weiland, Executive Director of the San Francisco Entertainment Commission.
"Folsom Street Events is demonstrating true leadership by making the tough decision to cancel their 2020 events," said Race Bannon, writer, organizer, and activist. "While these cancellations are a sad outcome of the pandemic, our city can take pride knowing that we also care deeply about the health and safety of our fellow citizens and those who visit our amazing city. We'll be back. Our community will rise like a phoenix, more beautiful and vibrant than ever."
Folsom Street Events will continue to support its community of partners, including local beneficiary non-profits, sponsors, exhibitors, and artists. The board of directors and staff look forward to providing connection and service to the entire FSE family during this crisis. Folsom Street Events urges all those we serve to stay safe, stay inspired, and take care of each other.
Folsom Street Events is a 501(c)3 non-profit organization. Our mission is to create world-class leather and fetish events that unite the alternative sexuality communities with safe, consent-based venues for self-expression, art and entertainment. Our events raise funds to sustain SF Bay Area-based charities. We value sexual freedom, diversity, and volunteerism. All of our events are adult-oriented, sex-positive events. Since our founding in 1984, FSE has given over $7 million dollars in proceeds to local nonprofit LGBTQ2S+ and allied organizations.