Spring is popping. Buds are blooming. The Easter bunny just hopped by. It must be time to celebrate every stoner's favorite day, 420!
On April 20, feel free to buy some amazing weed and find yourself a nice spot and get stoned to bejesus. For me, it is just the most guilt-free day to do what I do every day!
Seriously, there are tons of deals out there. Some dispensaries are even doing "A Month of 420" specials. Hey, as long as good pot is in my bong with extra savings in my pocket, I am very pro this advertising ploy.
This year, it seems still too soon to gather in masse and toke out together—the annual festival at Hippie Hill is officially canceled—so I have several ideas to make your 420 special while still maintaining safety.
Get comfy
Artist Jason Mecier is a San Francisco treasure. He's known for taking beans, noodles, cigarettes, candy, celebrity's throwaway junk, anything you can think of and making photo realistic collages that are visually stunning—and looking at all the details inside these images provides an amusing pop culture commentary. He is also a stoner.
Exclusively for 420, he created a new limited edition Snoop Dogg and Martha Stewart 12" two-sided travel pillow. He also put his Cheech & Chong 16" two-sided pillow on sale until April 20 at $10 off. These deluxe pillows are on sale for $29.99 each. Each pillow has a different portrait on each side. Order directly from Jason at Venmo @JasonMecier or Paypal jason@thejasonmecier.com. Confirm which pillow you want and your address!
Order now, support a local artist and get a really cool pillow to remind you of your love of weed every day.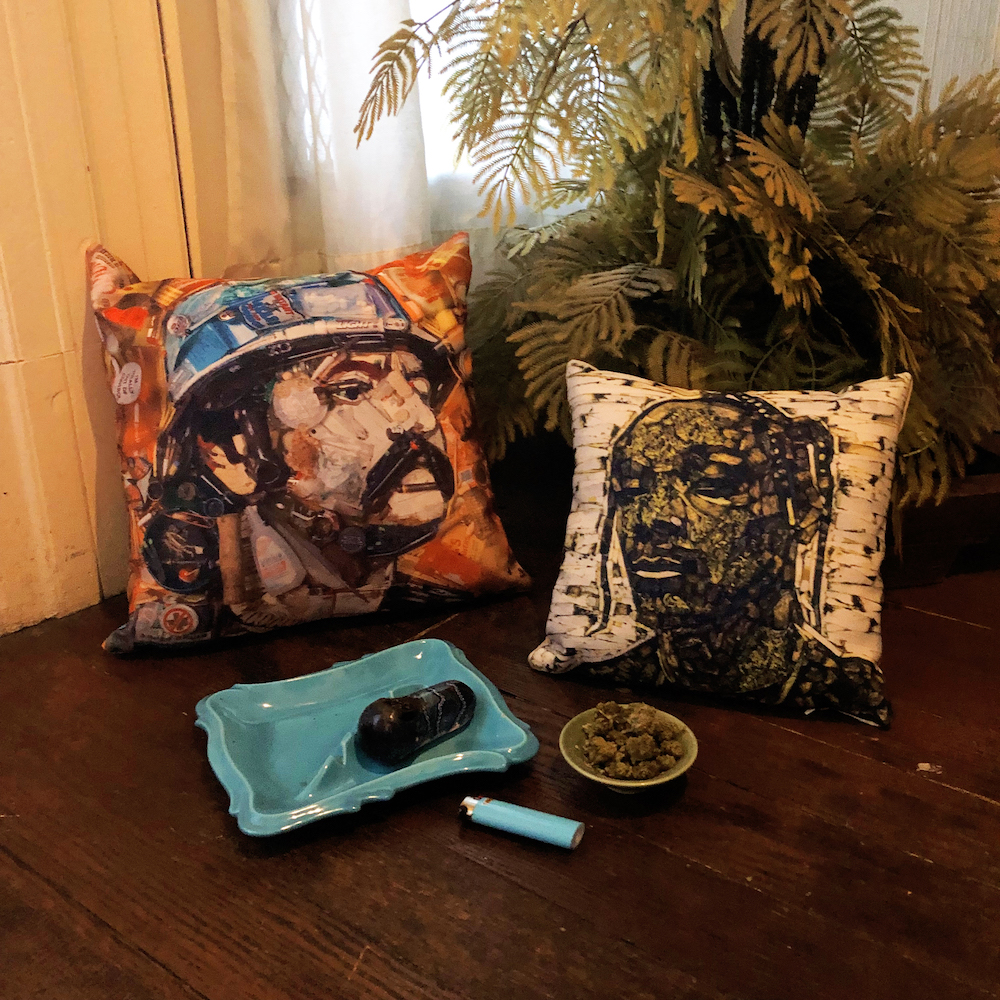 Have a scavenger adventure
A truly new and fun concept that is happening this Saturday, April 17 from noon to 4pm is High, San Francisco, an interactive and COVID-safe scavenger hunt. Early bird tickets are still available for $35 and General Admission will be $50 on Saturday. (Get 25% off when you use code HIGHPUFF at checkout.) Admission includes entry and a swag bag full of sponsor products, coupons, and fun 420 items.
"The event will explore San Francisco's exciting local history of cannabis. Scavenger hunt clues will lead you to iconic locations and stops throughout the city that highlight significant cannabis moments that have taken place in San Francisco," reads the press release.
Sponsors include Kiva, Plus, Chemistry, Space Coyote, Urbana, Drew Martin, Moe Greens, Stone Road, Sonder, Omura, Vapor Room, Garden Society, Pop-Up Potcorn, Calexo, Mellows, Artet and more. I am stoned just thinking about them all!
The first three individuals to finish the scavenger hunt checkpoints will win a prize package worth $200 and the top 20 finalists will get a treat as well.
Collective High is producing the event. It is a modern social community dedicated to changing the stigma around cannabis. "We are a crew of revelers and revolutionaries who are changing the scope of cannabis conversation through collaborative measures," from their press release. "We sit at the intersection of art, music, food, cannabis, fashion, and sustainability."
They had me at Swag Bag. I am purchasing my Early Bird ticket now and will see you at the finish line!
More fun, from burlesque to comedy
Another great way to get your 420 on is Lucky Box Club's Spring Collection at $156.50. Just order it for 420 delivery and get ready to explore what's new and fun in cannabis. These boxes are always well curated.
This year, a little post 420, Lucky Box Club is teaming up with The Herb Table for a 420 Baked Brunch Celebration on Saturday, April 24 from noon until 4:30pm. Tickets are $100-$250 at a location to be announced outside of the city near Sacramento, so have transportation. (More info here.) There will be live entertainment, infused cuisine and great company in an outdoor setting.
Also for 420, Sensi Magazine is celebrating its fifth year anniversary by giving away a trip to the Flamingo Resort in Santa Rosa and a Mountain Top Weed and Wine Tour valued at $1100. (More info here.) Enter now, or get high, forget, and give me better odds!
For comedy fans, Berner Presents the Couch Locked 420 Comedy Special by Cookies featuring Michael Blackson, Paul Rodriguez, Bob Saget, Jeff Ross, Lil Duval, Cipha Sounds, Precious Hall, Teddy Ray and more on April 20 streaming live one-time-only at 2pm. Tickets are $25.
If you haven't had enough stoner comedy, Ngaio Bealum is hosting the Live 4/20 420 Comedy Extravaganja featuring Brian Posehn, Maggie Maye, Serena Gamboa, Wendy Lewis and Cory Showtime Robinson couchside from 6-7:30pm for $10-$30. (More info here.)
There is also the 420 High Purpose Lifestyle Community Celebration at the Speakeasy Brewery located at 1195 Evans Ave in SF. Hosted by Chuy Gomez and C. Legal to celebrate San Francisco cannabis and support social equity businesses. It goes from 2-7pm, and admission is free featuring food from Vegan Hood Chef, local vendors such as Cloud Surfin' Apparel and Ricky Rat, a sneak preview of the cannabis lounge at Posh Green Boutique and more. Social distancing and masks required.
Finally, there is the Tipsy Teasers Burlesque 420 Hangover Show online Wednesday, April 21 from 6-7:30pm for $10. The theme is Silly Slumber Party, and 20% of all ticket sales are going to the Last Prisoner Project, a nonprofit organization dedicated to cannabis criminal justice reform.
There are so many ways to celebrate 420 safely this year, choose one, all, or just hang out with your bubble friends and get stoned. It is all about celebrating this marvelous plant that brings us happiness, stress relief and medicinal healing.
Next year, I hope we can sit in a beautiful park together and pass around a big fatty joint, but this list shows that there is still a lot of fun, interesting and unusual ways to celebrate our HIGH holy day.
So happy 420 to you all! May your bong never be empty, your expensive pre-roll never canoe, and your weed always be full of red hairs with a skunky stank.
Now it's time to light up!