A crowd of elected officials, labor leaders, and community activists gathered outside City Hall today to denounce the attempt to recall District Attorney Chesa Boudin.
The attempt a recalling the progressive DA – which is far from collecting the signatures it needs – is part of a pattern of recall elections in the state, most of them organized by Republican and conservative groups. Former State Sen Mark Leno called it "recall madness."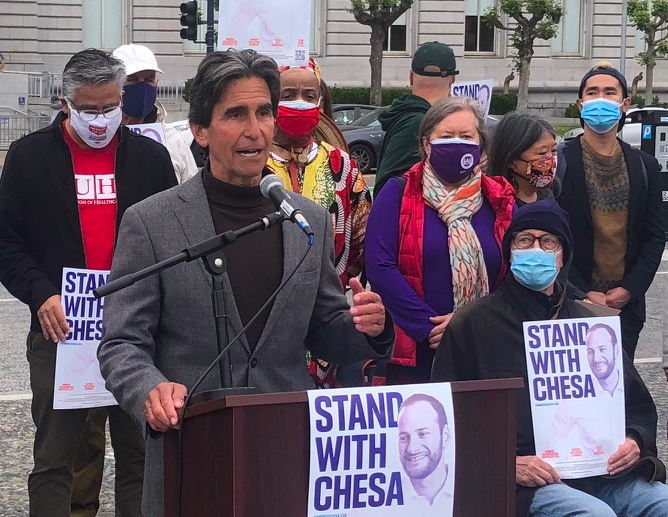 The recall, he said, was designed by the legendary Gov. Hiram Johnson at the turn of the 19th Century to fight corruption and malfeasance. Boudin, he said, "is keeping his campaign promises." He said "some disgruntled supporters of candidates who lost the election" are now trying to overturn the results.
Boudin's critics are attacking him in the news media, relentlessly. Some of those attacks have focused on his response to domestic violence and sexual assault.
Sup. Hillary Ronen said a lot of the bad press is "lies" and noted: "I created a department to address sexual violence and harassment. Victims have been the highest priority of this DA. Unfortunately, in San Francisco politically motivated opposition has been using the typical tactics of fear and misinformation."
Former Sup. Sandra Lee Fewer said that "as a 64-year-old, fourth-generation Chinese American, I have never seen a district attorney show this much of a connection with the AAPI community. Communications with other DAs on AAPI hate crimes have gone nowhere."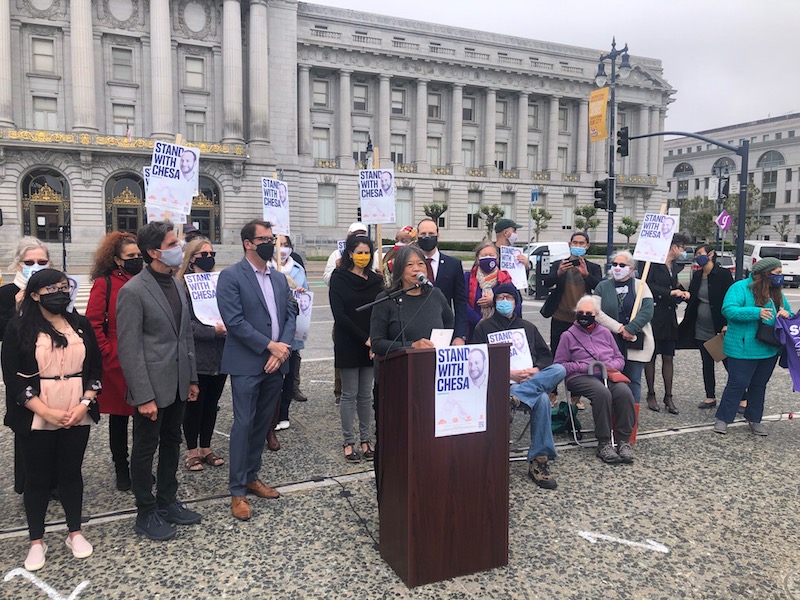 In one of the more dramatic moments of the event, April Green, whose nephew was killed by an SF police officer who is now charged with manslaughter, said, "I stand here representing all the young men who have been killed by police and never received justice."
The recall effort is far from qualifying for the ballot.