For much of her political career Dianne Feinstein has recieved very favorable news media coverage, both in reporting her successes and in not reporting her failures.
Not so much today.
Now the media is engaged in what can only be called a frenzy of endless ghoulish speculation not only about her physical and mental condition but also about the political skill of her long time "allies" in San Francisco politics: Rep. Nancy Pelosi, Gov. Gavin Newsom and Vice President Kamala Harris, the supposed "get things done" heavy hitters of San Francisco and the national Democratic Party.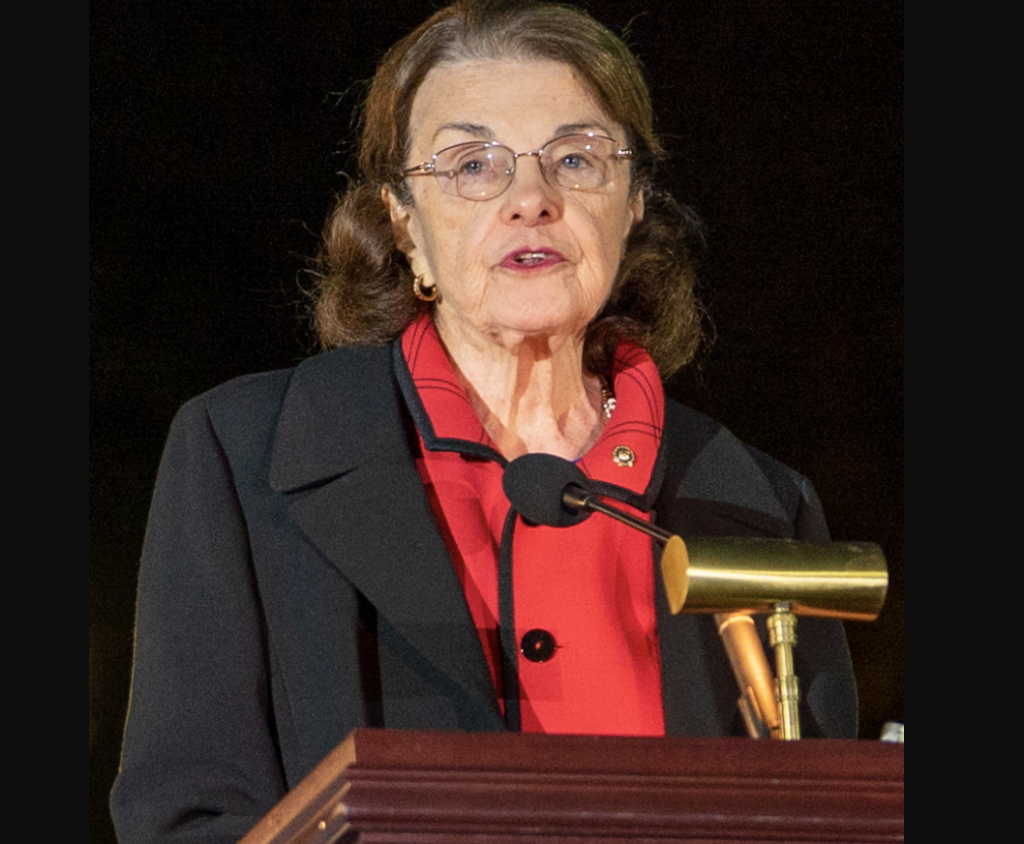 Feinstein, after finishing a distant third in her second losing campaign for Mayor to George Moscone in 1975 and despairing of her ever leaving the Board of Supervisors, was on the verge of resigning from public life in 1978 when Dan White, a fellow member of the board, fired five shots into Mayor Moscone and then calmly walked down the hall, re-loading along the way, and then shot Supervisor Harvey Milk in his City Hall office, automatically installing Feinstein, as board president, acting mayor.
The irony was that Milk had two years earlier had been the only supervisor to vote against her for board president and that White enthusiastically supported her.
The San Francisco press never mentioned that she had endorsed Dan White for supervisor and that White was often the sixth vote in her repeated efforts to thwart the legislative program of Mayor Moscone. It never reported that that Dan White campaigned for her effort to repeal district elections of supervisors in August of 1977. It simply never reported that Dan White was a political ally of Feinstein, and that Milk was the ally of Moscone, not once, not ever.
Instead, the media advanced a narrative that Feinstein "pulled the city together during this tragic hour," forgetting the divisive role she had just played at the board in the two years that George Moscone was mayor. From that day to this, Feinstein received very positive media coverage and George Moscone was airbrushed from media memory.
Her ten years as mayor (1978-1988) solidified the dominant role of commercial office developers and their customers in San Francisco's economic life. With federal funding her administration, especially her Director of Planning, Dean Macris, planned and expanded transit capacity to downtown with BART and Muni Metro (and raised Muni fares to operate it) and expanded the water and sewer system to be able to accommodate an office workforce that, on workdays, doubled the city's population, paid in large part by fees placed on San Franciscans alone.
San Francisco added some 25 million square feet of commercial office building in that decade, adding tens of thousands of commuters each day to downtown. Focused on the needs and desires of commercial office developers, the Feinstein administration placed the needs of residents for jobs, housing, and services in a subordinate position.
Mayor Feinstein adamantly opposed local General Fund allocations to build 100 percent affordable housing for San Franciscans proposed by community advocates once federal funding for urban housing started to dry up. Her administration favored commercial development over residential development because commercial uses (and their workforce) paid more taxes than residential development after the passage of Prop. 13.
There was not one locally funded housing development program created during her entire administration.
By the mid 1980s in Feinstein's San Francisco un-housed people begin to be seen co existing with an incoming "gentry"—the professional office workforce or "yuppies"—returning to the city that their class left in the 1960s for the suburbs. "Homelessness" and "gentrification" became the driving forces that whipsawed local politics in San Francisco as Feinstein eyed higher office.
But the press never held her, or her pro-corporate polices, responsible, not even when, in her final year, the local budget deficit had reached its highest since the Great Depression. Instead, her successor, Art Agnos, facing a crushing budget deficit, was blamed for "homelessness" as if he invented it in his first year in office.
After losing a race for governor in 1990, Feinstein went on to be elected senator in 1992 and has served there since. She has proudly occupied the right flank of the Democratic Party in the Senate, favoring large commercial farms in the use of federal water in her home state, supporting the war on drugs, the Bush tax cuts for the wealthy, and his war in Iraq. She did partially redeem herself on that score with her courageous and dogged report on the use of terror by the Bush administration first suppressed and then ignored by Obama.
With the exception of some bad press over her failure as chair of the Senate Judiciary Committee to quickly investigate accusations of sexual misconduct of Supreme Court nominee Brett Kavanaugh and her capitulation to a FBI report based on an "investigation " that seems not to have actually taken place that "cleared" Kavanaugh, Senator Feinstein received glowing coverage in both local and national media during her Senate service. As late as 2019 a movie (The Report) based upon her committee's work on torture, premiered with Annette Bening (much younger than Feinstein) playing her was well reviewed in both local and national press.
That all changed this year with her illness and absence from the Senate.
The pitifully sad images of her and her current condition, her insistence that she will serve out her full term, her pressured return to the Senate, her clear frailty, and now openly questioned mental capacity dominate the media coverage of Diane Feinstein.
But the truly ghoulish and sobering aspect of all of this is the open press speculation that personal political advantage is being sought from Feinstein's condition by her now powerful political allies: Nancy Pelosi, Gavin Newsom and, off stage right, Kamala Harris, all members of the governing elite of San Francisco.
There is open speculation in both the national and local media that Pelosi is supporting Feinstein's refusal to resign to bolster Pelosi's choice for Feinstein replacement, Rep. Adam Schiff, a long time Pelosi protégé. The speculation as gone so far as to suggest that Pelosi has placed her oldest daughter (said to be "like a daughter" to Feinstein) at Feinstein's side to assist in this effort.
It is odd that the press to date has never mentioned (nor interviewed) Feinstein's actual daughter, Katherine, a former Superior Court Judge, former member of the California Medical Board, and current president of the Fire Commission appointed by Mayor London Breed.
If Feinstein stays in office to the end of her term, no matter how serious her medical issues and no matter how ineffective she is as the senator from the nation's largest state, Gavin Newsom will not be able to pick someone to replace her; that person would likely run in 2024 as an incumbent.
In March, 2021 as Gavin Newsom was "jogging" for president before Biden said he was running, he boldly announced, as speculation around Feinstein grew, that should there be a vacancy he would choose a Black woman to fill the Senate seat.
In February, veteran progressive Rep. Barbara Lee from Oakland formally announced for the Senate seat. She was quickly endorsed by Mayor London Breed and Mayor Karen Bass, two ranking Black women Democratic office holders in the state. That would put a lot of pressure on Newsom to appoint Lee, should Feinstein step down.
In April and then again last week, Rep. Ro Khanna, a Bernie Sanders progressive and early Lee supporter, called for Feinstein to retire.
But if Lee is appointed to the vacant seat, and runs for a full term in 2024, it would be difficult, if not impossible, for Pelosi's hand-picked candidate, Schiff, to run for Senate.
Reverting to its most ghoulish excesses as it rushes to publish cruelly revealing photos of Feinstein in her infirmity and speculates on possible motives and "inside" moves of "powerful" players, the media creates mere spectacle, which feeds popular cynicism about politics, making more difficult the political change that must occur and can only occur though the election of dedicated, experienced and skilled progressive leaders like Lee and Rep. Katie Porter, each weakened by the media circus now surrounding Feinstein.
No one in the media has pointed the role of Newsom and his political ambitions in this situation. No one in the media asks why Kamala Harris, vice president of the US, presiding officer of the Senate, next in line among all Democrats to be president, has played no known role in resolving this rolling clusterfuck between her "friends," which threatens her party and her future.
No one in the media points out that this is a freak show that is totally the creation of the supposed "elite" of the San Francisco Democratic Party who, clearly, distrust each other even more than they distrust us voters.
One need not be a Feinstein supporter to be saddened by her treatment by the media and her "political family." There appear to be those who are trying to pressure her to stay in office for their own political agendas.
But as San Franciscans we need to be outraged at the failure of leadership shown by our "political elite." We need to be angry that mere maneuver is called "politics" by a media ignorant of the real politics of our city.
Tenderloin dope dealers are not the only players that need to be removed if we are to become the city we deserve.