One day on a break between classes, Dyana Díaz, the director of Spanish-Bilingual Education for the San Francisco Youth Theatre, took a stroll to Alley Cat Bookstore on 24th Street. She saw Dancing Home, a young adult book by Alma Flor Ada, and picked it up because she remembered the author had written the first book Díaz read in English when she was 11 or so. 
Dancing Home (co-authored by Gabriel M. Zubizarreta, Ada's son) tells the story of two cousins. It deals with people being bullied for not speaking—or being—like others, and the tensions that can exist between immigrants who are newly arrived and those already established.
Díaz, who is originally from Puerto Rico and has B.A. in Performing Arts for the Theatrical Expression from the University of Guadalajara in Mexico, read the book in a few hours and decided to adapt it as a play, which will be performed at the San Francisco Fringe Festival, on August 12, 23, and 26.
An experience in her theater group, which exactly mirrored what happens in the book, made her decide it was the perfect story for the group. 
"One of my students who has been with me the whole year, she enters the room, and she was kind of like the character in the book. She goes, 'Oh, this is my cousin. She's tagging along. She doesn't know how to speak.' Actually, that line is in the script," Díaz said, laughing a little. "I was like, 'Hmm, I think you mean she doesn't know how to speak English. She speaks Spanish though, right?'"
Thinking the book would be perfect for her, Díaz tried to give it to the student, but was met with disinterest. 
So Díaz decided to do what she loves—put the story on stage. 
"I thought this is the story of this kid, and she doesn't want to read it. How else can I share this?" she said. "And the only way I know how to share stories is through theater. So that's how I came to me. It's kind of like I didn't decide it—it was the circumstances."
Díaz reached out to Ada, a former Radcliffe Scholar at Harvard University and Fulbright Research Scholar, who lives in Mill Valley. Díaz sent drafts of her adaptation to the author of many children's books of poetry and nonfiction, as well as novels.
Ada would make suggestions of elements of the book she thought should be in the play, as well as ones that could be left out. After three drafts or so, they had an adaptation they were both happy with.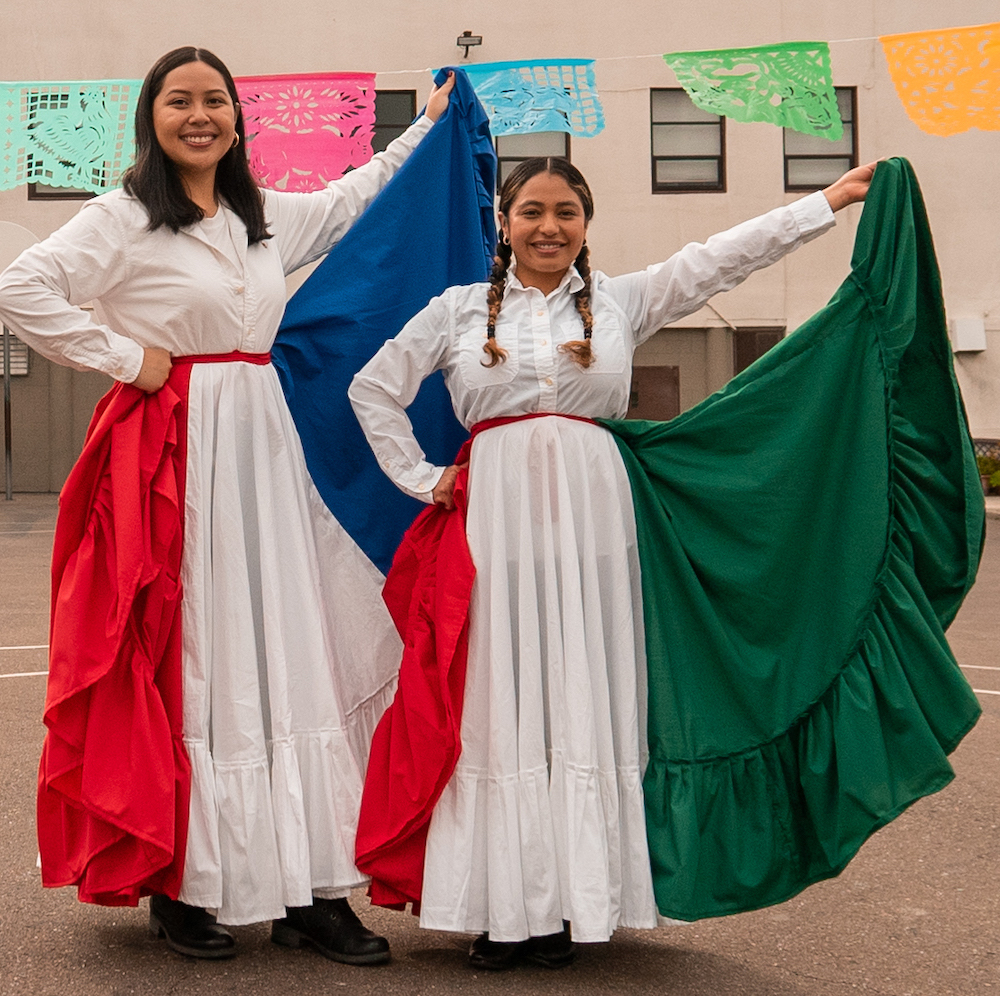 The theater group has been performing the show at public elementary and middle schools and libraries around the Bay Area. The show features choreography from Pablo Jimenez Garcia, and Díaz says many of the students and their parents tell her how much they enjoy seeing Mexican dances onstage. 
Another thing students have commented on is the father in the play, who is mostly absent. They start to talk about their own families. Díaz says she wants the students to share their stories, but she tries to be sure to leave them with hope. 
"These plays can get really heavy. And because this is designed for youth, I want to say we see you, but there's so many beautiful things you have being bilingual, or being a Spanish speaker, or being an immigrant," Díaz said. "We talk about the hard things that happen, but with a view that we can push through and that friends and family and community and art are what gives us that strength."
Díaz looks forward to the play being part of the Fringe Festival, along with shows that run the theatrical gamut, like Howdy, Stranger, a dark Western comedy, and Seeing Stars, "a heartfelt and hilarious exploration of family dysfunction, mental illness, and a man's desire to connect with his dad." 
She's excited to take the play to the Exit Theatre. 
"I really, really want the Tenderloin to have some life, and I think having activities like this that bring the community in, it's amazing," she said. "That's really exciting that we are inhabiting the space, and bringing art to the space."
DANCING HOME will be performed Sat/12, August 23, and August 26 as part of the San Francisco Fringe Festival at Exit Theatre, SF. For tickets and more information, go here