Whenever asked what I love about my hometown of SF, I can almost never formulate a coherent answer. This is not due to lack of inspiration, but rather its overabundance. In a city still pulsing with history and mystery, I love the fact that I can just start walking in any random direction and see something I didn't expect. Mainstream media call this place a ghost town because The Gap closed. In reality, this place is a ghost town in the Día de los Muertos sense, in which spirits and their stories walk amongst us. That happens when you live in a town literally built on the remains of pirate ships.
Eye Zen Presents aims for such a spiritual journey with Marvin K. White's Sylvester, The Mighty Real (through October 1 at various locations in the Haight neighborhood), a walking tour through our city's past, as experienced by the Black queer disco legend.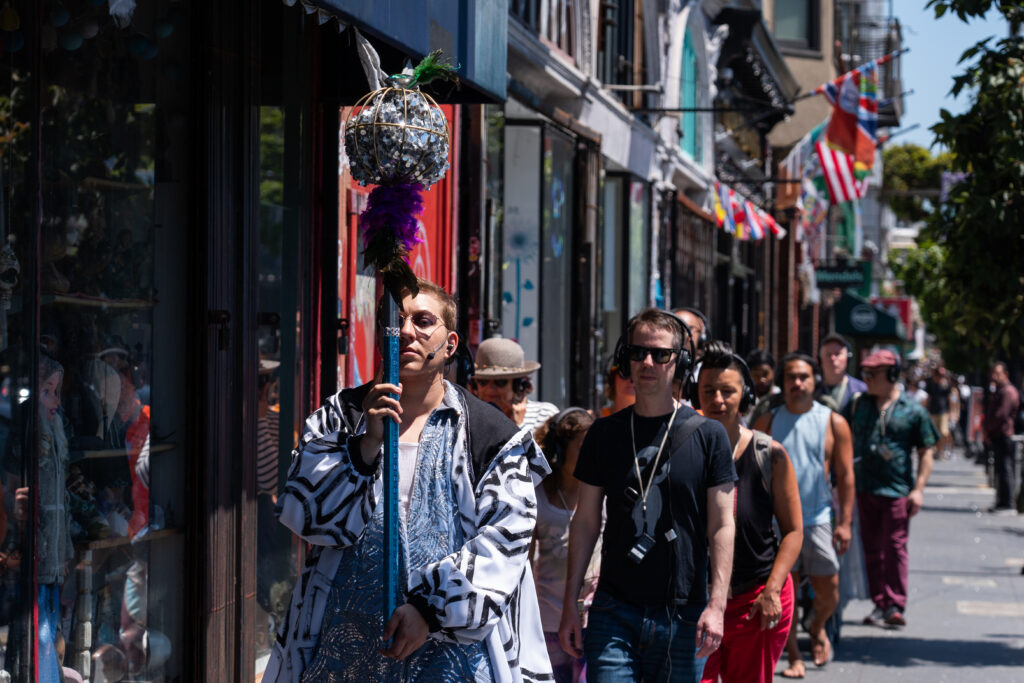 It seems like I've been hearing about this project for the longest time. Casting notices appeared late last year, one of which was sent to me directly. The tour was scheduled to open in July with drag performer Lambert Moss in the title role. But in early June, Moss departed the production for vague reasons (a June 8 press release said, "The company is grateful for Moss's contributions to the project, but after a lengthy process it became clear that it was in the best interest of all involved to part ways"), leaving the show without its lead.
The solution was rather unexpected. After some narrative restructuring by White, the production's two Greek chorus characters had their roles amplified, and Sylvester's involvement was limited to archival audio and photos. He became a ghost in his own story.
The tour begins at "The Big Pink Wall" of 1035 Haight, which looks like an old building that simply refuses to let itself be torn down. During check-in, one is given a small radio headset and required to sign a liability waiver for walking on varied terrain. The opening day tour consisted of around 30 patrons, of which I was the only one to arrive already masked. (An email was sent out just the day before saying that masks would be required for the indoor portions of the tour, but when the tour was about to begin, Eye Zen hosts told us that masks were now just optional.)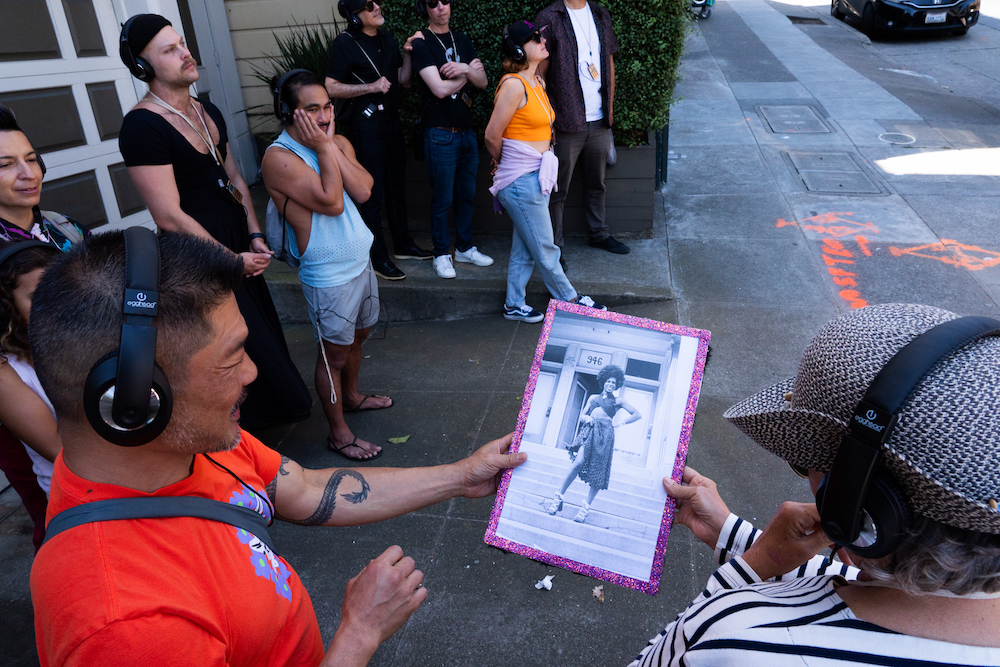 The tour proper begins with the appearance of our two impish tour guides, Sedwig (Cemora Valentino Devine) and Hedwig (Nic Sommerfeld) invoking the spirit of Sylvester. They're essentially twin versions of Puck, taking us through the Illyria of 1970s San Francisco (not unlike We Players' 2017 show Midsummer of Love). Our first stop is the former home of The Cockettes, the queer, avant-garde performing arts legends who counted a newly-arrived Sylvester amongst their ranks. We head up to Buena Vista Park, which was considered a public safe space for queer gathering, a fact which made it a frequent site of police raids for "indecency."
We stop by Third Church of Christ at 1250 Haight to hear of "Syllie's" eternal connection to the church and faith that turned its back on him. We make our way to 1506 Haight, where Sharon Virtue's tribute to Syllie and Harvey Milk greets us at the window, before we make our way in for a disco dance party that's eventually interrupted by the sudden and immediate news of the AIDS crisis.
Throughout it all, we alternate between our hosts, who spin an almost-fantasy tale of '70s San Fran, and voiceover interviews of unnamed former residents recalling the ups and downs of being out back then. The parties, the drugs, the art, the experimentation. All seem to agree that Sylvester was a ubiquitous presence, almost magically appearing at every major function into the wee hours, but somehow up bright and early every morning. He lights up every room and has everyone wanting to win his approval. So mythic is his description that it's no wonder our two hosts want him literally beatified.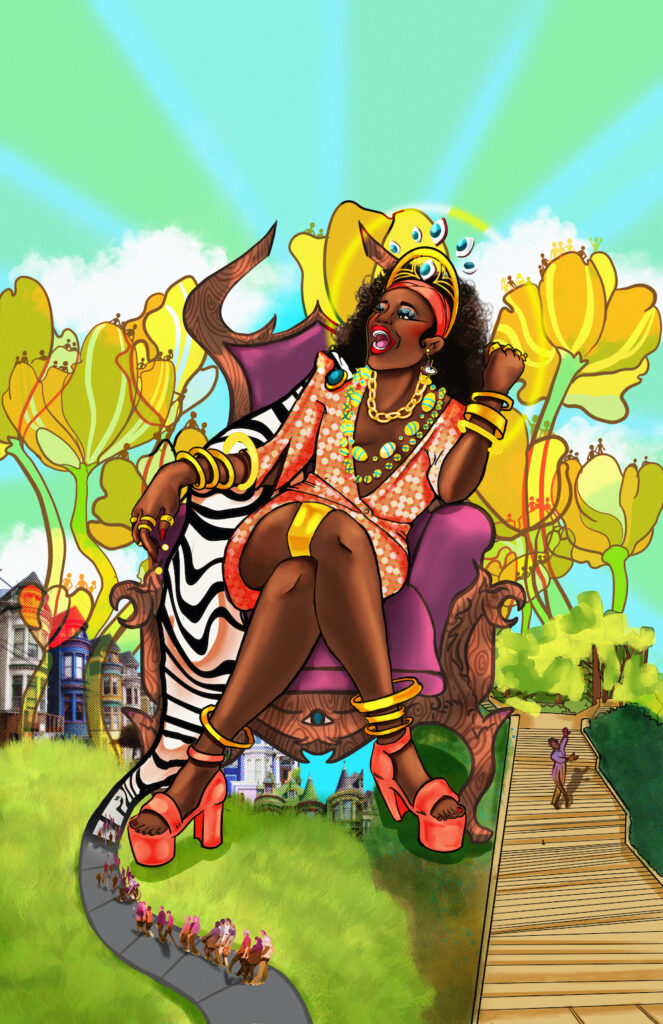 This is all well and good, but one can't help but notice how the topic of racism in 1970s SF gets almost no mention at all. One thinks of Brian Freeman's interview in the PBS documentary The Castro, in which he (a gay Black man) recalls arriving in the gay Mecca and being put off by the open bigotry of many of the white gays he met. (This racist milieu was thanks in part to many of the new Castro residents being white southerners who moved to SF for sexual freedom, but who brought their other prejudices with them.) Sylvester, The Mighty Real was penned by a Black author and covers a Black subject, but almost completely side-steps one of the core biases he faced.
Which isn't to say the tour lacks entertainment value. The eponymous subject's music work serves as a backdrop to the interviews we hear as we make our way up and down Haight Street, with the show ending on Sylvester's gospel-tinged reprise of the title song. Similarly, Sommerfeld and Devine are great at holding our attention and beckoning us to follow. Indeed, the very prospect of diverting a tour route specifically for a disco dance party is something from which nearly every tour could benefit (even if the close quarters shot up my Aranet4's CO² readings to over 2200ppm). Make no mistake, the majority of the tour works.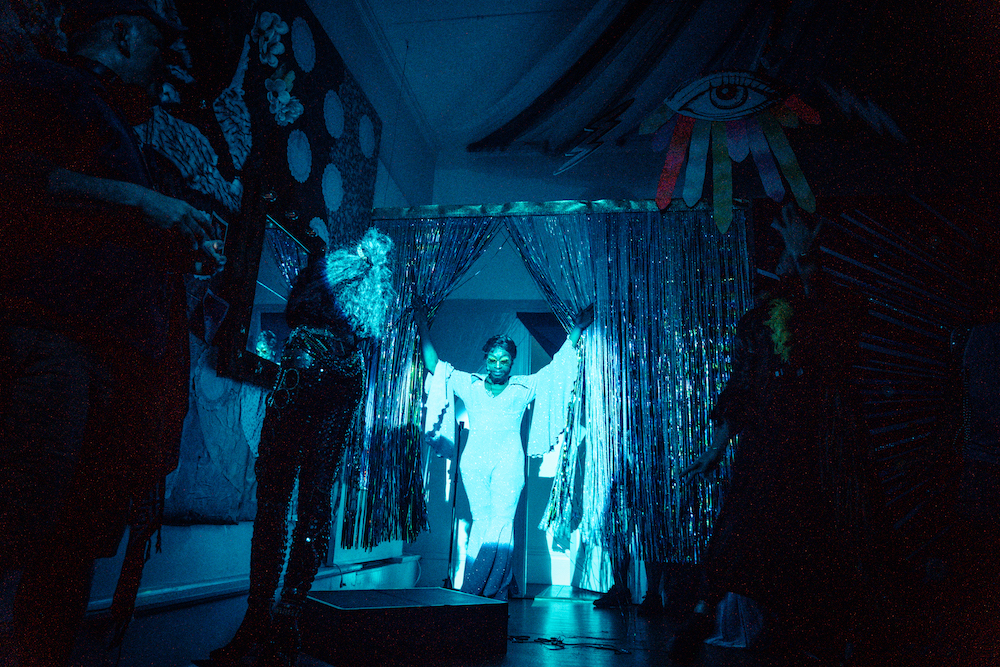 It just feels incomplete. In the long journey to bring it to its feet, the absence of its primary subject is noticeable, even when he's replaced by his literal voice rather than that of an actor. We start with the announcement that this will be Eye Zen's fifth and final Out of Site tour highlighting unique parts of SF's queer history. Clearly, a lot of love was put in to this swan song, but there are a few missing ingredients that prevent it from achieving the true operatic heights of its subject.
As a ghost walk through an eclectic city, Sylvester, The Mighty Real is a vivid reminder of its rich history. As a moving biography of Sylvester, it keeps its subject at arm's length most of the time. Whether the result of production shake-ups or not, it prevents Sylvester's ghost from becoming something more corporeal.
SYLVESTER, THE MIGHTY REAL world premiere tour production runs through October 1. Various locations in The Haight, SF. Tickets and more info here.