If you are looking for some movies that are off-the-beaten-path, head directly to the Gray Area this weekend (September 8-10) for a slew of eclectic experimental film programs. CROSSROADS 2023 is the fourteenth manifestation of the SF Cinematheque's annual film festival, which this year features 62 works of film, video, and performance by 61 artists representing 20 countries and territories, presented in 10 curated programs. 

With more than 50% of the filmmakers making their debut at the festival, there is sure to be a few new revelations for even the most seasoned experimental fan, while at the same time showcasing new films from such legendary filmmakers as Deborah Stratman, Jerome Hiler, Elena Pardo, Ben Rivers, Cauleen Smith, Toney Merritt, Kevin Jerome Everson, Janie Geiser, Scott Stark and many more. There's even a special program dedicated to the pioneering underground master Kenneth Anger, who passed away earlier this year.

For those of you who are just entering the wide world of non-linear cinematic expressions, I have plucked together a handful of my absolute favorites from this year's lineup, complete with non-spoiler reviews and information as to which program they reside in. Take a chance, some of these films not only have the power to change your perspective on what a movie is supposed to achieve, one or two of them might even have the ability to change how you look at the entire world.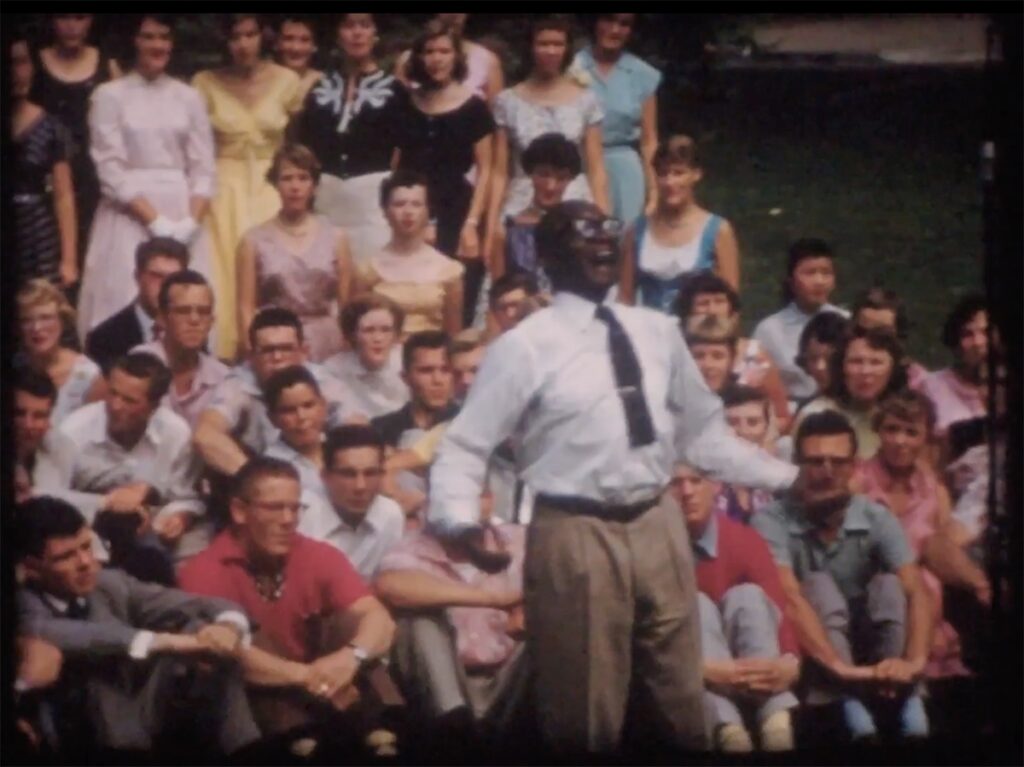 Music in the Air by Scott Stark (USA, 2022, 15 min) plays in Program 1: "the brick and the mirror" on Friday, September 8, 7pm.

My absolute favorite film from this year's ten programs is from one of the genuine luminaries of the experimental film scene, Scott Stark. Having conceived and produced over 85 films over the past 45 years, his latest, Music in the Air, is a downright masterpiece. Intertwining some gorgeous Kodachrome found footage of a promotional film made in the 1950s, Stark showcases an illustrious teen music camp near Stockton, California, and will be in-person, feeding the film into his propeller-driven, duel-16mm projectors.

As Stark explains in the program notes, the film "uses two reels of film while alternating between the left and right projectors, transposing objects onto bodies, landscapes onto buildings, sidewalks onto swimming pools, and subtle musical movements onto frenetic explosions of color." Feeling like an amalgamation of my two absolute favorite films of Stark's: Angel Beach (which was invited into the 2002 Whitney Biennial) and Back in the Saddle Again (1997), do whatever it takes to experience this unique and transformative visual spectacle. Warning: A strobing effect occurs throughout the entirety of the 15-minute running time, as well as throughout all four of the other films in the program, that may affect photosensitive viewers.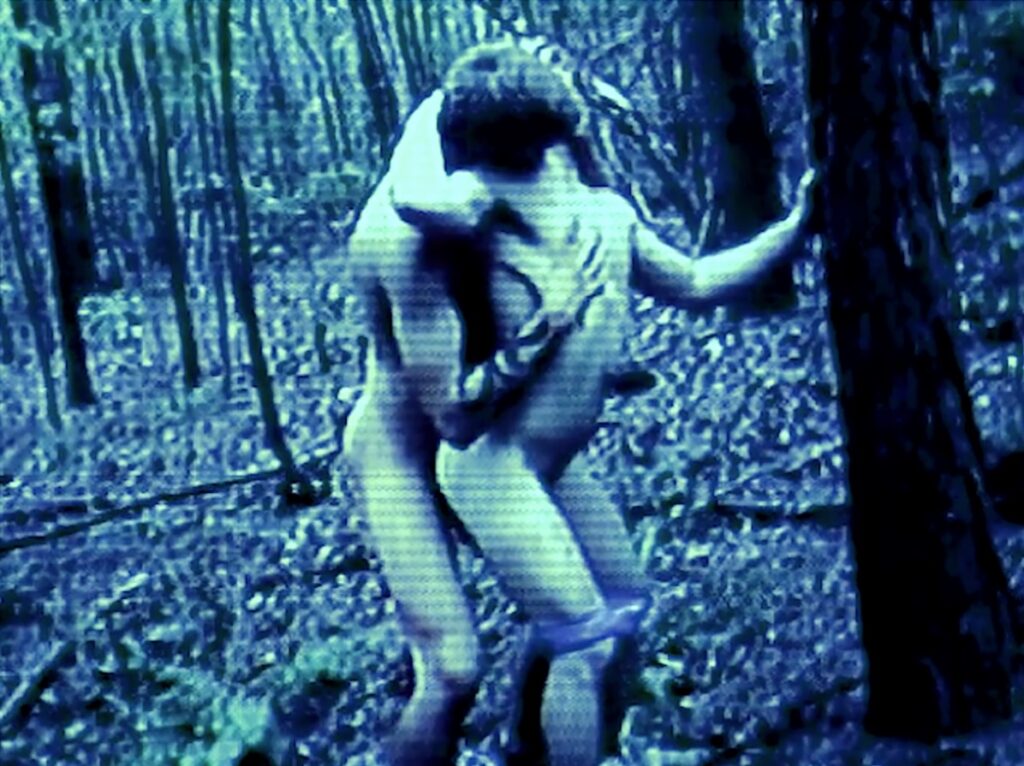 untitled, skin film (USA, 2022, 7 min) by Sailor DiNucci-Radley plays in Program 6 — "burning from the inside" Saturday, September 9, 8:30pm.

The Bay Area Premiere of this transgressive 7-minute mystery is compiled from the filmmaker's personal archives, online forums & porn websites. Utilizing a haunting process of "obscuring and abstracting the images through composition & re-imaging", this lo-fi fever dream had me wanting to watch it over and over again as soon as it ended. Part of Program 6, which is dedicated to the memory of Kenneth Anger, and also features the late-underground filmmaker's glistening 13-minute triumph, Eaux D'Artifice (1953).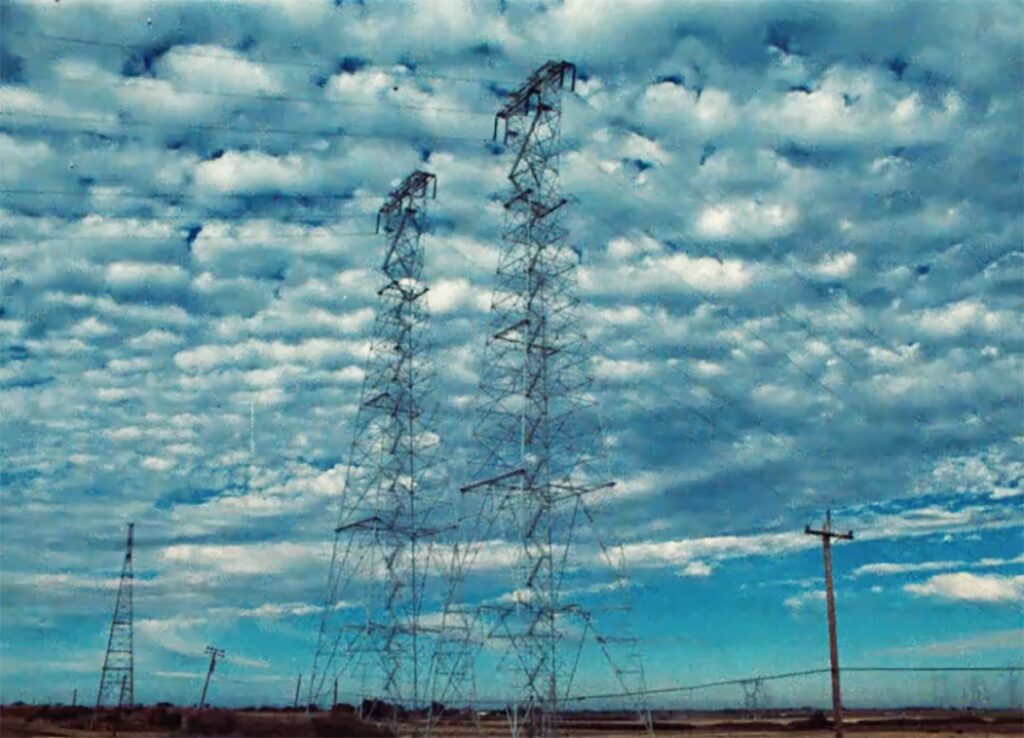 Ruling Star by Jerome Hiler (USA, 2019, 22 min) plays in Program 5 — "upheld in rolling air by finer gravitations" on Saturday, September 9, 6pm.
An often-unsung leading light within the experimental community is Jerome Hiler, who has been shooting film since 1964. This 22-minute meditation was Hiler's first film using 16mm negative stock after a lifetime of shooting color reversal. As Hiler contemplates a number of illustrious sights found in a California suburb, this stunning small-town rumination genuinely feels like a musical improvisation. Peaceful, hypnotic, and altogether calming, this is a perfect film to start with before perhaps seeking out a wonderful retrospective at BAMPFA who is showcasing some of Hiler's most recent achievements from Sept 14 – October 28.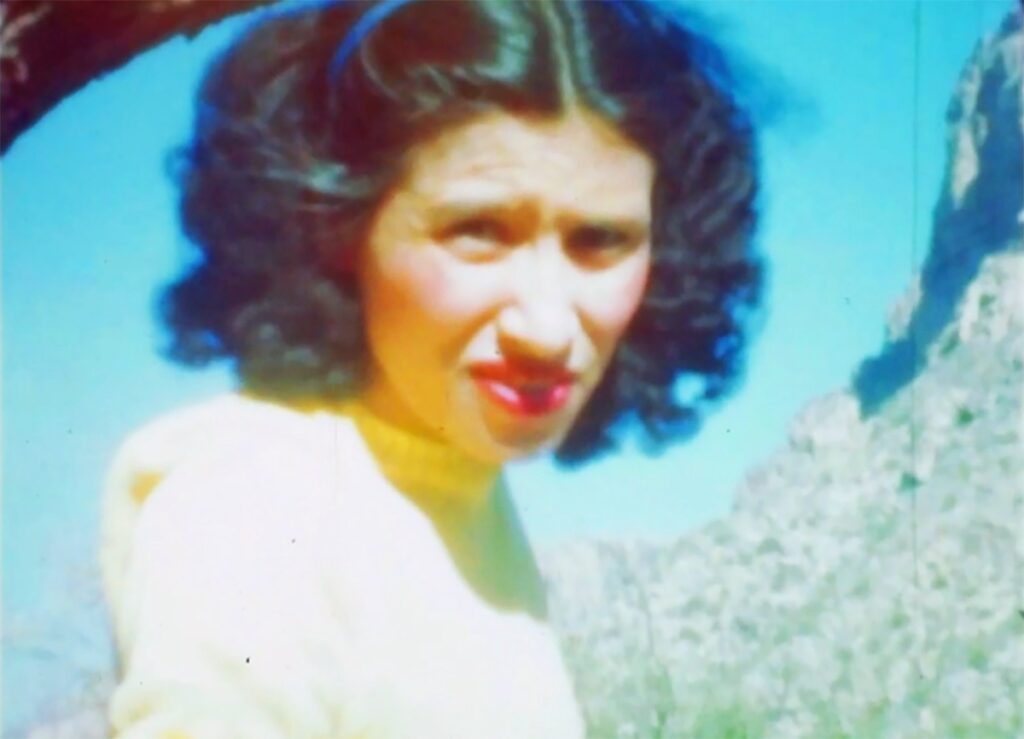 Surrounded by Colors We Could No Longer See (Mexico/USA, 2023, 5 min) by Abinadi Meza is part of program 10 — "perpetuum mobile" on Sunday, September 10, 2023 8:00 PM PST

The title alone for Abinada Meza's extremely personal diaristic film brings me tears, much less the quietly profound images of the director's family history. Showcasing inconspicuous snippets of found and original footage, Surrounded by Colors We Could No Longer See quietly traces "a flowing dreamscape of fragments, images, and afterimages" and has lingered with me long after I finished watching it. Don't miss this US Premiere.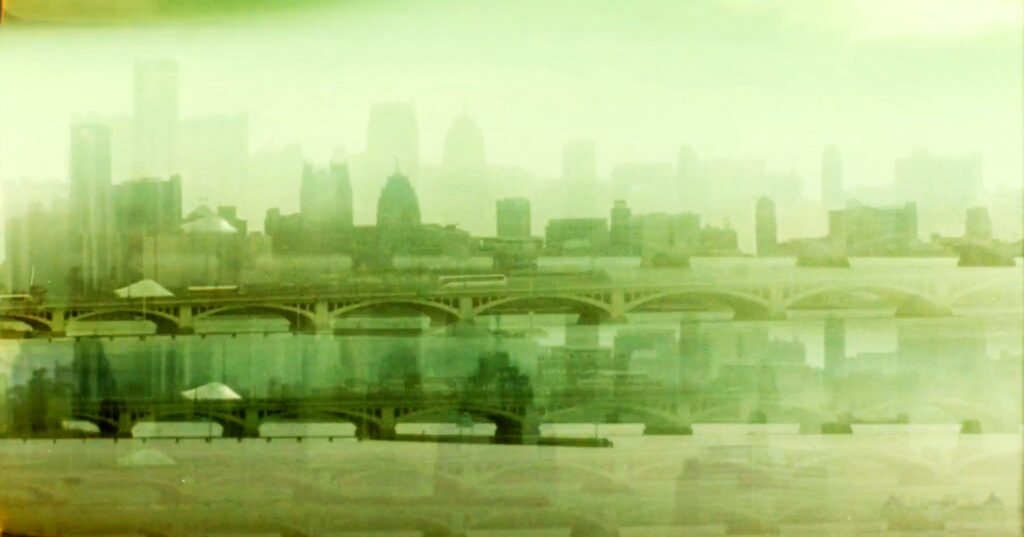 The Newest Olds (Argentina/Canada, 2022, 15 min) by Pablo Mazzolo plays in Program 8 – "water and fire (a seasonal beast)" on Sunday, September 10, 3:15pm.
Filmmaker Pablo Mazzolo works exclusively in analogue film formats exploring the optical and chemical properties of the medium with a particular focus on human and natural landscapes. His latest work The Newest Olds is a spectacular exploration of the contrasting environments in and around the border region of Windsor–Detroit. This being my first exposure to Mazzolo's alchemical, in-camera and optical printed techniques (which seems to have originated in 35mm), I found the immense methodical procedures of this 15-minute cinematic sonnet to be utterly beguiling. The conclusion builds to such a crescendo that I had to look around the room just to reorient myself back into reality. Absolutely stunning work and I can't wait to seek out any preceding and forthcoming work.
L'incanto / Enchantment (Italy, 2021, 20 min) by Chiara Caterina plays in Program 9 – "sympathetic bodies" on Sunday, September 10, 5:30pm.

Quite easily the most diabolically terrifying film of the festival is the Bay Area Premiere of Chiara Caterina's L'incanto. This 20-minute morose masterpiece has lodged itself so far within my psyche that I haven't been able to shake much of it for days now. For those of you who dare to enter this unsettling, atmospheric and thoroughly bewitched creation, I would recommend you skip the catalog's synopsis, stop reading this review right now, and go to the theater completely uncontaminated. For those of you who need some kind of preparation before entering such a disturbing subject, all I will say is that the unnerving voice recordings of five real women "gradually weave into a pattern confronting the relationship to life through the discourse of death." Easily one of my favorite films of the year.
My Caldera (USA, 2022, 5 min) by Cauleen Smith plays in Program 7 — "welcome to the aftermath" on Sunday, September 10, 1pm.
Perhaps the festival's most exhilarating entry is the World Premiere screening of Cauleen Smith's newest film, My Caldera. With Criterion's recent restoration of her remarkable debut feature Drylongso (1998), this celebrated alumni of SF State's film program has delivered one of the year's most blitzed out and rollicking rides. Clocking in at 5-minutes and infused with a frenetic, fuzz-heavy guitar soundtrack by Salvadore & Diego Rafael Rivera, this spirited pondering of what is possible "after the apocalypse" is the perfect cinematic anthem for anyone feeling overwhelmed and underprepared. Make sure to also track down Smith's brilliant six-minute gem, Chronicles of a Lying Spirit (by Kelly Gabron) (1992) distributed through the Bay Area-based Canyon Cinema Foundation.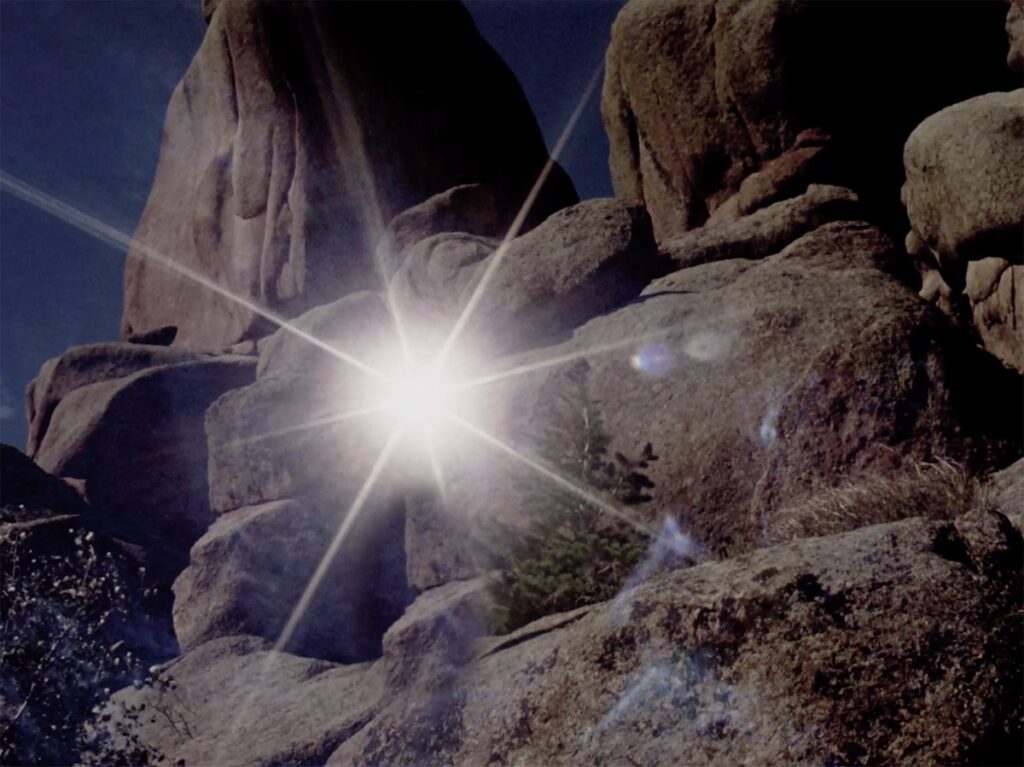 Deborah Stratman's Last Things (USA, 2023, 50 min) plays in Program 7 — "welcome to the aftermath" on Sunday, September 10, 1pm.
The Bay Area premiere of Deborah Stratman's Last Things (USA, 2023) is a fascinating 50-minute geo-biosphere expedition that encompasses everything "from the beginning until after the end… of evolution and extinction… as told from a mineral point of view." Combining hypnotic, non-narrated imagery and an abundant amount of thoughtful and perplexing scientific concepts ("Before prehistory, there was the prehistory of prehistory") this is the kind of movie that could honestly change the entire direction of one's own life. Add to that, it is preceded by the Bay Area Premiere of Ben Rivers' strikingly thoughtful new piece, Ijen/London (UK, 2022, 7 minutes) involving post-apocalyptic landscapes of rocks and toxic fumes and the program (which also includes Cauleen Smith's My Caldera) is easily the best of the fest and I highly recommend this screening as well as the entire festival to anyone, everyone and all.
Jesse Hawthorne Ficks is the film history coordinator and teaches full time at the Academy of Art University as well as a member of the San Francisco Bay Area Film Critics Circle, the film festival critic for 48hills (formerly the SF Bay Guardian) and curates/hosts "MOViES FOR MANiACS," a film series celebrating underrated and overlooked cinema, in a neo-sincere manner.