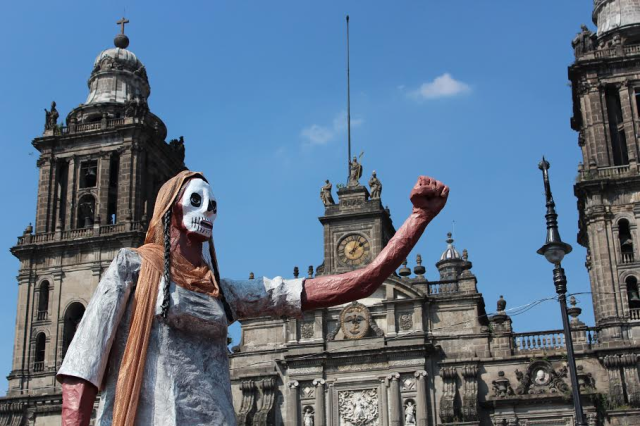 By Caitlin Donohue
MEXICO CITY, NOVEMBER 10, 2014 — Ricardo Escobar Lazamar, a student at Mexico City's Universidad Autónoma de México, put down the protest sign he was embroidering to talk to a reporter. "With everything that is happening right now," he said, "we don't think the altars should be about something else."
"I mean really, this is the most important thing," chimed in his friend Shellye Zuar, holding up a corner of the sign next to him.
They were embroidering the names of fellow Mexicans who have been lost to murder and disappearance – social workers, journalists, and victims of femicide. Once completed, their group would add its creation to a wall nearby that already held tributes to the Ayotzinapa 43, a group of student activists whose disappearance has altered the social fabric of Mexico.
On the other side of the UNAM campus – the largest public university in Latin America – the school was sponsoring its official yearly Dia de los Muertos altar exhibition. Administrators had decided the 2014 theme would be "Frida Kahlo," a homage to the ubiquitous female painter who had made her home in the Mexico City neighborhood of Coyoacan mere minutes away from the UNAM campus and who died in 1954.
But even in the Frida show, participants had built tributes to the same victims of government that Escobar Lazamar, Zuar, and other students were honoring with their embroidered handiwork in the shadow of UNAM's central library.
Right now, many Mexicans don't have the emotional bandwidth for Frida (bless her.) Their elected officials have been caught cheating and killing in one of the country's most egregious crimes to date.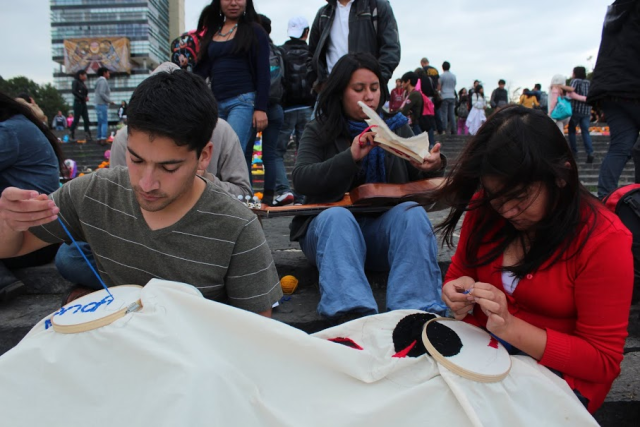 In normal years, the holiday is focused on honoring deceased family members, and friends who have passed on to another world. But Dia de los Muertos 2014, sadly, was for the 43.
The first lady of murder
This is what happened: On September 26th in Iguala, a small town in Guerrero ostensibly run by mayor José Luis Abarca Velázquez, husband of the ambitious Maria de los Angeles Pineda Villa (who is now being called "the First Lady of Murder" in the press), police rounded up 43 male students from the Ayotzinapa Normal School, a teacher training college known for its radical protests.
In a violent melee, they killed six of their peers. That was the last anyone has heard from the 43 – though on September 27th, another Ayotzinapa Normal student was found in Iguala with his skin flayed from his face and his eyes gouged out. And on Nov. 8, drug traffickers admitted to killing the students – and burning them and pulverizing their teeth and bones to make identification harder.
This kind of killing is typically the calling card of cartel assassins, and what is most disturbing in this case is that the police and gangsters appear to be virtually indistinguishable.
In the process of looking for the students, 152 bodies have been dug up in mass graves in the mountains around the outskirts of Iguala. DNA testing suggests that none of the corpses, some of which have been burned to a crisp, are the missing students — though this is hardly a comforting fact for their peers, family, and countrypeople who have been left wondering who then, these stacks of corpses belong to.
In total, 242 people have disappeared from the state of Guerrero this year. Anyone with a passing familiarity with the workings of Mexico in 2014 can guess as to the reasons behind this. The state is known as one of the centers of heroin production, a key supplier of the drug to the Chicago area. Like many rural parts of the country, a highly unsavory union has been struck between reigning drug cartels and local government.
This much we know: Pineda Villa, who was reportedly being groomed as her husband's successor, had organized an event in the center of town to honor her own good works. The rest is rumor, though well accepted by those versed in the way local governance works in Mexico.
When word reached Pineda Villa that the Ayotzinapa Normal students were headed towards Iguala – they were either on their way to commandeer buses to take them to a demonstration in Mexico City, a somewhat regular occurrence in an area where public transportation was scant, or to protest and raise funds for their under-budgeted school – she panicked over the thought that they would interrupt her own celebratory back-patting. She reportedly ordered local police forces to stop them.
Out-of-uniform cops blockaded the roads, halting the students, and then appear to have opened fire, eventually loading survivors into police cars and taking them to an unknown destination.
With warrants out for their arrest, Pineda Villa and Abarca Velázquez are now on the lam. The governor of Guerrero, Angel Aguirre, resigned shortly after the horrific incident, by his own account to create, "a more favorable political climate," for solving the case. It is widely believed that he made the move, however, to avoid scrutiny of his own profound ties to the cartels in the area.
Guerrero's progressive Catholic bishop, Raúl Vera López, has asserted that "butchers have come into power" in the area. So far, more than 50 people have been arrested in connection with the case.
A general strike
General resistance to the government's attempts to quiet unrest over the matter has been remarkably strong. On October 22 and 23, students from more than 70 schools called a general strike, using the time to meet and stage protests over their disappeared peers. In the country's capital, a reported 50,000 marchers paralyzed the downtown area on October 22, asserting that the government was incapable of seeking justice for the students of Ayotzinapa Normal and their families, and that investigations into the matter be instead undertaken by a citizen's committee.
Around the country, wheatpasted posters with the 43 students' faces calling for justice cover walls. Parents of the disappeared students have said that they were offered around $8,000 USD to keep their mouths shut about the incident by the Guerrero government — but they haven't. In fact, families showed up at the Asamblea Interuniversitaria meeting of students from over 70 Mexican universities, a gathering that took place at UNAM, on October 25, to denounce efforts to keep them quiet.
All this explains why UNAM students Escobar Lazamar and Zuar felt like spending the Friday prior to Mexico's day of remembrance not shopping for marzipan fruits or buttery pan de muerto, but rather embroidering for a cause on the steps by the library.
Though the altars erected to Frida on the outskirts of campus were gorgeous enough, they joined a large group of students who had chosen to gather in the center of campus and erect less elaborate altars meant to not just remember their disappeared comrades, but to call others to action, to rise up against a legacy of corruption in Mexico that stifles freedom of the press and for some, freedom to lead a normal life, or a life at all.
As they sewed, placed flowers, and hung signs, revelers from the large, unofficial Dia de los Muertos gathering on the grand UNAM lawn nearby filtered past, some stopping to gaze somberly at the protest altars, some pushing back their plans to drink with friends on the grass to join them in creating tribute.
In other corners of the campus, nearly every academic department had erected a tribute to the students from Iguala: engineering had arranged a faux classroom with 43 chairs, each with one of the disappeared students' faces on it. In the science department, mock graves had been assembled by a central fountain. One read: "Quisieron enterrarnos, pero no sabían que eramos semillas [They wanted to bury us, but they didn't know we were seeds]."
UNAM was not the only place where Dia de los Muertos had flowered into a protest against the government. At nearly every manifestation of the holiday in the capital, one could see proof that the students from Ayotzinapa Normal would not be soon forgotten.
Downtown in the Zócalo, Mexico City's historic center, the official Dia de los Muertos theme was a remembrance of writers who had passed on over the last year. But there, in front of the National Cathedral and meters away from massive skulls dedicated to Gabriel Garcia Marquez and his dead peers, was still a soaring tribute to the victims in Iguala: two figures made of papier-mâché. There was a woman with a calavera, or skull, face stretching her spindly arms to the heavens and a man standing with his arms at his side, a black hood over his head to represent all the people whose voices have been silenced by repressive forces in this country. Next to them, in flowers, were the words, "Ayotzinapa, Crimen del Estado [Ayotzinapa, Crime of the State]".
At UNAM, Escobar Lazama told a reporter that the effect Iguala has been having has gone far beyond past cases of violence. "Even the students from the law department joined the October 22 strike – and that's historically one of the most conservative parts of the school."
When asked what it is that she, personally, wants to see come out of this awful chapter of Mexican history, Zuar had a ready answer. "What I want to happen is to have the people's voices heard. Right now, everyone's eyes are open." Both said they had been heartened by the amount of support the student movement had been receiving, both here in Mexico and from international press and other groups.
Dia de los Muertos has always been a holiday to bring the dead, however briefly, back to visit the land of the living. One get the sense that here in Mexico, even if the Ayotzinapa Normal students have had their lives extinguished, their passing will have given birth to a pivotal moment in their country.