Fergus O'Sullivan keeps throwing tenants out of their homes. Now some of them are fighting back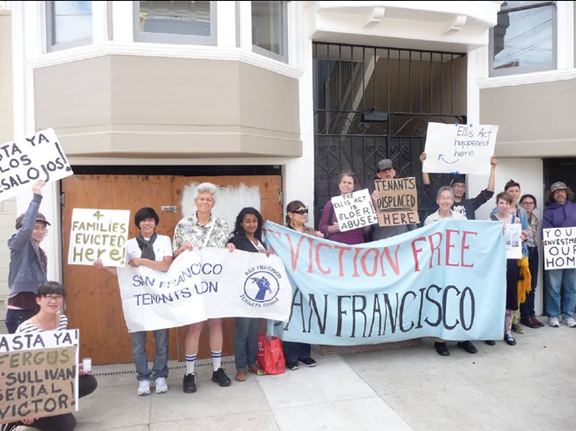 By Erin McElroy
JUNE 30, 2015 — On Sunday June 28th, roughly 20 activists gathered at 1142-1146 York Street to protest an open house being conducted by Fergus O'Sullivan, a notorious serial evictor and contractor who has displaced countless tenants across San Francisco. The tenants in the four units at 1142-1146 York were forced out by O'Sullivan's Ellis Act evictions earlier this year.
Among the protestors was Alex, who formerly lived in the building with her 95-year-old grandmother. Two weeks after being evicted, her grandmother died. Another grandmother in the building, also above the age of 90, was forced out from a different unit, and, unable to find housing in San Francisco, now lives in San Mateo County.
As Alex explained to protestors gathering outside the open house, not only has the eviction been deadly, but also it has further displaced a close community connected not only to each other, but also to their neighbors and Mission.
While Alex and the other tenants at 1142-1146 York Street were displaced from the Mission,  O'Sullivan is advertising the four units as TICs (tenancy-in-commons), claiming that they are actually in Potrero Hill. As he advertises of one of the TICs, "1144 York St is in the Potrero Hill neighborhood in San Francisco, CA and in ZIP Code 94110. This property is listed by postlets.com for $799,000. The average listing price for Potrero Hill is $1,341,237, which is higher than the list price for 1144 York St. 1144 York St has 2 beds and 2 baths."
Last I checked, 1142 York Street, at York and 23rd, was still the Mission.
According to public records, O'Sullivan's brother Paul purchased the building housing tenants of 25-plus-years residency in 2013 for $670,000. Paul then sold the building to one of many of Fergus's LLCs, 1142 York Street LLC. Now, after renovating the units with his construction/real estate FOS COMPANY, Fergus is selling each of the four units for $799,000.
That would mean a profit of about $2.5 million (less construction costs).
Calls to O'Sullivan's office were not returned.
The state has hit O'Sullivan with fines in the past: In 2006, one of his 24-foot walls on Geneva Street collapsed and killed Union City resident Gregoria Custodio, who was sitting in her parked car.
But O'Sullivan is better known in San Francisco for his evictions.
Records on file at the SF Rent Board and property records show a history of O'Sullivan evictions.
In 2012, O'Sullivan evicted Michael Rouppet from his home at 1048-52 Fulton St, and is now renting the furnished units for $9,000/month. O'Sullivan bought the building after Rouppet's much-loved landlady died, and promptly attempted to pay Rouppet to move out. When Rouppet refused to leave his home of 20 years, O'Sullivan issued an eviction order. Rouppet spent almost a year living on the street in San Francisco with his dog (the only belonging salvaged from the eviction) and coping with homelessness and HIV simultaneously. Recently he shared his story with the Anti-Eviction Mapping Project's Narratives of Displacement Oral History Project, highlighting the role that the SF Aids Foundation has played in helping him over the past year.
Rouppet is currently involved in a lawsuit against O'Sullivan, which claims that O'Sullivan has since rented out his former unit for short-term rental.
In June 2013, tenants in nine units at 2870 Harrison St were threatened with an Ellis Act eviction. The building housed more than 50 adults and 20 children. Most of the families had tenancies of 25 years, and it was the only home that many of the children and youth in the building had ever known. Two weeks after buying the building, O'Sullivan sent the tenants buy-out offers and threatened an Ellis Act eviction if they refused. Many of the tenants were monolingual Spanish speakers and thought that O'Sullivan's letter was an actual eviction notice. Three units left due to fear, but the other six found Causa Justa and launched a campaign.  Despite their efforts, some were eventually forced out.
O'Sullivan later rented out units at 2870 Harrison on Airbnb. As one short term renter reported to the Anti-Eviction Mapping Project,
"On May 15th I moved to 2870A Harrison St, which is owned by Fergus O'Sullivan. I initially booked 30 days through Airbnb, and was asked to sign a lease if I wanted to stay longer. For the first few weeks I was the only tenant in the 4 bedroom apartment. . . .The floor has 2 single rooms and 2 double rooms. After talking with new tenants, I found out that the landlord is now charging up to $2,500/mo for each bed in the double rooms. This means that the landlord is making around $10,000/mo."
It seems that O'Sullivan has recently retreated from publicizing his short-term vacation project, most likely due to public pressure and policy reform. In addition to 2870 Harrison Street, he recently ceased advertising another short-term vacation rental listing at 2455 Lombard Street. Silvia Sotomayor was evicted from her Lombard Street home in February 2014 on the grounds that O'Sullivan's brother Paul was going to move in. In July 2014 Fergus was found to be renting a unit on Airbnb and VRBO at 2455-2459 Lombard Street.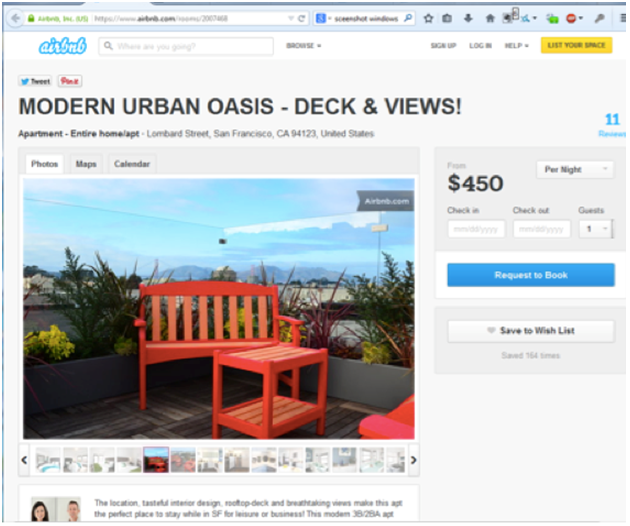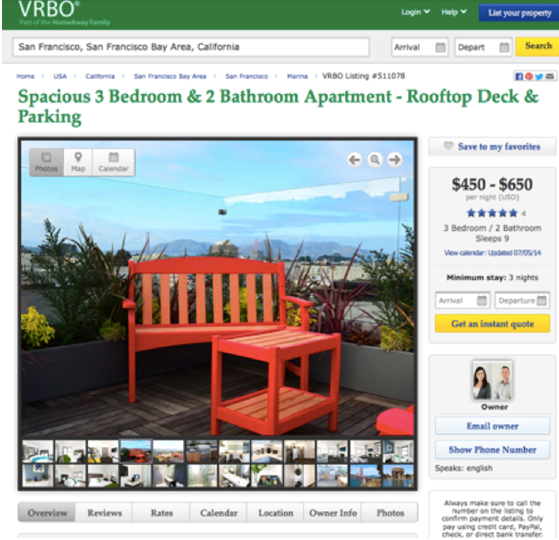 O'Sullivan evicted tenants from 1080-1090 South Van Ness in January 2014. Tenants there were  offered buy-outs, and eventually evicted. As one tenant reported to the Anti-Eviction Mapping Project, "Many of the tenants in this six-unit building don't speak English and are intimidated by [O'Sullivan]. Some tenants have been in their units since the mid-70s."
O'Sullivan is also in the foreclosure business. He bought 1225-1231 Potrero at foreclosure auction, displacing a family who had lived there for more than 20 years.
This year, through his Sloat-Parkside Properties, O'Sullivan is preparing to demolish three commercial buildings near Ocean Beach on Sloat Boulevard between 46th and 47th Avenue. The recently shuttered Roberts Beach Motel will be razed to create a five-story building this September. The $30 million project will include nonformula retail and restaurant space as well as 56 residential units. As Tim Colen, executive director of the Housing Action Coalition, reported to the Examiner in March 2015, nearby residents have complained about the project being too large and out of character with the neighborhood, even though HAC supports it. Seven of the units will be BMR.
Back on York St., protestors were successful in shutting down the open house, which was supposed to last from 2pm-4pm. As community members gathered outside, discouraging prospective buyers from entering, others entered the open house and explained that two women in their 90s had been evicted from the property, and that one of them had died two weeks after being evicted. Most prospective buyers seemed disturbed by that news, though several were unfazed and ignored protestors.
Fergus's niece, who was showing the property, was clearly upset by protestors' presence, and announced that she was closing the open house. Community members remained outside after she ushered everyone out, to find that she was still open to showing the building to those who rang the bell. Activists began chanting outside and playing music, which seemed to convince her to stop altogether.
After she left, protestors remained on the scene, handing out flyers to prospective buyers who continued to stop by. For the moment, this type of community disruption seems to be an effective tactic.