The killing of photojournalist Rubén Espinosa and this week's massacre in Veracruz bring attention to Mexico's failure to protect the press.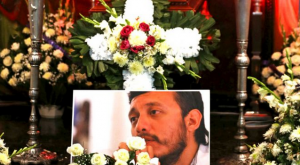 AUGUST 14, 2015 — On Thursday night in the Mexican state of Veracruz, Juan Heriberto Santos Cabrera, a journalist who had worked for international media corporation Televisa and may have been in the process of starting his own newspaper, was shot to death in a bar by unidentified assailants.
Witnesses say that before escaping, the killers took the time to deliver kicks to Cabrera's carcass on the ground. The rest of the incident remains perplexing. Five other people, including a local leader of the Zetas cartel — who sources say was socializing with Santos Cabrera when they were ambushed — were slain. Two other journalists, who had previously asked for protection against Zeta threats, were also present in the targeted business. They emerged unscathed, but remain in police custody.
Unfortunately, stories of violence against members of the press who report on crime and corruption are becoming all too familiar in today's Mexico. The recent torture and killing of Rubén Espinosa, a photojournalist who had fled Veracruz to Mexico City for fear of his safety, has sent fresh waves of fear through the capital's press community. The killings of Espinosa and three women (some of whom were raped before death) in his apartment in DF's Navarte neighborhood were especially troubling because Mexico City has long been seen as a sanctuary for journalists running from threats in other parts of the country.
Mexico ranks near the top of the list of most dangerous countries in the world to report the news and is on pace to double its press murder rate in 2015, as compared with last year's figures. Perhaps most disturbingly, it has become a place where it is nearly impossible to parse those who would protect the freedom of the press from those who would destroy it.
On Wednesday, governor of Veracruz Javier Duarte faced questioning from investigators representing the office of Mexico City's attorney general regarding his involvement with the Espinosa killing. Duarte came under fire in July when he suggested to a group of reporters that, "We all know who is on the wrong path. We all know who in one way or another has connections with the underworld. Please behave, I beg you. … It's for your own good." In 2013, Espinosa was beaten by Veracruz state police and he and other photographers were forced to delete photos they had taken of law enforcement attacking student and teachers at a demonstration. Veracruz has seen the murder of at least 11 journalists since 2011. Duarte was elected in 2010.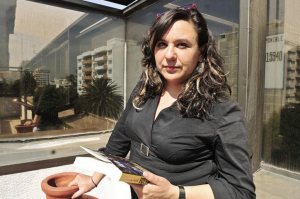 Marcela Turati is sadly used to stories like these. She's an award-winning Mexico City journalist who has published books on the human cost of violence in Mexico, child laborers and pockets of citizen resistance to drug war corruption. Turati is also the founder of Períodistas de a Pie, a group that promotes human rights for those in the journalistic profession.
In an interview with 48 Hills this week, she said that she takes active measures to assure her sources' safety, has attended courses on digital protection, and follows strict security protocol when reporting in areas considered high-risk. When asked how the Espinosa killing had affected her and her colleagues Turati said, "It sent a message that it doesn't matter what you cover, you're at risk. It doesn't matter if you write for an important publication; you're still at risk. [Espinosa's death] didn't change things among journalists in DF — it just created more fear."
For Turati, who writes for Proceso Magazine, things went from bad to worse for the Mexican press in 2006, when newly elected president Felipe Calderons launched his militaristic War on Drugs. At that point, she said, it was no longer necessary for a reporter to be focused on organized crime to be a target. But – as typified by Governor Duarte's naked aggression towards journalists who would upset the social order – corrupt politicians make it difficult for journalists to know where to turn when they find themselves in danger.
"We don't have a lot of confidence in those who prosecute these crimes," she said. "The justice system doesn't work." When asked if she thought Mexico City's announcement of beefed-up protections for journalists in the wake of Espinosa's death would change things for members of her profession, she said simply, "I don't know." Turati added that journalists who request protection from the government shouldn't just be assisted in relocation, but also allotted funds so that they can continue their work in exposing corruption safely from their new location.
Perhaps the most troubling aspect of recent murders is the potential chilling effect on future generations of journalism in Mexico. If killers' motivation is to silence voices of dissent, in the long run they may be succeeding. Turati sees the effect that headlines like those from Veracruz this week have on her journalism students. "It's impacting them," she said. " It's impacting us all."