MEXICO CITY, MEX. — The massive secondhand clothes market that lies on the edge of Mercado de Pino Suárez in the Centro Histórico neighborhood of Mexico City was shut down by the cops last month. Official reports say 240 tons of clothes were seized from the vendors, who hawked everything from high heels to parkas to rainbows of swimwear in the market's deceptively chaotic aisles.
I mourned at the news — in the year and a half that I've lived here I've only bought clothes at Pino Suárez, at other outdoor markets, and from my local designer friends whose generosity knows no bounds. (The city is the nation's undisputed fashion hub and a million thanks to my couturier friends who have hooked it up with their ostentatious, fresh designs.)
The first time I went to bin dive Pino Suárez I couldn't stop saying to my friend: "Everything is soo cheap!"
Once I found a reversible JLo for Target jacket for 70 pesos (about $3.80 USD) at the pacas, as the stands were referred to. One side was satin, the other fake fur. Both sides were mauve. The market was where I went for denim when my friend Uriel Urban agreed to distress the crap out of some jean shorts for my trip back to SF for Folsom Street Fair 2015. Pino Suárez had stands that focused on military surplus and winter coats, but a lot of the wares were separated only by gender and age, shirts and pants gloriously jumbled into bins that seemed intimidating to the casual shopper.
DF officials say the market, and a similar section of Mercado de Lagunilla to the north, were shut down because they posed a threat to public space. While it's true that the Pino Suárez pacas did sprawl all over sidewalks, it's hard to say if anyone minded. Certainly the neighborhood doesn't attract the same street traffic as the city's main square, the Zócalo, where ambulatory vendors were banned years ago. The Pino Suárez closure has also been related to reported fights that broke out recently among shoppers and patrol officers, allegedly three on Three Kings' Day (Jan. 6, traditionally the day when Mexican children receive their Christmas gifts) alone.
The alt scene was sad about it. "Without any option for relocation, a site that for many years has been a "must stop" for alternative fashion has been lost with this 'recovery of public space,'" wrote fashion magazine iD's Mexico website.
This was a common sentiment among my peers. So I know I wasn't the only one who felt actress Lorena Barquet's subsequent Facebook rant hit disturbingly close to home. Translation below [sic]:
Yesterday they seized tons of clothes in Mercado de Lagunilla y Mercado de Pino Suárez … rehabilitation of public space … #surewhynot. Hundreds of people without work and other hundreds of people who went there to buy clothes at accessible prices to dress families of 3, 4 kids and in "i-D" the only thing that occurred to them to write was that it was a big loss for alternative fashion??? Really?? Oh poor micro bourgeoisie 😉 one less place to buy clothes. I love Pino Suarez and I love expression through wardrobe but these kinds of cheap articles only make them seem so insensitive and far away from reality and so disconnected from the people that really make this country every day and
Not just three neighborhoods
Beautiful people escaping in a fashion
Bubble.
That three neighborhood line kills me. Mexico City has over 2,000 colonias, and most of the gringos I know (I stay off of expat message boards and try to limit my exposure because who moves here to speak English?) rarely leave the central area. Maybe to say three neighborhoods is unfair, but to say that most of us stick to 15 colonias is pretty accurate. When you come to visit — which you will because of the emerging art market, or because the New York Times just put Mexico City on top of its beautifully designed "52 Places to Go in 2016" list — you too will stay in those 15 neighborhoods except for the day you take a shuttle to take photos on the steps of Teotihuacán on the metro area's northern outskirts.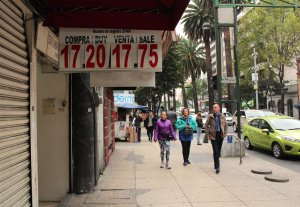 The minimum wage in Mexico is 70.10 pesos, or $3.84. A day. For context. You can't buy even used JLo at that rate.
None of this is to say that I'm rich these days, by the standards of anyone in Gringolandia reading this. Right as the peso hit a historic low against the dollar, I took an editorship at a DF newspaper that pays me just enough to afford those rents that my United States friend squeal are SOOOO CHEAP!!! when they visit.
"There is no more exciting place to eat," raved the NYT in that gorgeous, moneyed listicle. But then, most people from here are not checking out Pujol and Fonda Mayora like the newspaper of record recommends. Lunch can definitely be two 12 peso fried quesadillas from the street stall, satisfyingly greasy and super satisfying provided they doesn't result in gastroenteritis. (Then you go with the rice, oatmeal and antibiotics diet for five days.)
And the rent! Nothing like San Francisco! So true, but when I decided it was time to move on from my 2,700 pesos a month for a room in up and coming Colonia Juárez, I found that my landlord wanted nearly double that amount for a room in a unit in the same building. Blame it on the street art-adorned food court that just moved into the neighborhood (it features a full bar and organic coffee.) Blame it on people like me.
I don't want to be a beautiful person escaping in a fashion (Bubble). But undeniably I do, and always will, have options my Mexican friends and family and peers don't. If I hit harder times I could move back to the States and get a communications job at a nonprofit, like most of my old co-workers have done. My parents also kick in when they're able, though I have yet to ask them for a credit card and I shudder to think what that conversation would entail. My mom mainly wants me to go back to grad school and maybe to stop accepting full time jobs that pay US $7,000 a year.
I think that's what's hard to remember about people from rich countries living in or visiting countries that aren't rich; you may be dealing with the same crushing rush hours on the metro and interminable bureaucratic processes for everything from getting your work papers to renting an apartment, but you're never going to be truly integrated into the community as long as you know you could always reach out to your homeland when the going gets really rough. O sea, the shitty exchange rate fucks me up like everyone else here, but I'm making a choice, for now, to let it fuck me up, to live here, to resist the hypocritical safety of the dollar.
Now that I'm making pesos, when someone from home tells me they're visiting Mexico City a part of me braces for the cultural whiplash from American standards. Dinners that are "just" $30, apartments that are "only" $600 a month. Stuff abroad is cheap when you live in a colonial superpower. Trust me, people from the United States are not working any harder — CNN says that Mexicans on average work 519 more hours a year than people in the United States, and receive one-fifth the salary.
Mexico City art week kicks off today, and since a lot of art people will be visiting the city from Europe and the United States and Canada, I feel compelled to leave some advice as a fellow transplant. I don't care if you're an artist, it is gauche to refer to yourself as "poor" here. Keep price conversions into dollars, krones, or whatever your local currency is to yourself. For the love of Gaia, quit squealing about how cheeeeeeap!! things are. Think about why you they are cheap to you — learning a little about the history of the Mexico and the significant, oppressive role the U.S. has played in it will help with this. And should techies shove you out of your own neighborhood and you find yourself living here, try to keep those expat boho dreams from blocking your view of what life here is like for everyone else.