As if moving them under the bridge, away from public view wasn't enough, San Francisco health officials declared homeless tents a health hazard yesterday, giving the homeless a 72-hour ultimatum to pick up and leave. Earlier Tuesday afternoon, San Francisco Department of Public Works along with San Francisco Police Department arrived at Division and Bryant street and began clearing tents from the sidewalks, dumping tents and belongings into garbage trucks.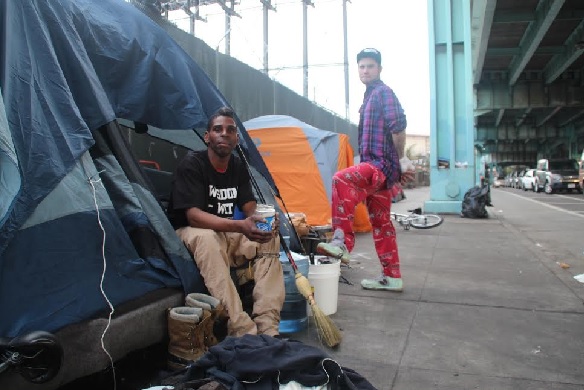 The big problem: Nobody knows where the campers are going to go. Lisa Marie Alatorre of the Coalition on Homelessness noted: "There is simply nowhere for homeless people to go. They are sheltering themselves as best they can." Although Mayor Ed Lee is touting a new shelter at Pier 80 as the answer, Alatorre explained that "When the sweeps took place Pier 80 was at capacity. Today it is adding 25 more beds." Which won't be anywhere near enough for the dozens of people living in tents on the streets.
Heather Brown, who spoke to 48 Hills a few weeks ago, is still in her camp on Division and Bryant. "The story we are being told is that they are pushing everyone who is here towards Third St. What they are doing now is instead of asking an individual person to move, they are coming through and almost treating these tents as homes and arresting those who have been warned and have not been taking care of their problems."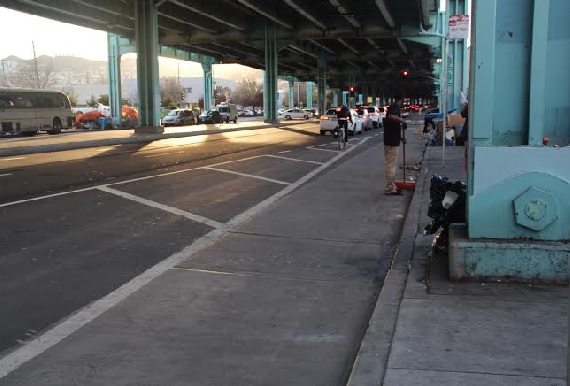 So what are the problems that can cause an arrest? "They are saying it is because of the trash but we clean all the trash around us," Brown said. "We also have street sweepers and most of us are part of the program because the city pays us to go and sweep the streets." Brown and her fiance are trying to stay one step ahead of the authorities by moving two streets down, yet she knows that they will be chased out. "Eventually we will have nowhere to go" she said.
Ashante Jones, who has been homeless for the past five years, has been living in a tent at Division for the past two months. "We have been herded from Third Street all the way back down here, and I guess that wasn't enough, so they are coming down here with the police and California Highway Patrol to harass us. The criminalization of the homeless is now in full effect," Jones said he cleaned the sidewalk and his tent.
"It's a mess, it is a mess. I don't think the mayor is being held accountable."
Jones is a songwriter from Oakland, and despite being homeless he has not given up his dream and passion for music. Inside his tent is a notebook in which he pens down lyrics. He said he believed San Francisco could give him an opportunity to get his life back on track. There are many more like Jones who do not want to give up on their dreams, who do not wish to live on the streets but are trapped in a vicious cycle of poverty. "It's preposterous" he said about the growing homelessness in San Francisco and the government's attempt to shove it under the carpet.
Jeremy Harvell has been homeless for more than five years and the struggle seems never ending. "With the food prices being more expensive than gas now, we barely have enough money to eat" Harvell said. "It's not easy, it's not easy at all. The police brutality and harassment doesn't make it any easier. They are stealing people's tents and running down the streets with them, who does that? They are destroying the community. It's frustrating, really frustrating and it all builds up and then we start lashing out at each other,"
Harvell got injured during a fight. "There are aggressive people out here as well, there's people who are out here because they want to be and then there are people out here because they have to be. The ones that want to be are usually the ones that are more aggressive, so I have to protect myself and I did and got injured." Harvell's wound got infected prompting a visit to the hospital.
Harvell and Jones' tents are right beside SoMA StrEat park, while city authorities claim the homeless put businesses at risk. But business owners paint a different picture. Reilly Brock, public relations manager for SoMA StrEat park, said that the homeless should be treated with humanity "We are a business, we are a food park and ultimately we are not a homeless food service agency. But these are human beings we are talking about, we have to acknowledge the humanity of the people out on the streets and we want to find a way to do our part," he said. "We don't know what the answer is but we must continue to ask questions, because ultimately people living on the streets are in no one's interest, first and foremost for people who are living in tents."
In the absence of public toilets, people keep popping up to use the toilet facilities at the food park "The majority of them stop by, a lot of them buy food. Every now and then there's an outlier case where someone would make a mess or there are drugs involved but that's a minority. Unfortunately, the minority will tend to get the coverage."
For the folks who now have less than 72 hours to pack up and leave, the chase is never ending. "I watched them through a disabled veteran's tent into the crusher," Jones said. "Man, that shit is preposterous."