Almost 14 months ago, on Saturday April 18th, 2015, more than 100 of the Central City's many arts communities and advocates met at Cell Space to grapple with what the pending closure and demolition of that 20-year epicenter of community arts for the development of new market-rate housing by the Nick Podell Co. meant for the future.
And after three hours of open discussion, they decided to fight the project.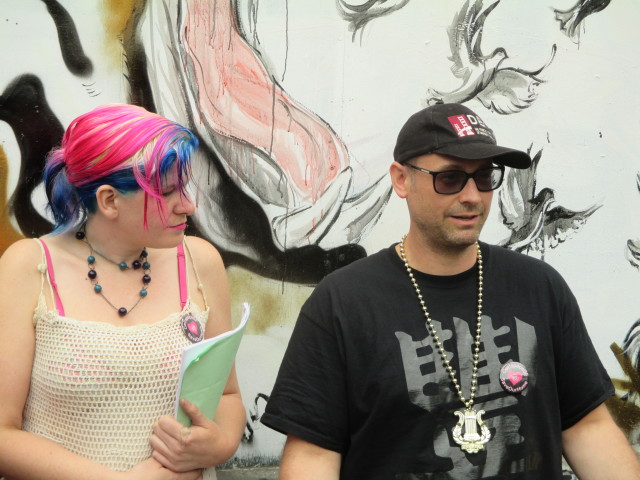 The original 2014 plan to clear the entire 69,000-square-foot site at 2050 Bryant Street proposed to build 276 new housing units, of which 16%, 44 units, were required to be "inclusionary" affordable housing. There would be 232 market-rate units, three of which would replace existing rent-controlled apartments. The approximately 50,000 square feet of "PDR" space (Production, Distribution, Repair and Arts uses) on the site, including Cell Space and an auto repair shop, would closed when their leases ended on June 30, 2015, without any replacement.
The "Beast" was not the only pending transformative market-rate housing development, which many Mission District communities consider a mortal threat to the future survival of their extraordinary and vital Neighborhood. Other large projects, including the "Monster on Mission" next to the 16th and Mission Streets BART station, have also been proposed, generating strong opposition from a wide range of Neighborhood constituencies and organizations.
During the following year, these arts organizations and advocates joined with all the Mission District groups and advocates to battle those projects, now under the umbrella of the "United to Save The Mission" (USM) coalition. The "Beast" was the first to come up for approval, and on June 2, 2016, the San Francisco City Planning Commission – after an outpouring of community opposition – approved it, but as a significantly modified proposal.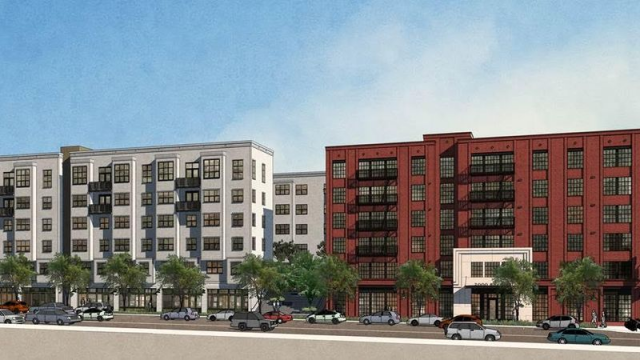 The approved project now consists of 199 market-rate housing units, 33 less than first proposed and still including 3 replacement rent-controlled units. But instead of any "inclusionary" affordable units, Nick Podell Co. will turn over about 23,000 sq. ft. – 33% of the site – to the city at no cost for future development of approximately 136 affordable housing units that the city would finance with its own affordable housing programs. 12,000 sq ft of new "PDR" space would be included at the developer's cost in the market-rate project, plus 8,500 sq ft in the future city-funded affordable project, totaling 20,500 sq ft combined.
Altogether the two projects will total 335 housing units, 59 more than first proposed. 139 will be affordable, 41.5%, and 196 market-rate, 58.5%. The existing PDR space will be about 40% replaced, 30,000 sq ft less than the existing space.
What Was Won – So Far
The just-approved combined project will include about 92 more affordable housing units than first proposed, and 33 less market-rate units. Its overall affordable/market-rate "housing balance" will be 42%/58% compared to the 16%/84% first proposed.
The just-approved combined project will replace about 40% of the existing PDR space, compared to none in the initial proposal. 12,000 sq ft will be market-rate 21st Century PDR, such as a craft brewery. 8,000 sq ft could be BMR space, possibly for an arts group.
The market-rate project will pay the standard city-required $2,541,000 in Development Impact Fees, including $1,619,000 in Eastern Neighborhood Community Benefit Fees plus a $353,000 Childcare Facilities fee, and $1,569,000 of Transit Facilities fees.
The Mayor's Office has pledged $30,000,000 of city housing funds to the Mission Neighborhood to build the site's affordable housing.
The Mission's many diverse long-time communities are fully mobilized and united to fight for a Neighborhood future they believe in.
What Was Lost – So Far
 Cell Space is no more. And its unique and irreplaceable Mission Neighborhood focus of San Francisco community arts will be torn down. The gritty former blue-collar "PDR' business that employed working class ity residents have closed or moved away.
What's Next
The project's environment "Community Plan Exemption," which avoided preparing even a time-consuming "Negative Declaration" that no environmental impact report is necessary, can be appealed to the Board of Supervisors. If the appeal is upheld by a majority of the Supervisors the project would need to go through the approval process again next year after, most likely, drafting a Negative Declaration.
If this appeal is turned down, community opponents could file a lawsuit that might delay the project, but a winning such a suit is very unlikely for legal reasons.
The project's Conditional Use approval could also be appealed to the Board of Supervisors, but the grounds for such an appeal are very limited for technical reasons.
How Supervisor Kim's Planned Anti-Displacement Ballot Initiative Might Impact the Project If It Passes In November
 This voter-approved Planning Code amendment could potentially apply to the "Beast" project, especially if an appeal is successful and it must be re-approved in 2017.
The Initiative's proposed requirement to replace 50% of any "PDR/Arts" space demolished for new development in the Eastern Neighborhood's "UMU" (Urban Mixed-Use District) zone, which includes this project, would mandate about 25,000 square feet of new PDR/arts space, about 5,000 square feet more than now proposed, all at the developer's cost.
The Initiative's Conditional Use approval considerations that would apply to that space would provide strong leverage for all that new PDR space to be affordable at below-market rents, 17,000 square feet more BMR space than now likely.
The Initiative's Conditional Use approval considerations that would apply to that space would provide strong leverage for some or all that new PDR space to be physically suitable for the same kinds of businesses and arts groups that were displaced.
The Initiative's Conditional Use approval considerations that would apply to that space would provide strong leverage for retro-active relocation funding for the displaced businesses and arts groups.
Stay Tuned.