The Planning Commission heard a report on the Eastern Neighborhoods Plan, which has guided development in a huge swath of the city, and from the public comment and the response of some commissioners, it's pretty clear that this massive 20-year planning process isn't turning out the way it was supposed to.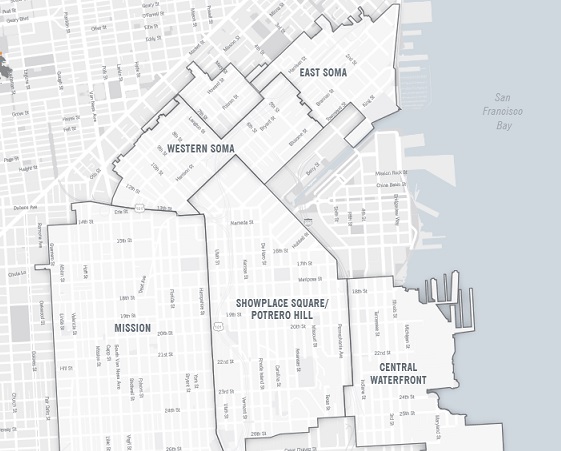 As Commissioner Dennis Richards pointed out, the plan was adopted in 2008 – before the Google buses, before the massive tech-boom displacement, before the Twitter tax break, before Uber, before Peninsula cities fully outsourced their housing problems to SF. It's a different city today, and what made sense back then isn't working any more.
In fact, some of what seemed to make sense back then has been, as land-use lawyer Sue Hestor pointed out, "a farce." The transit improvements that were supposed to serve the massive explosion in market-rate housing developments simply haven't happened.
Neighborhood activist Marc Salomon noted that people who moved into what were supposed to be transit-oriented developments have ignored transit and instead use private cars, Uber and Lyft (which have crowded the streets with many, many more cars) and the tech shuttles.
Pedro Peterson presented the summary report, starting off with the Department's position that the plan was created to preserve Production, Distribution, and Repair spaces in the neighborhoods and to encourage housing development.
Reality: In the past five years, nearly a million square feet of PDR has been lost, and another 1.3 million will be lost of all of the proposed projects in the pipeline move forward.
The neighborhoods gained 32,000 jobs, the vast majority in office and retail.
There were 1,375 net new housing units. About 20 percent were affordable.
Let's see: 32,000 jobs creates a need for at least 10,000 new housing units. Since some of the new jobs won't pay enough to afford San Francisco rents, it's fair to say that the number of new affordable units that should have been built would be in the thousands.
The total number of net affordable units (after you subtract the ones demolished): 290.
No wonder we have a housing crisis.
Now let's look at the future. Planning projects that 11,650 new units will be built under current rules in the Eastern Neighborhoods. We might, maybe, get 25 percent affordability. That's 2,912 affordable units.
There are 5 million square feet of office space in the pipeline. At 250 employees per square foot, that's 20,000 more jobs.
In other words, under the current rules, things are about to get way worse on the eastern side of time.
The Citizens Advisory Committee that's supposed to monitor the plan was pretty clear: "We aren't seeing the benefits of affordable housing. Infrastructure improvements are not taking place."
Oh, and PDR is being discarded.
But since this plan is officially approved, it's hard to effectively challenge any individual project. A we've seen with the Beast on Bryant, the city just says, hey: It meets the Eastern Neighborhoods Plan zoning.
Time, it appears, to reboot. In fact, the call by Sup. David Campos a couple of years ago for a temporary halt to all development while the city reviews this plan might need to be revived – before more damage is done.