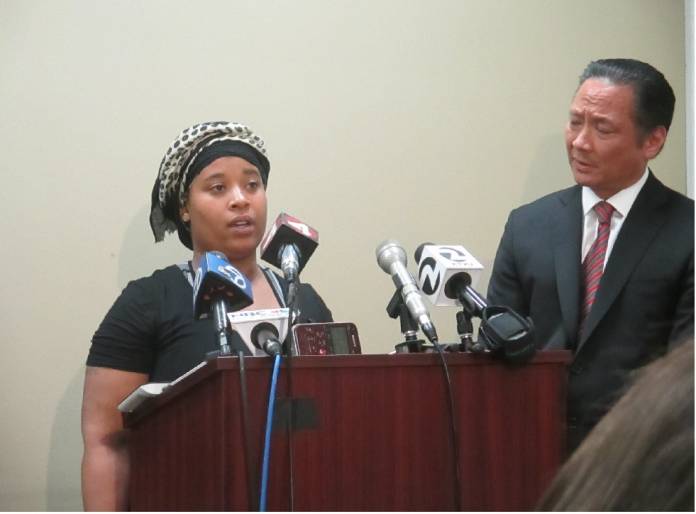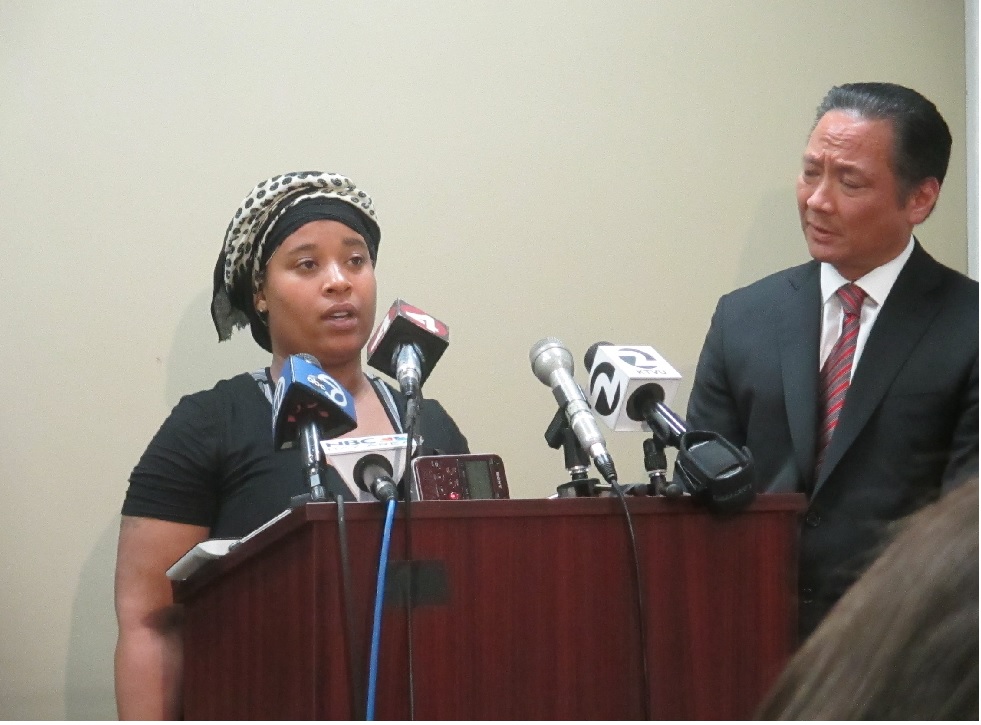 Dramatic new video footage from BART Police body cameras shows in detail how a young African American man was restrained and beaten by officers after being stopped for an alleged crime he didn't commit.
The footage released today from BART police body cameras shows an officer punching Michael Smith in the face while he was fully restrained, cuffed and on his stomach with another officer sitting on his legs.
Smith had been stopped after a man on the train called 911 to say that a Black man had robbed him and was carrying a weapon.
In fact, later evidence showed, the man had insulted Smith and his pregnant girlfriend, who were on their way to a doctor's appointment. Smith had not robbed him and had no weapon.
But after being hogtied and beaten by the cops — while his pregnant girlfriend was also handcuffed and restrained and later lost her baby – he was charged with battery on police officers and resisting arrest.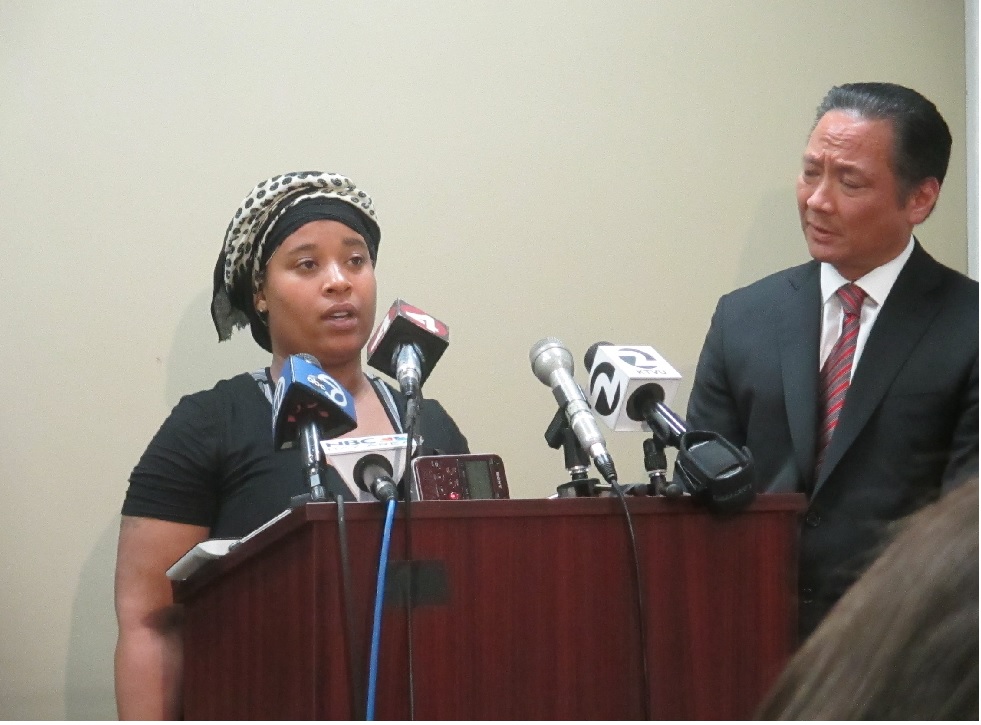 A trial jury acquitted him on four counts of battery, deadlocked 9-3 for acquittal on two other counts and 9-3 for conviction on one charge of resisting arrest. District Attorney George Gascon is considering retrying him on those remaining misdemeanor counts.
None of the officers involved have at this point been charged with anything, and while the BART Police Internal Affairs Unit is investigating, there will be no public notice if they are subject to any discipline.
The person who called 911 and filed what Public Defender Jeff Adachi called a false police report has faced no consequences either.
There are so many things wrong with this picture, and so many alarming implications – among them the idea that, in this Trump Era of frightening racism, someone can call in a fake report of a Black man with a weapon and the police response will be to beat, abuse, and arrest an innocent person.
"What you are broadcasting here," Adachi's chief deputy, Matt Gonzalez, told me, "is the idea that people can file a false report of a crime with impunity" – and the victim of that false report can wind up as the one facing charges.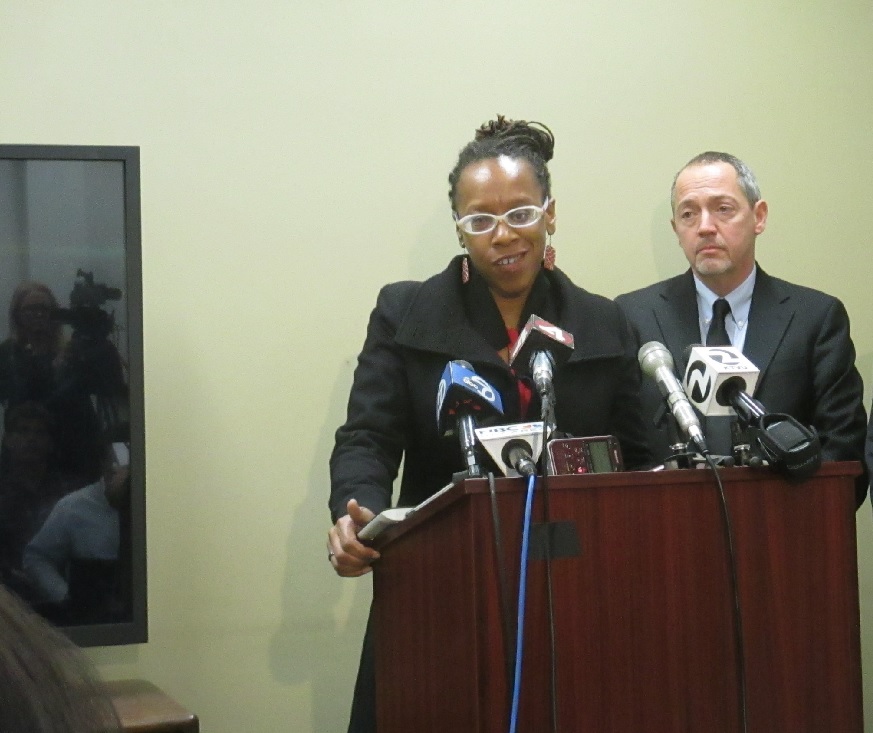 The arrest happened July 29, 2016 at the Embarcadero BART station. Smith and recently pregnant Andrea Appleton were on their way to SF General, where she had a medical appointment.
According to Smith's trial testimony, and what Appleton told reporters today, the couple were confronted by a man who told them that they smelled bad. After an argument, they moved to another part of the train.
At that point, the man called 911, and according to a tape of his call, said that two Black people had robbed him and he had reason to believe one of them, a man wearing a Mickey Mouse shirt, "has a weapon on him." By the time the California Highway Patrol, which took the 911 call, referred the call to the BART police, the message was that a Black man on the train was carrying a gun.
When Smith and Appleton left the train at the Embarcadero Station, they were met by BART cops with their guns drawn, who ordered Smith to get down on the ground.
At no point in the entire incident did the officers ever tell him why he had been stopped or what the charges were.
The officers also directly violated BART's own policy by handcuffing Appleton behind her back; the police agency's rules say that no pregnant woman should ever be restrained in that way.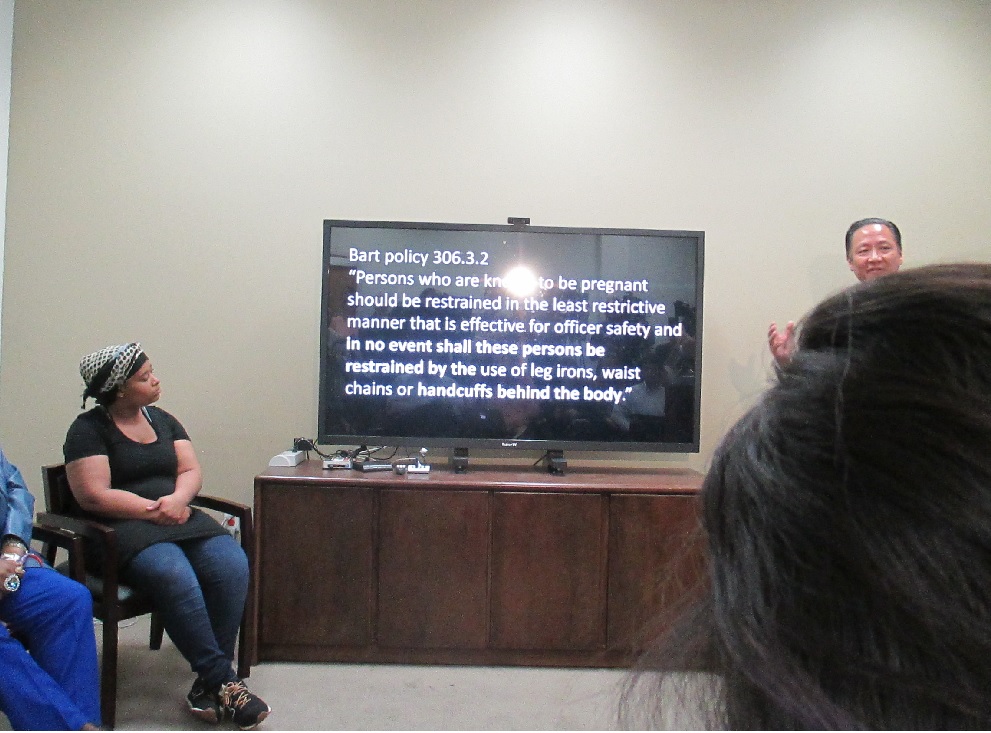 Adachi offered an unusual, but convincing argument in the first trial: He acknowledged that Smith spit at one of the officers and was resisting the most violent actions against him, but said that by law, a person who is subject to illegal and excessive use of force has the right to defend himself.
Barbara Attard, an expert in police accountability and use of force, was at the press conference today and told us that in her opinion, the force was clearly excessive – and that it's all too typical for cops who have used excessive force to charge suspects with battery and resisting arrest.
The jury clearly didn't believe that Smith had attempted to attack the officers; on the charges that he kicked and spit on an officer, he was acquitted.
The video shows him spitting; at trial, Adachi, said, Smith admitted that, and said he was so scared and under such tight restraint that he felt there was nothing else he could do to fight back.
After that moment, video shows an officer punching Smith in the face and slamming his head to the ground.
BART police procedures do not allow for punching a suspect who is fully restrained.
It's really strange that Gascon would seek a retrial on what are, at best, pretty minor charges at this point. I asked his office about it, and got this response from spokesperson Max Szabo:
"Today the Public Defender released an edited sequence of body camera footage that a judge excluded from evidence.  In excluding the evidence, the judge cited editorial choices that were made, such as altering the audio levels and omitting segments where the defendant is alleged to have bit, kicked, and spit on BART police officers.  When a jury reviewed the unedited versions of the videos, a majority found the defendant guilty of battery and resisting arrest.  The District Attorney's Office is currently evaluating whether we will pursue this case further."
I watched all the footage we got today, and it didn't seem edited to me. I saw no indication that Smith bit anyone; and the only time he could have kicked and officer is when he was forced to flip over from a situation where his legs were restrained to another situation where he would be on his side. One video seems to show the officers body camera kicked off.
By that time, the cops had searched Smith and his backpack, and it was clear there was no weapon. The modern procedure of conflict de-escalation was clearly not in play here; at no point on the video do the officers acknowledge that he has no weapon, much less set him free.
Here's Adachi's response:
The four body camera videos we released were unedited. We also showed a copy of the video with a composite of various videos so the BART surveillance video, police body camera videos and the videos taken by civilians could be seen simultaneously.  None of the audio levels were altered on an of the videos.  The DA is wrong about the verdicts.  The jury found Mr. Smith not guilty on four counts of battery on a peace officer, hung 9-3 for not guilty on two counts of battery, and hung 9-3 for guilty on the charge of resisting arrest.  The jury found Mr. Smith not guilty of the counts involving spitting and kicking BART officers, since the body camera videos did not show any of these acts.  The other act of alleged kicking was hung 9-3 in favor of not guilty.
Let me take a step back here.
I have been pushing for more accountability and strong civilian oversight of the BART Police since 1992, when I broke the story of a BART police officer shooting and killing 19-year-old Jerrold Hall, an African American man who had committed no crime.
That case had chilling resemblances to this one: Hall and a friend were on a BART train when another man called the operator to say that he had been robbed by an armed man. BART Police got the message that a Black man had a gun and stopped Hall at the Hayward station.
As it turns out, Hall had no gun. But Officer Fred Crabtree shot him in the back, while he was walking away, and killed him with a 12-gauge shotgun.
The man who called in the complaint that led to Hall's death vanished.
There was no cell-phone video back then. Crabtree was cleared of any wrongdoing and went right back to work.
BART has about 200 armed cops who operate under the control of the transit agency. There is no BART Police Commission. We finally won limited citizen oversight – but in this case, only the BART Police will decide if their own officers did anything wrong.
Two new BART Board members, Lateefah Simon and Bevan Dufty, were at Adachi's press conference today. Both made it clear that they want more accountability for the BART cops. Both, in fact, apologized to Appleton (who said she miscarried about two weeks after being improperly cuffed and forced to the ground with an officer's knee on her spine).
But we still have this problem: The cops who, by many accounts acted improperly, are not held accountable. The man who filed the inaccurate report that started this whole thing (and who never testified at trial) pays no penalty.
Szabo explained to me how hard it would be to charge someone with filing a false report when, according to the 911 tape that I've listened to, all the man says is that he "has reason to believe" the alleged (non) robber had a weapon. I get it; proving in court that he intended to mislead the cops is difficult.
But Jack Glaser, a UC Berkeley professor and expert on implicit bias, told us today that it's disturbingly common for people to associate African Americans with crime and weapons. While not commenting on this particular case, he left me with a question:
If the person who allegedly robbed someone with a "weapon" was white, would any of this have happened?
And in the Age of Trump, when are we going to hold cops, and people who level false accusations that lead to police violence, accountable for anything?