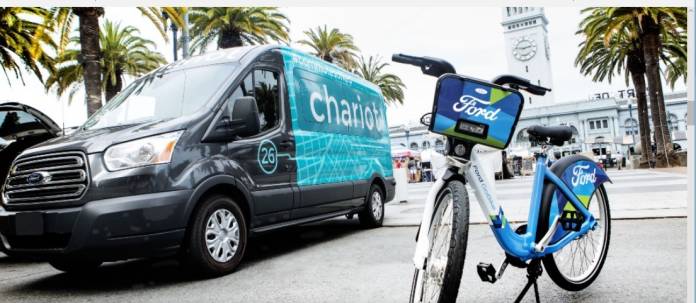 San Francisco and the Bay Area remain a bellwether for progressive human rights, peace, labor, and environmental values. Just about everyone in San Francisco is against Trump, and the display of resistance at SFO last week demonstrates that people here recognize the stakes are high.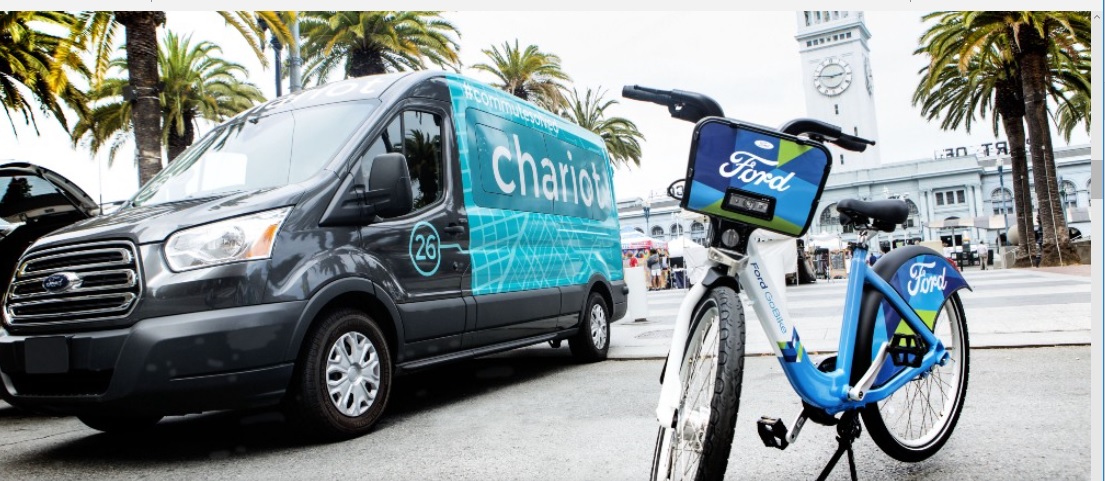 This isn't just about an egoistical boob. This is about a vindictive and mean dark place, a future of plundering and ecological collapse, of deeper inequity and polarization, of ramped-up privatization, intense surveillance and roundups. And it will go darker if this is not resisted. We need ways to resist and there are many.      
Let's take as an example a recent entry into San Francisco's transportation scene – Ford Motor Company. Ford is making big moves in San Francisco and we should resist — because the things Ford are promoting are antithetical to San Francisco values. Ford also collaborates boastfully with Trump.
Here's what's at stake. Ford has recently announced "Go Further," a marketing campaign promoting the company's new mobility vision of connected driverless cars and techno-savvy problem solving. The campaign will get a boost during Sunday's Super Bowl, so millions are about to see it.
San Francisco is the centerpiece of this new vision, and Ford is sponsoring bike sharing and has acquired a private mini-bus start-up called Chariot. Ford is setting up shop in Silicon Valley with a new driverless car outfit. E-bikes are also in the mix.   
These all might seem like shiny new green things we all like and think we need, but they raise important questions about what kind of city we envision for the future. There's a lot of greenwashing going on in Ford's campaign, and recent examples of animated future visions suggest Ford has no clue about the needs of utilitarian cycling, nor cities. 
Ford's long game is about selling cars – albeit in a centrally controlled, elitist, digitally "geofenced" futurist city dominated by driverless cars. That city is also hyper-privatized and de-unionized – including privatizing all transit and shifting to private corporate buses and driverless cars. Before Trump there were enough red flags to warrant objection, but now Ford boasts openly of collaborating with Trump.
It started just days after the election, when Ford, along with other car companies, wrote Trump asking for "regulatory relief" from the Obama Administration's hard-fought clean car regulations. Obama's rules require cars get 54-miles per gallon by 2025. Ford wants to dial that back in order to sell more gas-guzzling SUVs. This comes after Obama provided Ford with subsidy and ample time to improve fuel economy.   
Ford is asking Trump for relief from California's stronger emissions controls, also to sell more SUVs.  This is not just an affront to San Francisco, but to the entire state of California.
Ford is asking Trump to expedite environmental review for its new factories. The rush to build these factories will definitely provide some jobs, although automation will dampen labor's hope. The loser will be clean air and clean water.
Ford's top executives praise Trump. Bill Ford, chairman of Ford and great grandson of Henry Ford, boasted of his easy access to Trump stating "When needed, I can always get to him or he calls me." Ford CEO Mark Fields is enthusiastic about working with Trump.
Do we do business with collaborators who are antithetical to San Francisco values? No. San Francisco should resist Trump by dumping Ford. Rescind the Ford sponsorship of bike share, ban privatized transit from our streets, protect workers and the environment, and tell Ford to keep its driverless car fantasy parked. If we believe 7,000 bikes are a regional priority, which I do, use MTC's road fund, and fund transit expansion as well. It is going to be a rough ride, for sure, but we don't need a ride from Ford.
Jason Henderson is a professor of geography at San Francisco State University and author of Street Fight: The Politics of Mobility in San Francisco