48hills is proud to host the SF Bay Guardian Best of the Bay 2017!
Dear Readers,
Welcome back to the SF Bay Guardian's Best of the Bay! This is our 42nd edition of Best of the Bay, and it comes out on the Bay Guardian's 51st anniversary. That's a lot of Bests of the Bay! We here at 48 Hills are proud to host this annual tradition. An incredible THANK YOU to the thousands of people voted in our Best of the Bay Readers Poll this year — you know what you love! 
BEST OF THE BAY 2017
2017 EDITOR'S PICKS — COMING SOON!
In this year's Readers Poll — with more than 150 winners — you've helped us discover some incredible new things, celebrated some classics, and inspired us to continue exploring all the wonders of the Bay Area with an open mind and the feeling of living in the best place on Earth.
The San Francisco Bay Guardian itself stopped publishing as a weekly paper in 2014, but it lives on through Best of the Bay, our election endorsements issues, and now a new book called Saving San Francisco's Heart from the just-launched Bay Guardian Press. Through 48 Hills, we continue to report on all the news, politics, arts, culture, nightlife, and more that are vital to the Bay Area. We couldn't do it without you!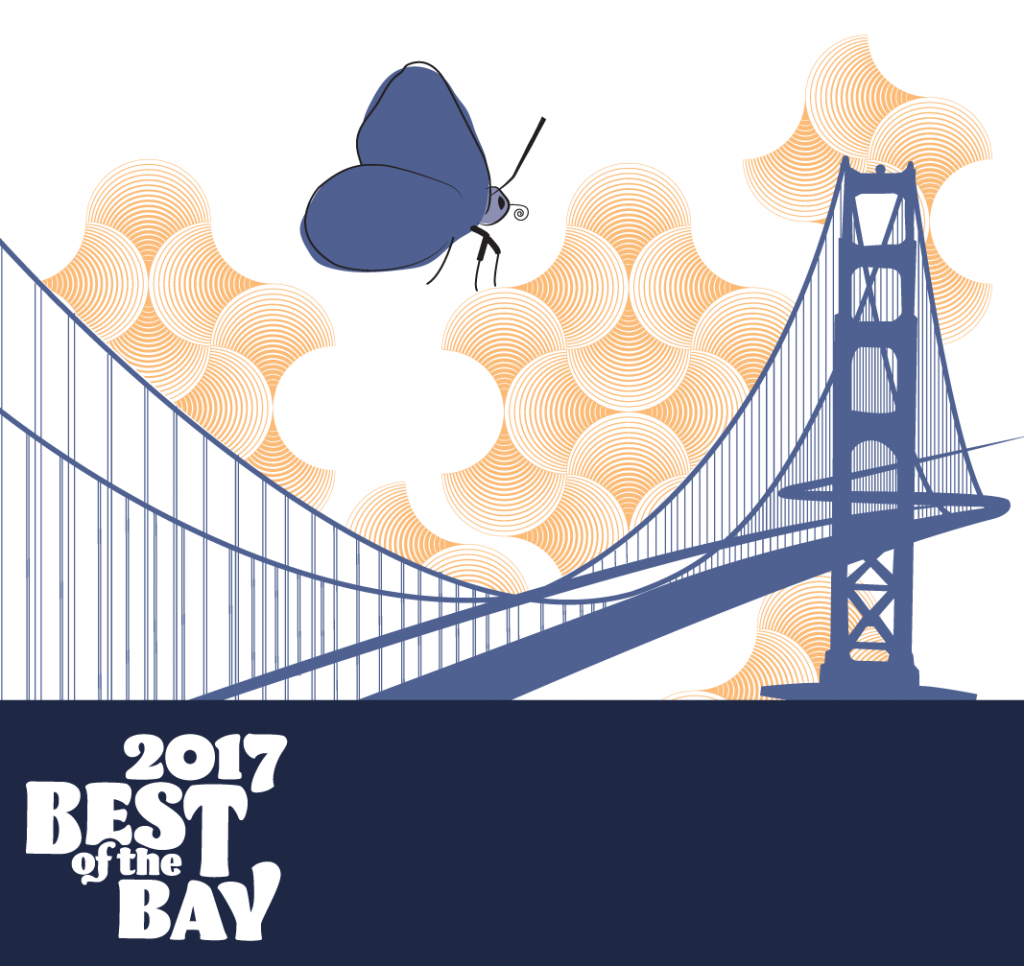 This year we chose a beloved Bay Area native as our Best of the Bay mascot — the Mission Blue butterfly. This tiny but radiant species symbolizes the great beauty (and fragility) of our hometown, and it was lovely to have a winged inspiration fluttering around our imaginations as we put this issue together.
In 1974, Esquire magazine asked the Bay Guardian for ideas for its Best of the USA issue, which led us to publish the original Best of the Bay, the very first its kind for a local publication. Forty-two issues later we are still going strong, with the support of tens of thousand of devoted readers and voters. This is where your voice is heard on everything from Best Burrito and Best Live Music Venue to Best Shoe Store and Best Politician (and Best Politician You Love to Hate).
As usual, we will also be including a list of Editor's Picks (coming soon!), of businesses and organizations that we think deserve special mention this year for their accomplishments. 
Thunderous applause goes out to our fantastic staff and all of our incredible advertisers and community supporters. We're a completely independent, locally produced, community-supported nonprofit organization, become a 48 Hills member and get a free t-shirt!  
Much has been written about the dark times we're living in and the changes the Bay Area has been seeing. As we worked on this issue, our friends in the North Bay and Wine Country were suffering from loss caused by huge fires. But our community continues to come together, to be there for one another, and to celebrate the things that make it so very special. We hope you read this year's edition in that spirit, and support the businesses and community organizations that make the Bay the best.   
— Marke B, Best of the Bay 2017 Editor
Editor
Marke B.
Designer
Aaron Joseph
Bay Guardian Editor
Tim Redmond
Sales Manager
Paul W. Chervatin
Web Developer
Matt Fisher
Bay Guardian Publishers Emeritus

Bruce B. Brugmann and Jean Dibble
Special Thanks
Hunky Beau