It's getting even nastier as we head to the final day.
Over the weekend, a new superPAC, called SF Workforce Housing Alliance, spent $4,000 on web ads accusing Mark Leno and Jane Kim of taking money "from evictors."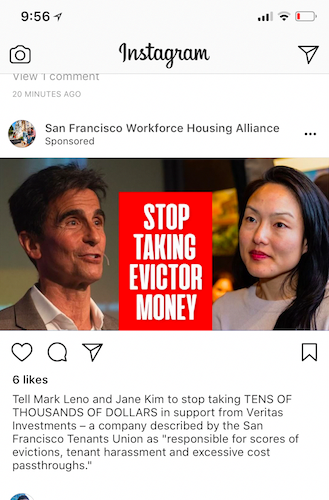 The ads, from the "SF Workforce Housing Alliance," suggest that the two candidates, who have been endorsed by every credible tenant organization in the city, took money from Veritas, which is one of the city's most notorious landlords.
But neither Kim nor Leno has taken a dime from that company or its employees, campaign finance records show. In fact, candidates for mayor can't take any corporate contributions.
The only source of the money for this new organization is a state PAC called "Safe and Affordable Housing," which is funded almost entirely by the city's biggest real-estate and tech interests.
The tenants who live in squalid conditions in Veritas properties aren't happy; they've released this statement:
"The Veritas Tenants Committee is a tenants action committee consisting of actual renters in San Francisco working to hold SF's biggest landlord, Veritas, accountable to the law and to being a responsible landlord. We are appalled to see wholly deceptive attack ads on the mayoral candidates who many of us favor most: Jane Kim & Mark Leno. We support them due to their proven integrity and strong record of supporting fair housing rights and laws in a city increasingly taken over by huge corporate real estate interests. These candidates have both pledged to reject dark super PAC money in this election, which puts them at a huge disadvantage against rich real estate speculators who ARE pouring money into defeating these tenant-supported candidates.

This latest attack ad from the deceptively named "San Francisco Workforce Housing Alliance" indicates a false connection between two candidates and a recent contribution from Veritas' CEO to the SF Democratic Party. Kim and Leno have not accepted money from Veritas — such a contribution would violate campaign finance laws. But the ad implies that they did so. The real estate interests behind this PAC and other entities have shown disregard for laws supporting responsible property ownership and the real needs of SF residents. 
So: the big landlords are trying to tell you that the candidates who the tenants support are backed by the big landlords.
Mission Local got the story first, and you can read all the background here.  
The Chron has far more reporters and resources than Mission Local (or 48hills) but can't seem to get into one of the biggest stories of this race: Where the dark money comes from.
Joe Eskenazi's text-message service tells me that as of June 3, 75,516 ballots have been turned into the Department of Elections. That's 24 percent of the voters, and 30,000 more than were turned in last week. Still below 2016, when "nearly 86K ballots had been returned (29%).
So a lot of vote-by-mail folks waited until near the end to decide. I don't know what that means for the campaigns.
It's still possible to vote, even if you aren't registered; if you go down to City Hall, the Department of Elections says, you can register and then cast a provisional ballot. It will be counted after Election Day – but if past patterns remain, we won't know who the mayor is until well after Election Day.
We will keep you updated tomorrow and through the evening.