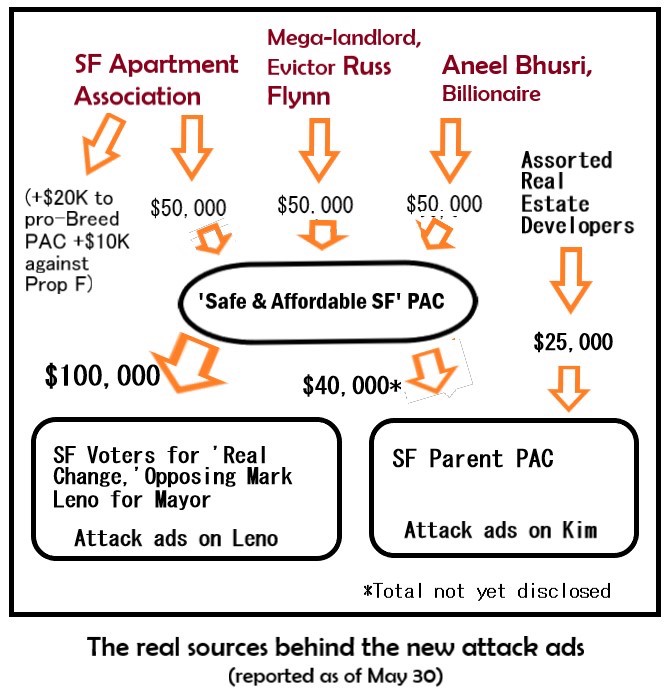 So much money has poured into political clubs and independent expenditure committees supporting London Breed and attacking her opponents that the Ethics Commission has increased the spending limit for the mayor's race to more than $3 million.
A significant amount of that money comes from a small number of Big Tech leaders and the real-estate industry.
In fact, the same forces that blocked Mark Leno from passing tenant-protection bills in Sacramento – including some landlords responsible for multiple evictions under the Ellis Act – are now attacking Leno as ineffective in addressing homelessness.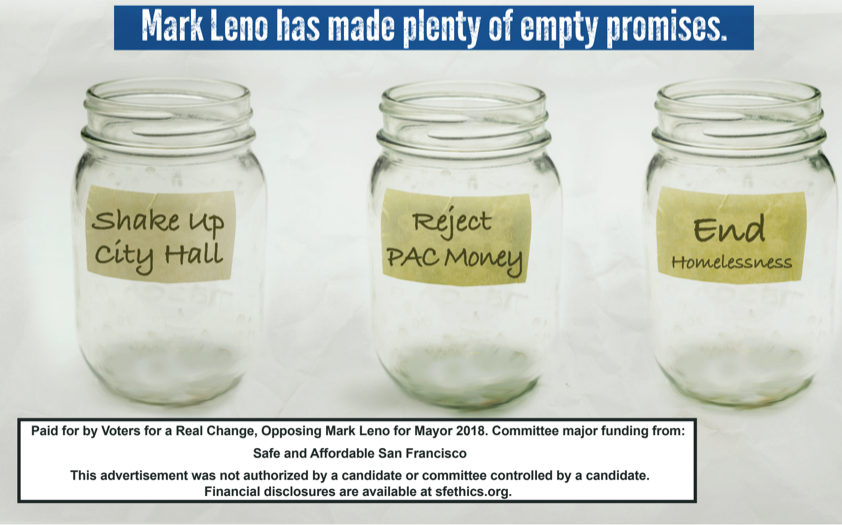 And they are attacking Kim, who successfully passed critical local tenant legislation, saying that she supports people living in tents on the street.
Among the biggest donors to the pro-Breed independent-expenditure superPACs:
— Russ Flynn, who is one of the biggest landlords in San Francisco and oversaw the biggest single Ellis Act eviction in the city– 33 units – put up $50,000 through three companies he owns.
— The San Francisco Apartment Association, which fought against Leno's Ellis Act reform bill and is now spending money to oppose the right to counsel for tenants facing evictions, chipped in $70,000.
— Three local developers donated $25,000.
— Socialite Dede Wilsey, who inherited her late husband's real-estate operations, gave $100,000.
"The reason for this is that Mark Leno stood up to the real-estate industry and now they are making him pay for it," Deepa Varma, director of the San Francisco Tenants Union, told me. "If it weren't for the Apartment Association, we would have had legislation protecting tenants from unjust evictions."
We would also have had fewer homeless people on the streets: Every month, 100 more San Franciscans become homeless, mostly because they lost their housing. You can't solve the homeless problem without solving the eviction problem.
But the real-estate lobby shot down Leno's effort to restrict the Ellis Act, and the evictions continue.
So Leno's efforts, which would have had a huge impact on homelessness, were blocked by the same people who now say that homelessness got worse while he was in office.
Tenant activists plan to hold a rally at the offices of the San Francisco Apartment Association Friday to call attention to the role that organization – and big landlords and developers in general – are playing in the June election.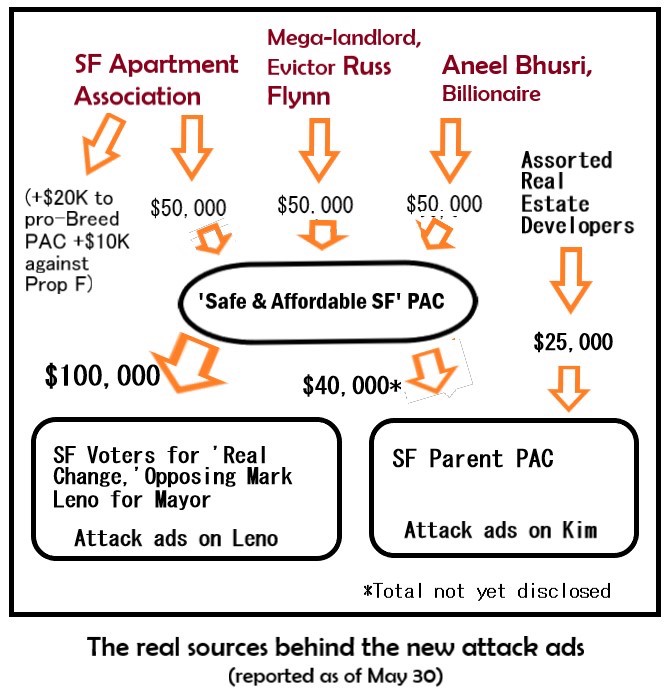 The money flow is complicated, since the donations are often cleared through several different PACs or clubs. Here's one example:
Two independent-expenditure groups, Parent PAC and Safe and Affordable SF, just paid $52,000 for Chinese-language attacking Kim. Parent PAC may appear to be about kids and schools, but this time around, three big developers put $25,000 into the organization, which then aired ads accusing Kim of wanting to raise everyone's taxes and of supporting tent encampments.
We saw the same attacks when Kim ran against Scott Wiener for state Senate:
His campaign sent a mailer out before the June election, in Chinese, suggesting that Kim wanted to allow homeless people to camp in front of homes in the Sunset.

There aren't a lot of homeless camps in the Sunset. Most of them are in Soma or the Mission. Most homeless people try to stay away from residential doorways; the camps tend to be in commercial and industrial areas, where the people who are living on the street (in many cases because they have been evicted or lost their housing) don't get rousted by the cops.

But never mind: Demonizing the homeless worked for [Gavin] Newsom. Making the cops arrest people for minor crimes while homicides remain unsolved may play well in some neighborhoods.
Now we're seeing this all over again. Builder Patrick Kennedy gave $10,000 to this misleading effort; Emerald Fund gave $10,000; and Group I gave $5,000.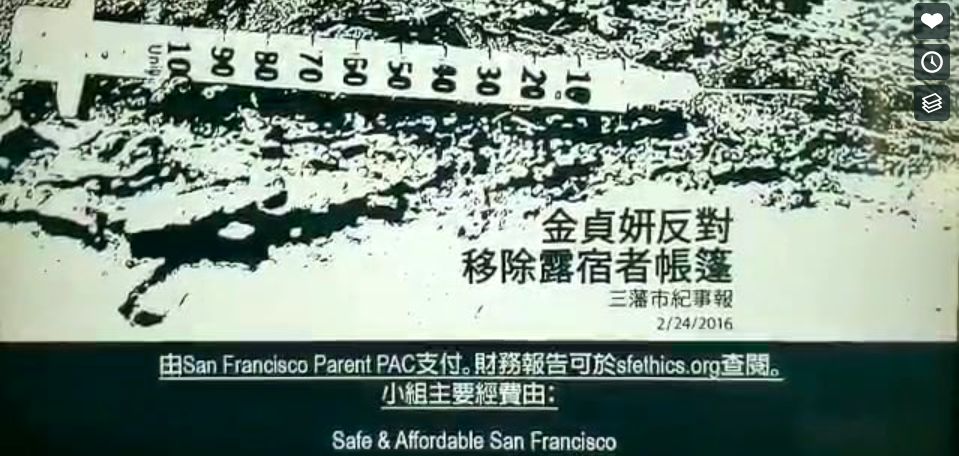 At the end of the ad, none of those names appear, just "San Francisco Parent PAC" and "Safe and Affordable San Francisco."
So who is "Safe and Affordable San Francisco?" That's a state committee that doesn't have to follow SF's ethics rules (which include multiple and regular filings showing who is giving money).
Joe Eskenazi (who is the only other journalist in town paying close and constant attention to this money game) and I both thought that the state PACs would be able to delay disclosing donors until after the election.
But it turns out that the PACs did have to file this month, within ten days of the election, and the filings show that, so far, most of the Safe and Affordable San Francisco money has come from the Apartment Association, Flynn, and Aneel Bhusri, a partner in Greylock, a venture capital firm that was an early investor in Airbnb and Facebook.
The Apartment Association put up $50,000. Flynn, through two property LLCs he owns, put up $50,000. Bhusri put up $50,000. Another $10,000 came from "Alice B. Building." I can't figure out who or what that is. (UPDATE: I have now learned that this is also a Flynn property.)
Safe and Affordable San Francisco also gave $100,000 to "Voters for Real Change," a superPAC that has been attacking Mark Leno.
Then there's Progress San Francisco, a state PAC closely linked to Ron Conway -– who, reliable sources tell me, has been making calls raising money for the operation.
That organization has put $200,000 into another PAC, run by the San Francisco Firefighters Union, that is supporting Breed (and that, despite its name, is not primarily funded by the firefighters; most of the money is Progress San Francisco and the real-estate industry).
Progress San Francisco is also supporting Prop. D, a measure backed by Breed that imposes some new taxes on commercial real estate to pay for homeless services – but that also contains a poison bill that would kill Prop. C, a much higher tax on the same industry backed by Kim.
Virtually every donor to Progress San Francisco is affiliated either with real-estate or Big Tech.
That shows the evolution of political power in this town. There's always been big money in local elections, although not as much superPAC money as we're seeing now. But it's come from other big-business sources, like the Committee on Jobs, which represented downtown corporations, and the Chamber of Commerce.
In this election, the superPAC money behind Breed is almost exclusively real-estate and Big Tech.
Among the big donors to Progress SF, which as of May 24 had raised $525,000:
Matthew Coehler, a partner in Benchmark Capital, who is part of Ron Conway's crowd, put up $80,000.
Wilsey put up $100,000.
The Apartment Association contributed $20,000.
Kevin York Systrom, the CEO of Instagram, gave $25,000.
Paul Graham, founder of Y Combinator, gave $50,000.
The Firefighers PAC has raised nearly $700,000 to support Breed. Evan Williams, a co-founder of Twitter and the founder of Medium, put up $50,000.
Williams has also given $50,000 to the Edwin Lee Democratic Club, which is using the money to support Breed, and $50,000 to It's Our Time, another superPAC supporting Breed and attacking Jane Kim. So he has so far put up $150,000 to help Breed win the Mayor's Office.
There is also independent-expenditure money supporting Leno and Kim. They have raised and spent, together, a fraction of what is being spent on behalf of Breed. Most of the money those two candidates are spending comes from their own fundraising, which is limited to $500 a donor.
The Apartment Association isn't just supporting Breed and opposing Kim and Leno. The group has put $20,000 into opposing both Proposition C, which would raise commercial rents to pay for universal childcare, and Proposition D, which would raise commercial rents less to pay for increased homeless services.
And the group has spent $10,000 on digital ads opposing Prop. F, the measure that would guarantee every renter facing eviction the right to a lawyer.
Among other things, they are placing No on F ads on Grindr, which has made at least one patron unhappy: