ONSTAGE When Annie (Martha Brigham) opens the front door of her family home at the beginning of Magic Theatre's "The Resting Place" (through November 4), dressed in knee-high boots and trailing a carry-on roller bag, and calls out, "Mom? Dad?" we are set up for conventional family drama. That expectation is underscored by the neat, but bland, living room—coffee table, armchair, blinds on the picture window, a couch covered with a faded Mexican blanket. And also by the entry of her mother Angela (Emilie Talbot), wearing a jokey apron, who gives Annie a perfunctory hug and asks the familiar question, "How was the flight."
Then Annie's father Mitch (James Carpenter) comes home, laden with groceries, and her younger sister Macy (Emily Radosevich) returns from bringing a bag of clothes to the Goodwill. Their initial conversations are also cheery and conventional.
But those quiet, commonplace opening scenes belie the gripping drama that follows—and doesn't let up.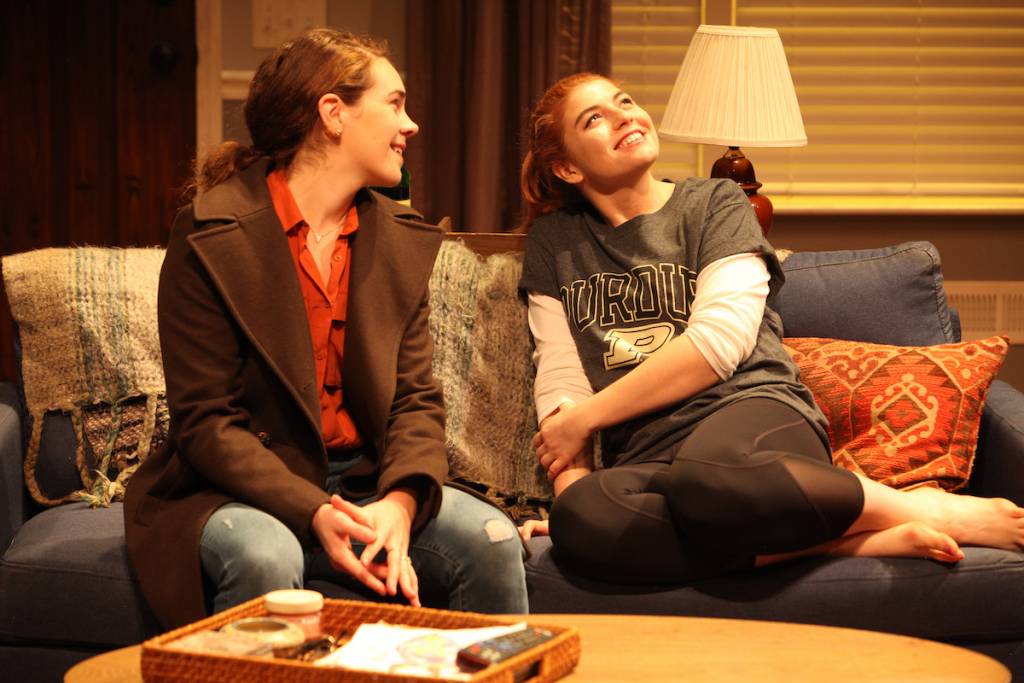 Annie, a young mother and environmental activist living in San Francisco, has cut short a yoga retreat to come back to Detroit to help prepare for her older brother Travis's funeral.
But something is amiss. Annie, efficiently planning a list of all the tasks she will to take on to arrange the church service, the obituary and flowers, is rebuffed by her parents and sister: they have decided there will be no public memorial. They simply want to scatter Travis's ashes in a remote camping spot he loved.
Annie is dumbfounded by their decision. Mitch tells her that the church will not allow Travis to be buried in the family plot and, "Even if we had a funeral, it would be overrun with people from six different counties, and all of them would be throwing rocks and holding signs."
"The Resting Place," having its world premier as the opener of the Magic Theatre's 51st season, is no ordinary family drama—raising some very ugly questions. It was written by Ashlin Halfnight, an award-winning writer for stage, film and television. Halfnight is both a Fulbright Scholar and a former professional hockey player with the Carolina Hurricanes.
This explosive tragedy examines a family torn apart by different responses to a crisis, even when everyone is acting out of the best of motives. Do you stop loving a son or a brother when he has committed unimaginable evils? Is it worth it to keep the family together at all costs? After all, what else is there?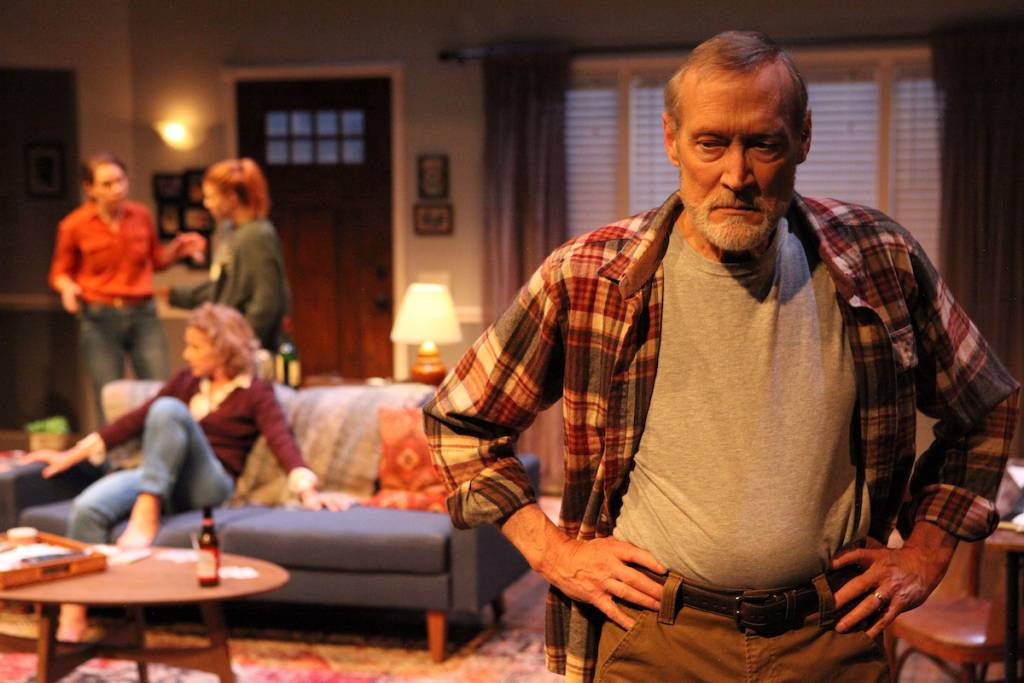 Gradually it is revealed that Travis, once considered a beloved teacher and science camp director, committed suicide in the aftermath of heinous crimes. This has brought great shame on the family. Their home is besieged by aggressive reporters and photographers, the police have taken their cell phones and computers and his parents are traumatized each time they see the dentist, their business partners, and even the bagger at the grocery, who all know what their son has done. The family has hunkered down behind closed doors, until Annie arrives. Angela doesn't want her daughter to open the blinds because "They have telephoto lenses. Like sniper rifles."
Annie throws all kinds of accusations at her parents. They knew he had problems, they ignored his pleas for help, they don't love him enough to honor his memory. Her tone—alternating between self-righteous and more self-righteous—is relentless. Just like Antigone, who wants to bury her brother despite social opprobrium, this prodigal daughter is at odds with the rest of her family.
As Annie digs in her heels, Angela retreats into the bottle and Macy tries to make peace. But the antagonism between Mitch and his daughter Annie escalates to a fever pitch. The first act is almost unbearably intense, with blame and threats flying thick and fast.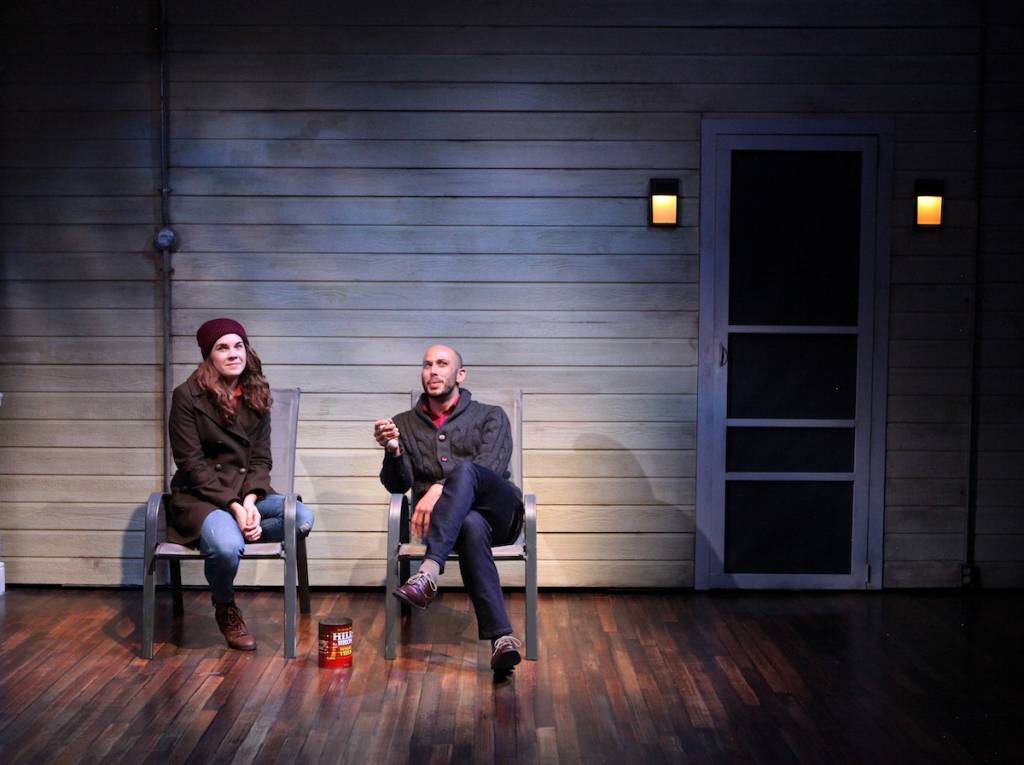 The only moment to exhale comes when Annie has a comforting, marijuana-laced conversation with her brother's former partner Liam (Wiley Naman Strasser), relishing sweet memories of Travis's generous, warm qualities and their love for him. When she apologizes that she may be preachy because of the weed, Liam teases her, "Girlfriend, you're full-time dramatic and preachy. All the minutes of all the days. It's your thing."
In that scene, unlike any moment with her family members, Annie almost wavers in her determination to insist on a public church funeral for her brother. Almost, but not quite.
This talented cast, directed by Jessica Holt, has created a believable, sympathetic family thrown into chaos. In the confines of a conventional living room, their raw emotions roil, ranging from sorrow to rage and back again. Their attempts to deal with what Mitch calls "the worst moment of their lives" pull at your heartstrings and every last nerve.
The Resting Place was first produced as a dramatic reading in the Magic Theatre's 2017 Virgin Play Festival. Magic's artistic director Loretta Greco calls Halfnight, "a provocative addition to our family of writers." And this play proves her right about that.
The drama raises questions that are probing and deeply disturbing. A little breathing space would allow for more reflection of those questions even if—as the playwright implies—there are no answers.
THE RESTING PLACE
Through November 4
Magic Theatre, SF
More info here.