ALL EARS I've lived in California for 11 years, and feel pretty well-adapted, but the Golden State still springs the occasional culture shock on us frigid East-Coasters. So it was the afternoon I saw Solate perform for the first time. My family was in town, and I took them to what I thought was a regular house show, but turned out to be at First Voice, the home studio of venerable performance duo Brenda Wong Aoki and Mark Izu. 
Inside, we were asked to remove our shoes and offered beaded slippers. Solate performed—a set of lush, soulful songs with the emotional imprint of a tight embrace—and then settled down cross-legged on the floor for story time. We learned how singers Maya Vilaplana and Marissa Bergmann, guitarist Joel Mandella, and bassist Kevin Goldberg each met the others. Then they asked all the audience members to tell our stories of connection to each other. Which is to say, don't expect to maintain a critical distance at a Solate show. They're going to steal your heart, and you might as well let them. 
The quartet's rich sound and disarming performances propelled them to play last year's Yerba Buena Gardens Festival before even recording their first album. That debut album, Like A River Does, finally arrives this month, with a release show on February 17 at Oakland.Secret. Vilaplana and Bergmann will also be performing in I, Too, Sing America, a new musical reprising its sold-out premiere at the Brava Theater from February 14-24.
The band came together to recreate that sunny afternoon at First Voice and explain how their love for each other influences their sound—and sparked the creation of their first song.   
48 HILLS The story of how the band came together is basically a series of meet-cutes. Maya, can you start with the story of how you and Joel met in college?
MAYA VILAPLANA He was one of the first people that I met at Macalester. There was a freshman class trip to the state fair, and Joel and I got lost from the group. We ended up stopping at all these different musical sites: one of them was a group of seniors who were waltzing, and then another one was a group of kids who were dancing to Michael Jackson. It was just the goofiest few hours.
48 HILLS How did the two of you start writing music together?
MAYA I knew early on that he played guitar, but he didn't write original stuff yet. Eventually, we ended up writing a really weird, corny, and strange cover of this Melody Gardot song "Good Night," addressed to this kid in our freshman class named Andrew. Fast forward to our senior year, we had a lot of fun performing at farmer's markets, playing covers of people like Norah Jones and Adele, and that same Melody Gardot song. 
Then one night, we were up late at our house, and he started coming up with this cool riff. I remember he would face towards the wall, and he'd play it over and over and over again, until I had a chance to sing a melody over it. I would kind of whisper something—because I was really shy about what I was writing—and he would pull it out of me: be like, "Yeah, that's great! Keep going! Keep singing! Louder!" Then I would kind of let it out, and with his help, I would really sing it. 
So we had our first original song, and we were so proud. We played it for everyone that would listen. Every song that we that we wrote together felt like this feat: me coming up with lyrics that meant something to me, and him coming up with these parts that I have never heard in any other music. It just felt like sharing my soul with someone. I think we both decided when we graduated that we wanted to keep playing, so we followed each other back to where he's from in California.
48 HILLS When did Marissa come into the story?
MAYA I met Marissa when we were at YBCA. 
MARISSA BERGMANN We were working at an after-school program with high school youth. I found out that Maya sang, and I just knew—because she was so humble about it and wouldn't sing in front of me—that she must be really, really good. Then, one time, we were in this stairway, and I was like, "Maya! I really want to hear you sing." She's like, "Well, maybe I'll sing, if you sing with me." And so then we sang—I think it was a Corinne Bailey Rae song, and when she started singing, I remember just melting. 
After that, we just sang together at work before the students came. And she was like, "Hey, can you learn this piece?" I think she taught me "Cedar Wood" first, and then we sang it together and she was like, "Oh, this is perfect! Do you want to sing this at a birthday party that we're doing soon?" I remember literally thinking all my dreams had come true. 
MAYA And then the students would make us sing for them.
MARISSA They were like our cute little fan club.
48 HILLS Kevin, how did you find out about the band? 
KEVIN GOLDBERG I was playing a set at Bissap Baobab lounge in Oakland [where Maya and Joel were also on the bill]. Once Maya and Joel started playing, I just lost it. I was sort of in a trance. We connected after the show, and I was like, "Hey, I hear all these bass lines over what you're playing. I'd love to do a collaboration sometime." I loved the harmonies that Joel was putting together, and the timbre of Maya's voice is really unique.
MAYA I really love how Kevin hears music. Sometimes there will be songs where I haven't been able to find a musician to play what I'm trying to hear from my layman musician vocabulary. And then Kevin's playing something, and I'm like, "Oh, that sounds a lot like something I was trying to make up in my head . . . for years." 
JOEL MANDELLA I don't know many people like Kevin, who is just able to ride the groove and get into your ear like he's supporting the entire sound, yet be soloing and riffing at the same time. Without exaggeration, from the moment we first got together and picked up our instruments to try on playing together, it fit like a glove. 
For Marissa and Maya, it's the same thing. Their voices kind of meld together in a manner that makes me and Kevin stare at each other with delirious expressions while listening to their harmony. Kevin and Marissa have breathed new life into the music of Solate because they are every bit as part of the creative process now as Maya and I.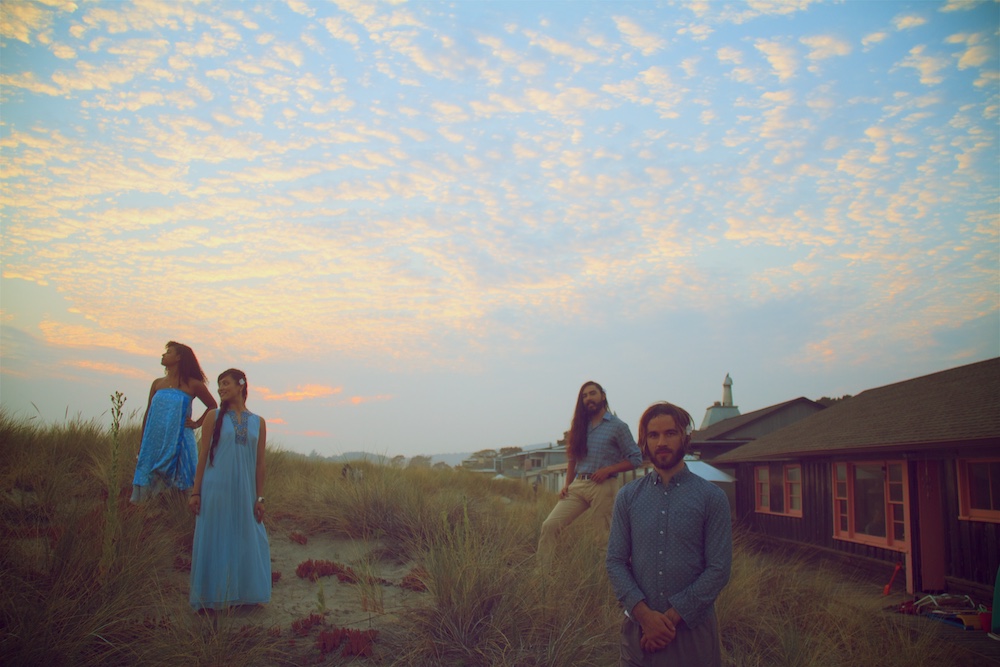 48 HILLS The first time I saw you play was at First Voice, and what was really striking about that concert—besides your obvious love for each other—was that you all had so many family members there!
MAYA Yeah, that was the audience, plus you and your family. We pretty much gave you a standing ovation just for being there.
48 HILLS I was thinking it was a house concert, so I was even worried that my parents were going to be the only older people there.
MAYA Oh, no, no, no, no. My grandparents definitely take the cake on that one at every show. My grandpa will be the only 90-year-old at the bar at 10 p.m. He is the reason why we get invited back to places just 'cause he always leaves really generous tips at the bar. Maybe I shouldn't be revealing these tricks of the trade. 
48 HILLS It seems unique that all your families have such an active role in supporting your music. Do you think that changes the sound?
KEVIN It really strengthens the feeling of community within this band, and I think that changes the music significantly. Having the support of all of our families is like a catapult.
MARISSA [After the First Voice concert] I think Maya's uncle spoke about how our journeys were going to just teach us a lot and bring us new experiences and wisdom and knowledge. Something about his little speech gave me the sensation: this is not the end, if you don't want it to be the end. 
48 HILLS Yes, this is an interesting moment for Solate. You're releasing your first album, but Marissa just moved to New York, and Maya is living in Cuba. Do you have a sense of what is going to happen next?
MAYA I think that we all share a desire to keep sharing the music and keep collaborating. A lot of what we've done has built off of itself. Without really having a plan, we'll do one gig, and meet someone, and then get an opportunity to play again. So after we share our album, my hope is that other opportunities will come to continue sharing it. Maybe a tour, or some shows in New York. And then, along the way, we can keep creating.
48 HILLS Do the songs on this album date back to when Maya and Joel were in college?
KEVIN As far as the original structure of the songs goes, it does date back to that same period of time when Maya and Joel were playing out in the Midwest. We've been sort of building layers on layers on layers with a lot of different harmonies and lines. 
JOEL My favorite part is that looking back, none of the songs seem dated, amateurish, or unsophisticated—even years later, as we've progressed as musicians and friends. If I listen to our old songs, I hear how many elements we've added since old recordings and how we've evolved the parts over time, but I always feel proud of underlying base: the musical harmony, the lyrics, and the melody of the songs. Our music really feels like an extension of who we are and what we want to write. We do some weird stuff with harmony and chord progressions, yet still love that pop sensibility, so I like to think our music reaches people through this combination of familiarity yet unpredictability.
48 HILLS I do think the love and human connection that we've talked about come across in your music. There's a kind of California glow about it. It doesn't shy away from hard topics, but it presents a way of finding light and being generous in a world that is often not beautiful.
MARISSA That is something that struck me originally when I would listen to Maya's lyrics: for example, in "Norway," when she's talking about the experience of walking down street as a woman, how she can paint it with this quiet strength. Like holding onto the things that are good, and having that be the thing that shines through.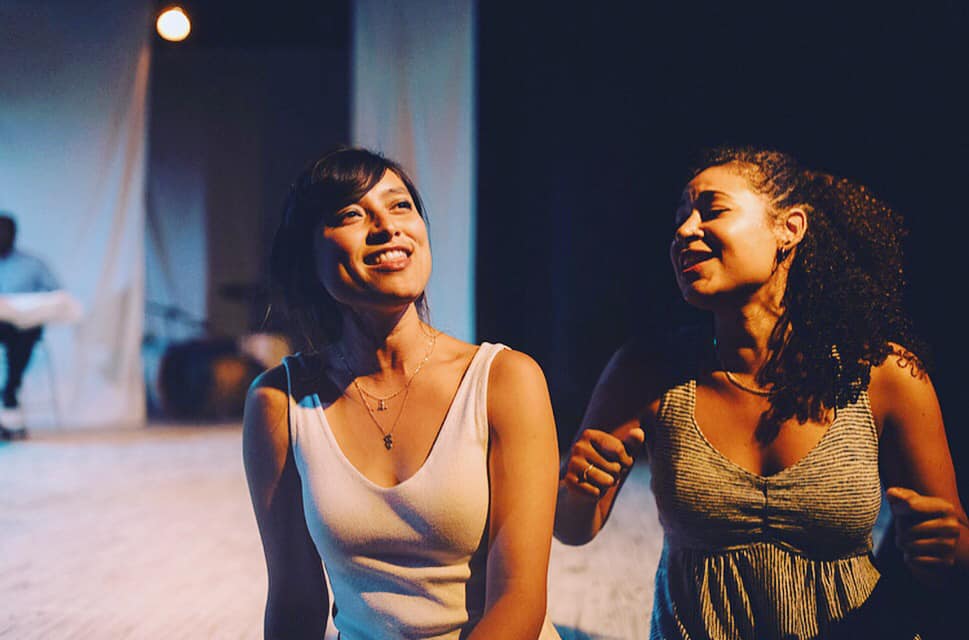 48 HILLS You and Maya are also in a musical called I, Too, Sing America around the same time as the album release. What is the musical about?
MARISSA It's named after a Langston Hughes poem, and it's basically a compilation of poetry by artists of color, interpreted through song and dance, and performed by mostly artists of color as well. It's a story of hope and resilience and strength for the future, coming out of places that are not so joyful, or out of pain and struggle and hardship. Some of the poets that are featured are Gwendolyn Brooks, Alice Walker, Frances Chung, and then we even did a Beyoncé song.
48 HILLS I know it's being performed by the SF Bay Area Theatre Company (BATCO). Is the composer local as well?
MARISSA The concept and music is by Othello Jefferson, and he is Bay-Area-based. He taught music to most of the people that founded BATCO. And then, at some point, he had helped them so much that they were like, "What's your big dream musical or music project? Let's see if we can make it happen." And so, this was his dream. 
SOLATE
Like A River Does album release
Sun/17, 8pm, $5-10 suggested donation
Oakland.Secret
More info here.
I, TOO, SING AMERICA
Thurs/14 – Sun/24, $15-$45
Brava Theater, SF
Tickets and more info here.