ONSTAGE For the past three and a half years, Drunk Drag Broadway has been bringing its original parodies of memorable Great White Way musicals to SF Oasis.
Starting with "Wicked-ish" in 2016, the local live-singing drag theater troupe has gone on to earn a quarterly spot on the Oasis schedule on the strength of its successful productions of "HairSprayed!," "Greased," "MAnnie," "Little Shop of Whores," "Beauty is a Beast," and "Gays and Dolls."
The performance troupe's "Drunk Drag Dizney on Broadway" (opening Thu/15 at SF Oasis) extravaganza, which returns to Oasis this week, is told in two acts, beginning with an all-new Princess Party Cabaret, written by and starring drag Miss Star Search 2019, Snaxx. In the show, Alice in Wonderland (Snaxx) invites popular Disney princesses Belle, Cinderella, Snow White, Megara, and Elsa, all played by drag queens, to her birthday party in SOMA, where things go off the rails quickly.
Then the second act, adapted and directed by Drunk Drag Broadway's founder and creative director Jimmy Moore (also known as Chyna Maykit), is a raucous parody mashup of popular Disney on Broadway musicals, The Lion King, Aladdin, and The Little Mermaid. Featuring Maykit and Peggy L'eggs as narrators, the cast is rounded out by a slew of drag performers acting the story out, lip-syncing the dialogue, and singing the songs live.
It's important to note that in these performances drag is used not only to enhance the existing gaiety of Broadway musicals and, in the case of the current show, Disney stories, but also to critique their racist, sexist, and homophobic plotlines and characterizations.
Disney characters have historically been straight and, if human, mostly white. Heroes have traditionally been men, and women have mostly been relegated to supporting roles. Villains are typically portrayed with affected gay mannerisms. King Candy (Wreck-It Ralph), Jafar (Aladdin), Governor Ratcliffe (Pocahontas), Hades (Hercules), Scar (The Lion King), and Shere Khan (The Jungle Book) are just a few of these.
While Disney has made strides toward inclusivity—Oaken's "coming out" scene in Frozen, Disney's first gay kiss in animated kids' series Star vs. the Forces of Evil, and the announcement that Ariel would be played by a black actress in the new live-action remake of The Little Mermaid…. Progress has been slow.
As Moore prepared for this week's return of "Drunk Drag Dizney" on Broadway (opening Thu/15 at SF Oasis), he spoke to 48 Hills about the original inspiration behind his shows, why musicals are ripe for drag parody, and about using his platform as a performer to chip away at all the racism, misogyny, and homophobia in traditional Disney stories.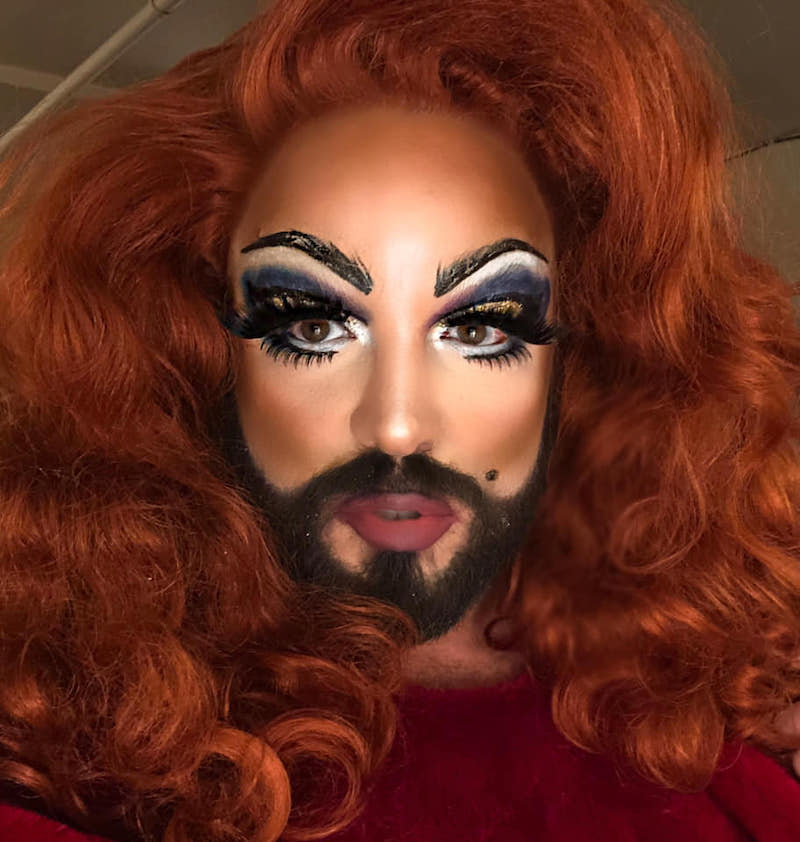 48 HILLS How did you come up with the idea for Drunk Drag Broadway?
JIMMY MOORE I saw Shoshana Bean, who would serendipitously become a friend years later, on YouTube do Drunk Wicked, a Drunk History version of Broadway's Wicked. She told the story and others in cheap costumes lip-synced to her drunk dialogue. I thought this would be the perfect kind of material for drag parody.
Also, I absolutely love the art and social commentary of drag and I am a huge fan of live-singing theater, so I really wanted to bring them together more. Many drag performers sing live, but lip-syncing is the standard. I mentioned the idea to a few people and they lit up, so I pitched it to [Oasis owners] Heklina and D'Arcy Drollinger and they gave us the space to try it out.
Since then we've grown into a two-week run every quarter at Oasis and we have a budget, so we can pay all of our performers and techs.
48 HILLS What makes Disney musicals ripe for the Drunk Drag Broadway treatment?
JIMMY MOORE I am not far from the little gay boy in me who grew up in Disney's renaissance in the '80s and '90s who wore out his VHS copy of The Little Mermaid, so I thought it would be fun to mash up the hero's journey we often see in these types of shows and in Drunk Drag Broadway-style lovingly point at the flaws in the fairytales, such as Ariel's trade for a man.
So, in this case, we merged elements of The Lion King, The Little Mermaid, and Aladdin among a few other nods for a celebration and takedown.
48 HILLS Disney, many would argue, has been historically homophobic toward the gay community. What are your thoughts on this and how did that play into your decision to focus on Disney musicals in this show?
JIMMY MOORE It's funny because it depends on who you ask. Some people think Disney is too gay and others find it homophobic. Both can be true simultaneously. What we do is drag parody. That gives us room for commenting on both aspects, as well as misogyny, racism, and other social injustices.
I always say our show is perfect for people who love Disney and Broadway and for people who hate them. We are somehow balancing celebrating the things we love and taking a funny look at the issues within while putting our own queer spin on the characters and plots.
For example, Simba's journey to adulthood includes a stop at Burning Man for enlightenment, and instead of chasing a man, Ariel has a different dream, Oh, and Aladdin, he definitely wants a palace, but it's for a whole different reason. I will also say that we did cast a white performer as Ariel despite the fact that everyone knows that Ariel is Black.
48 HILLS With so much drag out there, from traditional shows to theatre to concerts to now story hours, tell me how you keep your event singular.
JIMMY MOORE It is such a flexible art form. From the campy to the glam and grotesque, drag is the medium, not the product. There is always room for more art.
We've built a following over the last three years and have continued to improve and raise our production value and talent. We are currently expanding in Atlanta with a former company member and have taken the show to Guerneville for Lazy Bear Weekend. Who knows where we'll go next?
48 HILLS Speaking of Drag Queen Story Hours, what are your thoughts on all the recent controversy swirling around them?
JIMMY MOORE I think [Drag Queen Story Hours] are awesome! We could learn a lot about acceptance from young children. They don't reject differences. They learn to do that. As for the controversy, it's deeply rooted in all of our bigger social problems that we are chipping away one gender joke at a time.
If you have a platform or a voice that can be heard, I believe you have to use it for good, and that is what we are doing.
DRUNK DRAG DIZNEY ON BROADWAY
Thu/15-Sat/17 and Thu/22-Sat/24
7pm, $25-$50
SF Oasis, SF
More info here.