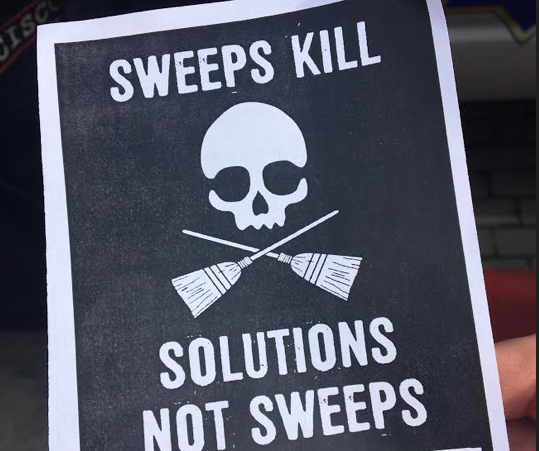 A $2,070 bottle of wine from a Chinese billionaire, a $5,000 bribe to an SFO airport commissioner, and a John Deer tractor for his vacation home in Colusa County.
These are just a few pieces of evidence that the FBI is using to charge Public Works Director Mohammed Nuru with fraud.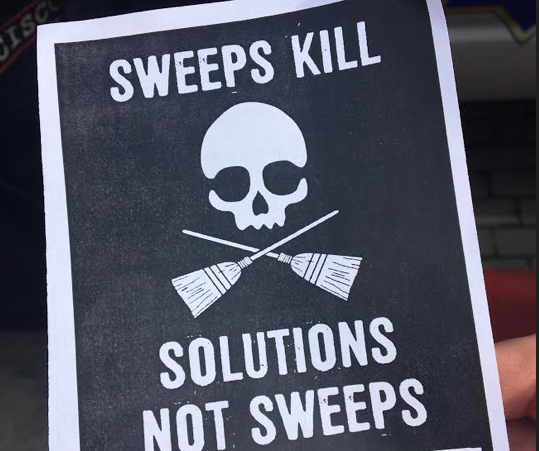 Following the investigation, there have been countless demands to end corruption and pay-to-play politics from the public and elected officials alike. Supervisor Hillary Ronen wrote  she was outraged; Supervisor Gordon Mar admonished the "casual culture of corruption." Supervisor Matt Haney even called for a special investigator to be hired to further gut corruption in implicated city agencies.
But Nuru should have been fired long ago for something much more sinister: using the Department of Public Works as a tool to blatantly violate the civil rights of thousands of homeless San Franciscans.
For years under his authority, the department has illegally confiscated the personal belongings of thousands of homeless San Franciscans, including life-saving medication, important documentation needed to access housing and healthcare, tents, and sleeping bags.
The Stolen Belonging project team has been interviewing unhoused residents across San Francisco and highlighting the city's theft of their possessions, including their most cherished personal items. When asked what would justice or accountability look like, the majority said they simply wanted the sweeps to stop. A large coalition of housed and unhoused San Franciscans recently launched a campaign — Solutions Not Sweeps— with this very goal, calling for humane and compassionate alternatives.
While Public Works shouldn't be conducting homeless sweeps and taking residents' belonging, violating the 4th, 8th and 14th amendments, they routinely also violate their own "bag and tag" policy around logging and storing items. Homeless people often never receive their items back from the Public Works yard and know that attempts at retrieval are futile.
In one devastating example, the agency crushed one homeless man's walker in the back of a DPW dump truck. Neil Taylor's was one of the rare cases where the City Attorney's Office agreed to settle $750 for the wrongdoing, but by the time the decision was made, he had died on the streets.
As the director of public works, Nuru worked diligently to ensure homeless people were gone from the public eye. He was known to clear homeless encampments and RVs ahead of mayoral visits to a neighborhood. His staff has put up hundreds of metal barricades across city sidewalks to guarantee homeless people are unable to utilize space to rest or sleep, even though the city's shelter waitlist has over 990 people waiting for a bed.
When housed residents purchased boulders in Clinton Park to prevent homeless people from sleeping, Nuru responded by saying that the boulders "were not big enough." His long term solution? Bigger boulders.
To top it off, Nuru was allegedly personally benefiting from homeless services. Part of Nuru's corruption charges were based on giving unfair advantages to assure certain contractors were awarded jobs of providing homeless shelters and public restrooms.
However, like the deep-rooted corruption that plagues City Hall, the cruel treatment of homeless people will not end with a single person.
Mayor Breed will appoint the next public works director. She will give that director the same instructions she gave Nuru. Under the guise of clean and healthy streets, there will be a continuation of homeless sweeps and the destruction of personal property. It is what predecessor Mark Farrell did before her, and what the late Mayor Ed Lee did before him.
The fiery call to accountability from supervisors and San Franciscans to end corruption and bribery must be also be there for the atrocities Nuru has committed against homeless people.
A more just San Francisco is not one with longer, harsher prison sentences. It is one where we replace corrupt public officials with ones that follow constitutional and human rights. If we don't take a step towards that now, thousands of people living on our streets will continue to suffer under the hands of city agencies.
It's time for San Francisco to have a compassionate Department of Public Works — one that prioritizes the health and wellbeing of all San Franciscans, including ones without a home.
And it's well beyond time to ask ourselves what the true corruption is that lies within our city government.